British Politicians Declare War on Knives
Having failed to thwart crime with gun bans, British officials now want to restrict what may be the most useful tool ever invented.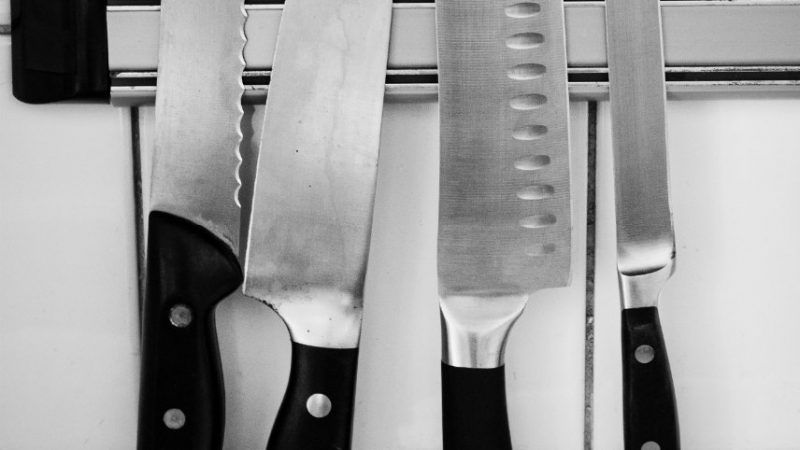 (Marc Soler/agefotostock/Newscom)
It turns out that when you pass laws disarming people in an attempt to prevent violence, criminals who habitually disregard all laws don't make exceptions for the new rules. In London, crime still thrives despite the U.K.'s tight gun controls and the British political class is now desperately turning its attention to restricting knives.
A flurry of recent headlines reveal that London now has a higher murder rate than New York City, a metropolis of nearly identical population and one long considered more vulnerable to crime. "London police investigated more murders than their New York counterparts did over the last two months," Reuters reported earlier this month. "In the latest bloodshed, a 17-year-old girl died on Monday after she was found with gunshot wounds in Tottenham, north London, a day after a man was fatally stabbed in south London."
Commentators note that this may be a blip and that New York City's murder rate for 2017 stood at more than double that for London. In fact, London's murder rate really hasn't risen much—instead, New York's has dropped dramatically. But that still represents a big shift. In her 2002 Guns and Violence: The English Experience, historian Joyce Lee Malcolm noted that "New York City's homicide rate has been at least five times higher than London's for two hundred years. For most of that time, there were no serious firearm restrictions in either city."
New Yorkers didn't need firearms to exceed the bloodlust of their trans-Atlantic rivals. Even if you removed crimes committed with guns from the comparison, "New Yorkers still managed to outstab and outkick Liverpudlians by a multiple of 3 and Londoners by a multiple of 5.6″ over those two centuries," wrote the late Eric H. Monkkonen in Murder in New York City, published in 2000.
The mayhem that's closed London's homicide gap with its trans-Atlantic rival appears to be largely the result of violent criminal gangs. Firearms are strictly restricted in the U.K., including a near-total ban on handguns. Nevertheless, "[i]n the 12 months to October 2017, there were 2,500 offences involving guns: a 16 per cent increase on the previous year and a 44 per cent increase on 2014," the London Assembly's Police and Crime Committee noted in January. Criminals, it seems, are not averse to committing crimes—including the illegal acquisition of tools that help them commit more crimes.
Besides illegal guns, British criminals also use edged weapons, which have been a favorite tool for mayhem since the dawn of civilization.
Having failed to disarm criminals with gun controls that they defy, British politicians are now turning their attention to implementing something new and different: knife control. Because criminals will be much more respectful of knife laws than of those targeted at firearms, I guess.
"No excuses: there is never a reason to carry a knife. Anyone who does will be caught, and they will feel the full force of the law," London's Mayor Sadiq Khan tweeted on April 8.
Not to be outdone, his predecessor, Boris Johnson, currently Foreign Secretary, called for increased use of stop-and-search powers by police. "You have got to stop them, you have got to search them and you have got to take the knives out of their possession."
Poundland (the British equivalent of a dollar store) announced last week that it will no longer sell kitchen knives in any of its 850 stores. Similar stores are being slapped with fines for selling knives to minors.
British politicians propose banning home delivery of knives and police promote street-corner bins for the surrender of knives while also conducting stings against knife vendors. Their goal is to "target not only those who carry and use knives, but also the supply, access and importation of weapons."
It all sounds all so familiar, doesn't it? And yet so utterly pointless. If British authorities have been unable to block criminals' access to firearms—mechanical devices that require some basic mechanical skill to manufacture, or at least a 3D printer—how are they going to cut off the flow of knives, which require nothing more than a piece of hard material that can take an edge?
There are also practical downsides to discouraging the public from possessing knives—one of the oldest and most useful tools ever invented. Poundland, after all, isn't dropping the sale of combat blades; the company's move applies specifically to the tools people use to make their meals. The law looks much more likely to inconvenience peaceful people planning to carve a roast than to put off thugs who, push comes to shove, can find a way to sharpen a piece of rebar against a rock.
And remember, if guns and knives can be used offensively by criminals, they can be used defensively by would-be victims—especially if they're permitted to do so. In her 2002 book, Malcolm noted that "English law now prohibits civilians from carrying any article" for private defense. Seventy-eight year-old Richard Osborn-Brooks was recently arrested on suspicion of murder for fatally stabbing a burglar who attacked him in his own home; only under public pressure did police released him without charges. Current British law actually enhances the advantage criminals who ignore the law have over their law-abiding prey.
Rather than a race to ban dangerous objects that can only end with the criminalization of rocks and pointed sticks, it's time politicians stopped pushing laws that are ignored by criminals and annoying and inconvenient to the rest of us.