The War on Opioids Probably Helped Kill Prince
His fentanyl overdose came from counterfeit Vicodin, and he likely didn't know what he was ingesting.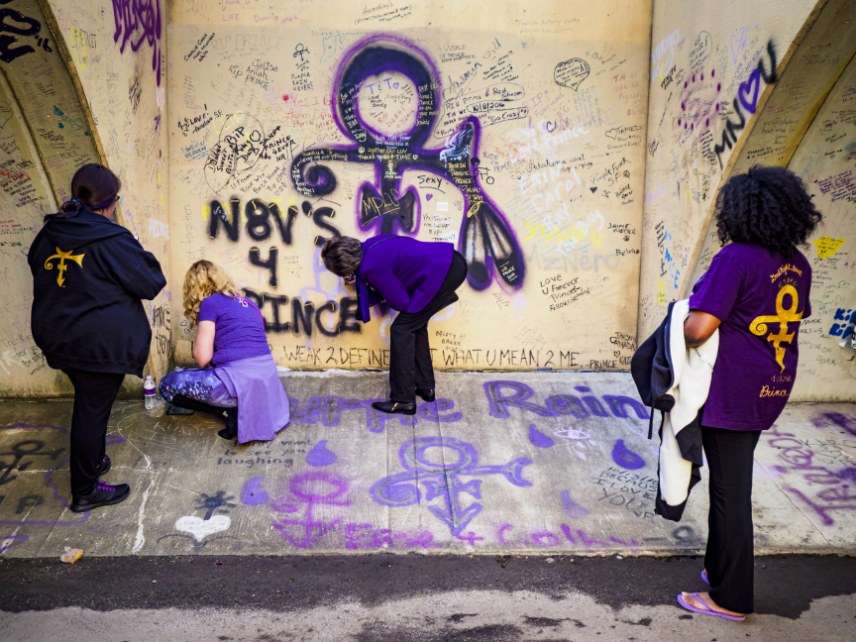 Pop legend Prince died of a fentanyl overdose in 2016, probably because he bought what he thought was Vicodin on the black market. Today officials announced they are closing the investigation into Prince's death and will not be filing any charges because they don't know where he got the pills and found no evidence that any of his associates knew that the "Vicodin" he had been taking was actually fentanyl.
Remarkably, at the same time officials are announcing that there will be no charges over the drugs that actually killed Prince, officials also announced a civil settlement with a doctor who prescribed painkillers to Prince's associates, knowing the drugs would actually go to the musician. Although these were not the drugs that killed Prince, the doctor who helped him get access to painkillers through third parties has agreed to pay $30,000 and subject himself to federal monitoring for two years.
There does not seem to be any acknowledgment that efforts to make it harder for Prince to get his hands on the painkillers to which he became addicted might have caused him to seek black-market substitutes that were much more dangerous. From the story in the Minneapollis Star Tribune:
"Doctors are trusted medical professionals and, in the midst of our opioid crisis, they must be part of the solution," U.S. Attorney Greg Brooker said in a statement announcing the settlement. "As licensed professionals, doctors are held to a high level of accountability in their prescribing practices, especially when it comes to highly addictive painkillers. The U.S. attorney's office and the DEA will not hesitate to take action against healthcare providers who fail to comply with the Controlled Substances Act. We are committed to using every available tool to stem the tide of opioid abuse."
Just today Jacob Sullum noted that opioid-related deaths are rising dramatically even as opioid prescriptions decline. That's partly because lack of access to the drug through doctors is driving people to the black market, where they purchase pain pills of unknown provenance and composition. The circumstances of Prince's death should be a warning to the feds that cracking down on doctors is exactly the wrong way to prevent overdoses.
Also today, previously unseen footage of Prince practicing and performing "Nothing Compares 2 U" in 1984, years before he handed it over to Sinead O'Connor, has been released by his estate: