Trump's Lawyer Michael Cohen Has a Bad Day In Court: Reason Roundup
Plus: White House flip-flops on Russian sanctions, New York City says goat yoga is baaaaaaanned.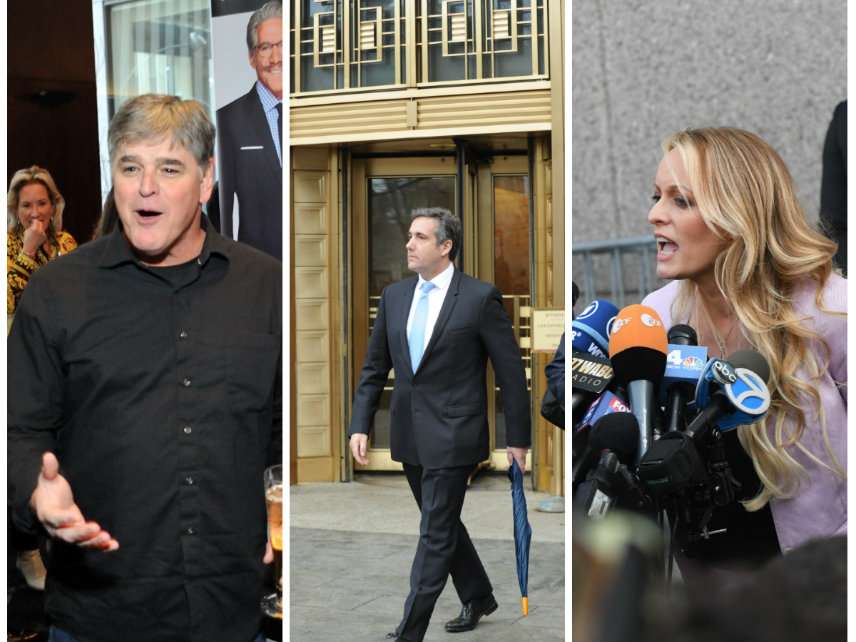 Bad days (and big reveals) in court for Trump and Cohen allies. In proceedings that dragged on through most of Monday afternoon, President Trump, his personal lawyer Michael Cohen, and others close to the duo—including Fox News star Sean Hannity—suffered a range of blows both reputational and legal. Most notably, Cohen's lawyers were forced to reveal that Sean Hannity—who has been very outspokenly critical of Robert Mueller's Russia-Trump probe and the recent FBI raid of Cohen's properties—is one of only three current Cohen clients.
Hannity has lashed out multiple times on air about the Justice Department's treatment of Cohen, never disclosing that he personally had business ties to the man. Hannity said the FBI raids on Cohen's properties were an "unprecedented abuse of power" and told other Trump supporters they better "get buckled up" for a rough ride.
"You know, now that we know he was working with Cohen," said Trevor Noah on The Daily Show last night, "that looks less like a news show and more like a guy really stressed, giving himself a pep talk." On the Late Show, Stephen Colbert said the revelation that Hannity had hired Cohen—most famously known now for paying off the president's former mistresses and lovers, including porn star Stormy Daniels—"raises the obvious question: Who did Sean Hannity have sex with?"
For his part, Hannity denied an attorney-client association to Cohen. "I never retained him, received an invoice, or paid legal fees," Hannity tweeted on Monday.
I have occasionally had brief discussions with him about legal questions about which I wanted his input and perspective. I assumed those conversations were confidential, but to be absolutely clear they never involved any matter between me and a third-party.
Hannity followed up by saying that his discussions with Cohen had been about real estate.
The more consequential legal news from yesterday's proceedings is U.S. District Judge Kimba Wood rejecting Trump's attempt to keep prosecutors from viewing communications between him and Cohen that the FBI seized in last week's raid. Trump and Cohen claimed they were protected by attorney-client privilege, but the judge rejected that argument.
Stormy Daniels and her lawyer Michael Avenatti showed up in court just to watch yesterday. Outside the courtroom, Daniels told reporters that "for years Mr. Cohen has acted like he is above the law" and "considered himself and openly referred to himself as Mr. Trump's fixer," but things were going to change:
He's played by a different set of rules, or should we say no rules at all. He has never thought that the little man, or especially women and even more women like me, mattered. That ends now. My attorney and I are committed to making sure that everyone finds out the truth and the facts of what happened.
Ken White has a complete rundown of how to understand what happened at yesterday's trial over at Popehat.com.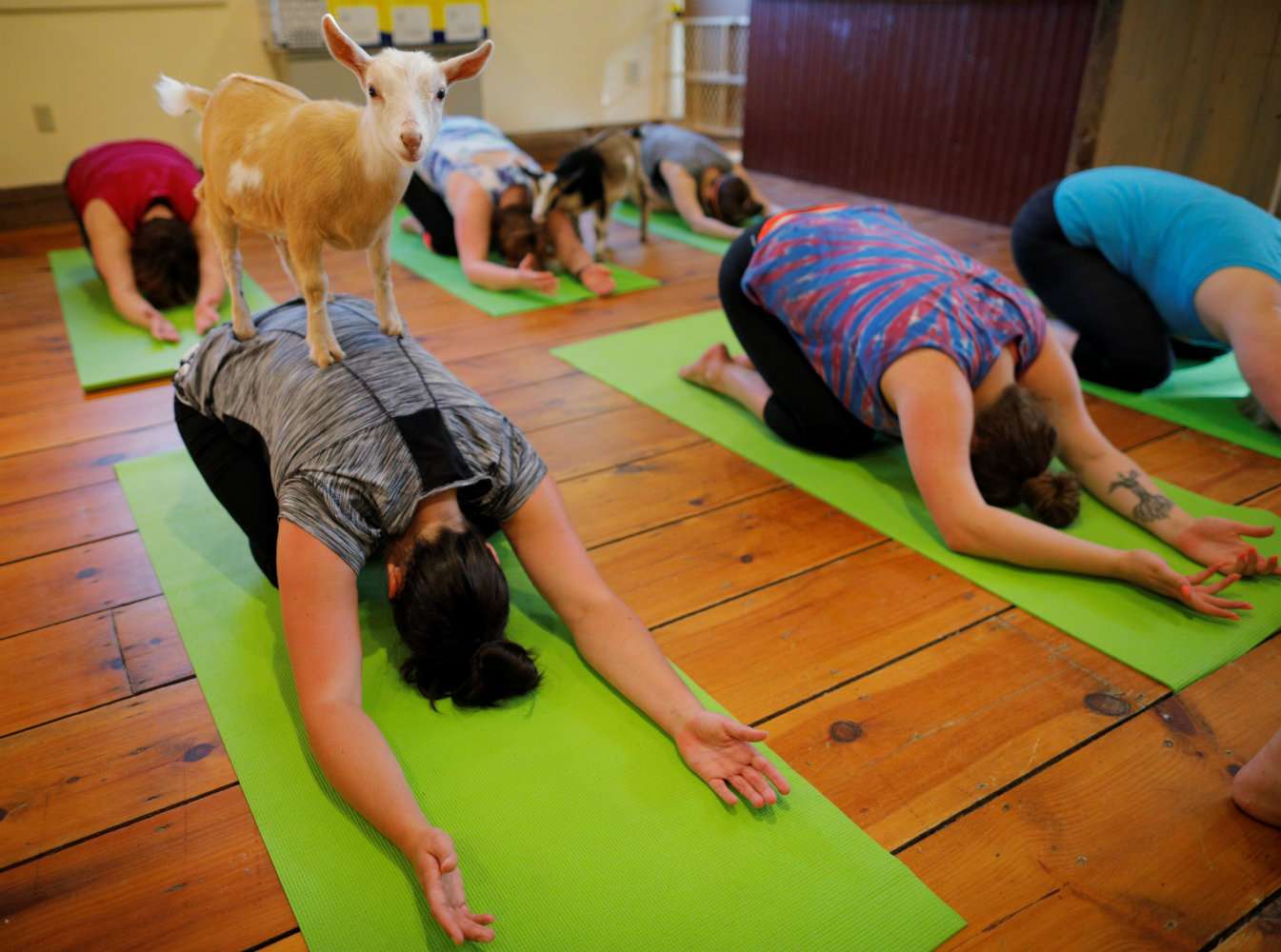 Goat yoga gets boot by NY health nannies. Upstate New York farmers and yogis are now banned from bringing goats down to the big city for pop-up exercise events. On Sunday, the organizers of a Bushwick-based pop-up goat yoga class put out a statement announcing that the New York City Department of Health had denied their application for a permit. The class had been scheduled to run on Tuesdays and Thursdays beginning this week. "The 45-minute session was expected to be just like "regular yoga," except adorable baby goats would roam around the practitioners," reports AM New York.
"Goat yoga is something new to NYC and therefore uncharted territory when it comes to the permit application," the group's statement read. "After weeks of communication and brainstorming, we feel that the concept of goat yoga is just not possible within the laws of the city at this time."
Gilbertsville Farmhouse—which offers the classes upstate at its farm—was initially "very optimistic" about the Brooklyn class because "the health department was intrigued and receptive to the idea," it said. The problem seemed to turn on a new York City rule banning goats from being held inside a city building.
Holding goats is not a planned part of the goat-yoga class, but it could happen.
The Health Department said that it ultimately had to deny the permit because of the city's ban on direct physical contact with certain animals inside buildings.
THE RUSSIAN CONNECTION
Flip-flop on Russia sanctions. Trump may be reversing course on a decision to apply economic sanctions on Russia for its support of Syrian President Basha al-Assad. The sanctions, announce Sunday by United Nations Ambassador Nikki Haley, would've applied exclusively to Russian companies linked to chemical weapons in Syria. Treasury Secretary Steven Mnuchin "will be announcing those on Monday, if he hasn't already, and they will go directly to any sort of companies that were dealing with equipment related to Assad and chemical weapons use," said Haley. But yesterday, White House Press Secretary Sarah Huckabee Sanders told reporters asking about the sacntions that the Trump administration was only "considering additional sanctions on Russia" and a decision would be made soon. The Washington Post reported that:
Trump conferred with his national security advisers later Sunday and told them he was upset the sanctions were being officially rolled out because he was not yet comfortable executing them, according to several people familiar with the plan. Administration officials said the economic sanctions were under serious consideration, along with other measures that could be taken against Russia, but said Trump had not given final authorization to implement them. Administration officials said Monday it was unlikely Trump would approve any additional sanctions without another triggering event by Russia, describing the strategy as being in a holding pattern.
The Russian embassy said someone with Trump administration had contacted them Sunday and said to ignore Haley's warning. Meanwhile, Russia is also stalling on a promised ban on certain US imports.