Comey Acknowledges Screwing Up in Encryption Fight, But He Still Doesn't Grasp the Issue
The former FBI director recognizes his criticism of Apple was "thoughtless," but he doesn't see the underlying problem with seeking cybersecurity back doors.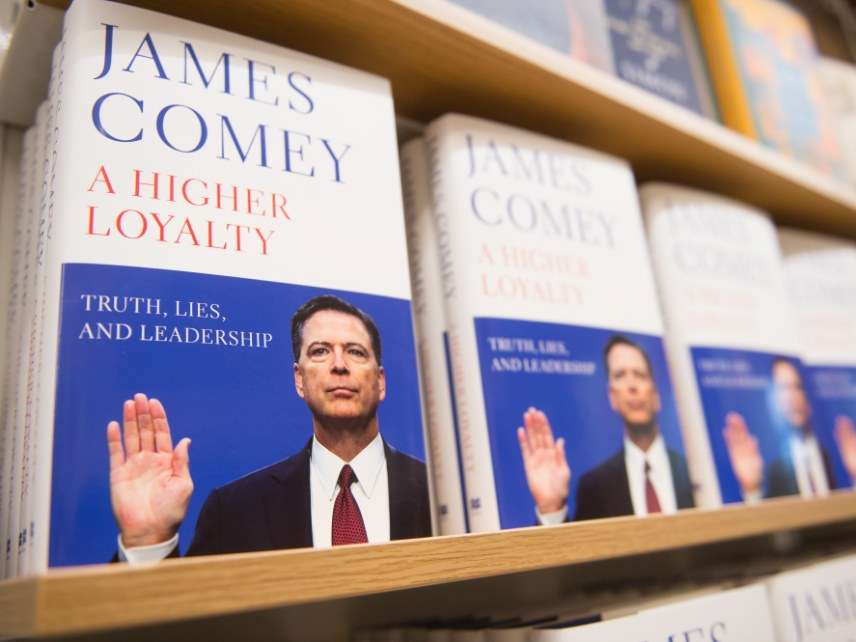 Did fired FBI chief James Comey's new book acknowledge that he was an idiot about encryption?
Comey's book, preachily and self-satisfyingly titled A Higher Loyalty: Truth, Lies, and Leadership, is being released today. Most of the attention it's been getting has focused on the investigation into Hillary Clinton's private server use and Comey's interactions with President Donald Trump.
But the book also delves into other policy issues that came up during his stint with the FBI, and that includes the bureau's battles with encryption. Comey was among the officials who got upset when Apple and other tech companies insisted on strong, hard-to-break encryption that could make it harder for the feds to gain access to people's devices. (This came to a head recently when the device in question was an iPhone belonging to one of the San Bernardino terrorists.)
Comey's frustrations over encryption came up in a couple sentences from the book that circulated before the text was published. He had been upset, he wrote, that tech companies didn't see the darkness and evil of the world that the FBI sees:
I found it appalling that the tech types couldn't see this. I would frequently joke with the FBI "Going Dark" team assigned to seek solutions, "Of course the Silicon Valley types don't see the darkness—they live where it's sunny all the time and everybody is rich and smart."
Yes—they're smart enough to know that encryption actually helps protect citizens against that dark and evil side of the world, be it identity thieves or dangerous foreign governments.
Comey's dismissive attitude toward encryption probably reached its ugliest point in 2016, after the fight over the San Bernardino shooter's phone had faded, when he imperiously declared we needed to have an "adult conversation" about the need for tech companies to help the FBI access encrypted devices. Such a snotty attitude certainly made it clear he didn't take the argument seriously that our private data would be more vulnerable to bad actors if back doors let the government bypass encryption.
But it turns out, to judge from an NPR interview with Comey released today, that the man sees the way he handled the encryption fight as one of his mistakes. Well, sort of. In the tiresome manner of many technocrats, he doesn't think his position is wrong; he just thinks he spoke impulsively about his frustrations with Apple:
I think I entered the debate about encryption in a thoughtless way. I acted impulsively and commented at a brown bag lunch about how bugged I was by an Apple advertisement, and that was kind of stupid. I should have entered in a more thoughtful way.
Apple had responded to this encryption fight by pointing out how it protects its consumers, prompting a truly bizarre response from Sen. Tom Cotton (R-Ark.), who accused the company of using all this as a marketing tool. The argument fell completely flat, as it should have. Turns out consumers like tools that let them protect their privacy.
Since that fight, we've discovered that people within Comey's FBI deliberately dragged their feet in trying to find third-party solutions to cracking encryption because they wanted to force this confrontation between tech companies and the government.
Motherboard is now reporting that law enforcement agencies are increasingly turning to tools that help them break through encryption for iPhones. There's essentially going to be a permanent arms race between encryption innovations and those who have an interest (for good reasons or sinister) for breaking through them.
Below, watch Reason TV on "How Government Lost the Crypto Wars (At Least for Now)":