No Scandals in This HBO Elvis Documentary, Just Music
The Searcher focuses almost entirely on Presley as artist.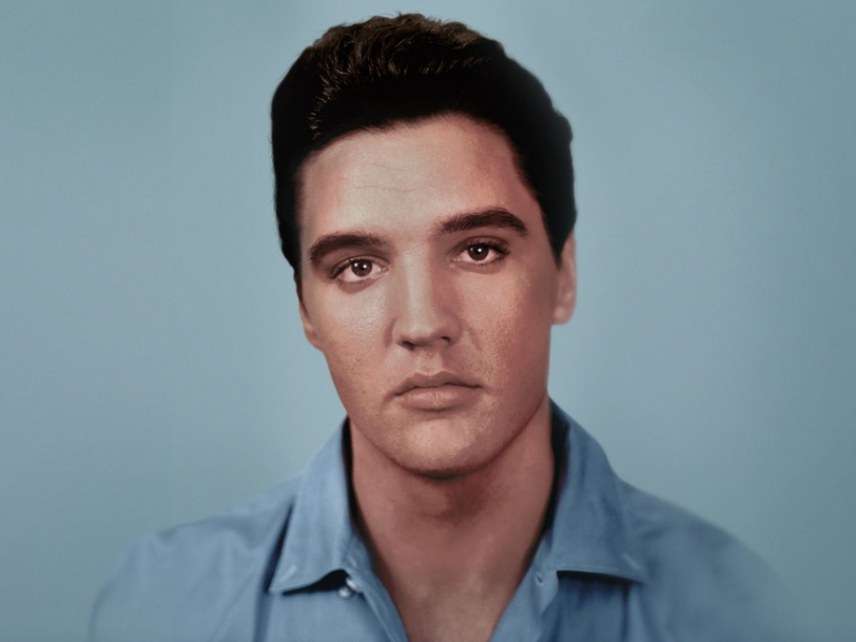 Elvis Presley: The Searcher. HBO. Saturday, April 14, 8 p.m.
If the HBO documentary Elvis Presley: The Searcher has a motto, it's a quote from an interview that Tom Petty gave the filmmakers shortly before his death last year: "We should not make the mistake of writing off a great artist by all the clatter that came later."
Made with the assistance of the Presley family, the 206-minute The Searcher contains nothing of the tabloid Elvis. If you want to see him shooting out TV sets, watching teenage girls wrestle in their underwear, or chat up the dangers of drugs with President Nixon, this isn't the film for you. Even the benign side of celebrity is missing: There are no scenes of Elvis giving away cars to fans or racing his jet across the country for a peanut-butter-and-banana sandwich.
Instead, The Searcher zeroes in almost exclusively on Presley's music: where it came from, how he found it, how he synthesized rhythm and blues and country and western—and eventually jazz, gospel, opera and even old Marlene Dietrich records—into something so new that nobody even knew what to call it.
Literally: On an old tape from the night Elvis and a pickup band turned a stately bluegrass waltz called "Blue Moon Of Kentucky" into a balls-to-the-wall jam that didn't resemble anything known to human ears, you can hear Sun Records owner Sam Phillips burst into the studio and shout, "That's a pop song now!" The phrase rock and roll wasn't yet part of the world's musical vocabulary. But it would be. "It was in that moment that the world changed," recounts The Band's Robbie Robertson in quiet awe.
There are a lot of reasons to love The Searcher, and that tape fragment is a big one. Director Thom Zimny, who has made several well-regarded Bruce Springsteen documentaries, got access to everything in the Graceland archives, from home movies to ancient recordings of radio interviews.
They range from lovable oddities, like Elvis' mom Gladys singing gospel songs, to the downright awesome: An old interview with long-dead Ike Turner recollecting the odd little white kid who used to sneak into his shows on Memphis' Beale Street and move his feet frantically to the beat of Turner's blues riffs.
Some of those riffs, no doubt, made their way into Elvis' act at some point. The central point of The Searcher was that Elvis was influenced by everything, but imitated nothing. "He can pull in a wide range of genres," says one rock writer interviewed for the documentary. "And they all come out Elvis."
There are interviews aplenty in The Searcher, including several with Elvis contemporaries like his longtime guitarist Scotty Moore that were done just before their deaths. (Startling—and, depending on your age, perhaps chilling—fact: Elvis would be well past 80 if he were still alive.) They are at their most insightful in discussing his records – how, exactly, he put them together. (And nearly everyone agrees that, especially in the beginning when all the rules were being made up as they went along, it was Elvis himself doing the producing, regardless of who was credited on the label.)
"He didn't want to overproduce anything," says Phillips, whose pioneering Sun label issued Elvis' first two dozen recordings. That's putting it mildly; Sun's tiny studio never had more than two microphones, and rarely brought in a drummer. As Bruce Springsteen perceptively notes, much of the beat in early rock and roll records came not from a percussion section but a slappy, stand-up bass.
The one interviewee who offers more personal that musical commentary is Elvis' ex-wife Priscilla, whose affectionate reminiscences are often laced with piquant humor. Just 15 when they started dating, she wryly admits she knew a lot more about the teeny-bopper music of pretty boys like Fabian and Fankie Avalon than her new boyfriends. And her description of listening to her parents dismissing Elvis as "disgusting" as they watched him on TV, not knowing he'd be dating their daughter in little more than a year, is hilarious.
But it's also Priscilla who makes a rather convincing case that what crippled Elvis' musical output after he returned from two years in the U.S. Army was his movie career.
After a couple of attempts at meaningful drama that were short on music (Wild In The Country and Flaming Star) disappointed at the box office, the studios and Elvis' bottom-line-happy manager Col. Tom Parker insisted on quickie flicks in exotic locales that amounted to singing travelogues.
Contractually obligated to three movies a year, Elvis stopped touring or making records aside from film soundtracks. The result was a lot of stuff that literally needed be buried in the sand.
Though not every movie tune was a clunker. In the red-hot Viva Las Vegas, Elvis promised that the past wasn't past:
"I'm gonna keep on the run, I'm gonna have me some fun
If it costs me my very last dime ,If I wind up broke up well
I'll always remember that I had a swingin' time… ."
Thanks to The Searcher, we can remember just how swingin' it was. How it rocked.