Los Angeles Spends More Than a Decade Trying to Turn a Vacant Lot Into 'Transit-Oriented Development'
There are no angels in this long-running turf war.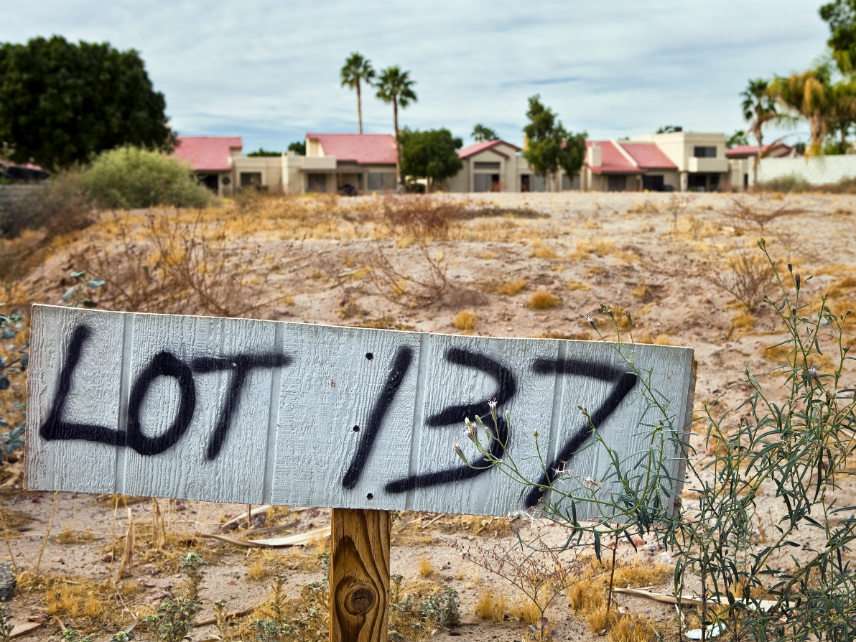 There are no angels in the fight over the affordable housing complex that a city agency wants to build in East L.A.
The Los Angeles Metropolitan Transportation Agency, a.k.a. Metro, dreams of turning that car-dependent city into a transit-oriented metropolis. For more than a decade, it has been trying to build a housing complex on a vacant lot it owns in the predominantly Hispanic neighborhood of Boyle Heights, with a generous number of units reserved for formerly homeless people.
Standing opposed are many residents of the neighborhood, who fear the influx of a "sensitive tenant population" and want to stop the development by any means necessary. From the moment Metro first signed a deal to develop the site with the nonprofit group A Community of Friends (ACOF), local NIMBYs have used California's notoriously burdensome environmental review process to keep the project at bay.
In March of this year, the Los Angeles City Council finally voted to let the project go forward. A Boyle Heights business immediately sued, alleging any number of calamitous environmental impacts from the project, from excess shadow to the potential release of hazardous chemicals. A court will now decide whether the site will remain a dirt patch.
This turf war shows the perils of turning urban development in an impossible balancing act between the mutually exclusive demands of overambitious central planners and intractable local communities, as opposed to letting private parties do pretty much what they want with their own property.
The trouble started in the early 2000s, with Metro's eastward extension of its Gold Line project.
To build the light rail extension, Metro acquired a number of parcels in Boyle Heights, including the now contended plot at Lorena and 1st Street. The plan was to use these parcels for staging and storing equipment during construction, then lease them out later to developers to build mixed-use residential/retail projects.
Transportation Planning Manager Robin Blair laid out the goals in 2006: to gin up ridership by locating people and businesses near new transit stops, and to generate revenue from these new developments to subsidize its unprofitable train service.
It's questionable whether transit-oriented development is in fact a good tool for spurring economic development. But whatever the wisdom of the strategy, Metro quickly abandoned the goal of maximizing revenue in favor of less lucrative pursuits. The Request for Proposals for the Lorena site encouraged developers to "to consider the inclusion of housing units affordable to a range of household income levels." And in 2007 Metro recommended a proposal from ACOF to build a mixed-use affordable housing and retail complex.
Over time, the retail component was scaled back from 26,000 square feet to 10,000 square feet, while the affordable housing component was scaled up, including plans to make 50 percent of the units available for mentally ill and formerly homeless tenants.
All this angered the neighbors, who increasingly accused Metro of not having a genuine concern for their interests. Metro did itself no favors in this regard. At a 2012 community outreach meeting, for instance, the agency failed to provide Spanish-language speaker cards for the mostly Hispanic crowd. Metro also shot down requests that a park go on the Lorena site, stating flatly that a park would do nothing to improve transit quality.
The resentment got worse as Metro firmed up its plans for affordable housing on the site. By the time the agency inked a final agreement in 2013 to negotiate exclusively with ACOF to build affordable housing on he site, many in the community were resolved to fight the project. Their weapon of choice: the California Environmental Quality Act (CEQA).
Passed in 1970, CEQA requires any public agency tasked with approving a development to study it for significant environmental impacts and to propose ways of mitigating any impacts it finds.
"A number of categories come under the realm of environmental impacts," says Paul Beard, a land use attorney with the law firm Alston & Bird. "Aesthetic impacts—that includes the visual character of the site and of the surroundings. Agricultural resources. Air quality is a big one in California. Biological resources. Geology and soil. I mean the list goes on and on."
Studying these impacts takes both time and money, with these costs often shifted onto the developer. The process "can cost anywhere from tens of thousands to hundreds of thousands of dollars, maybe even millions, depending on how large the project," Beard says. The number of impacts a project must take into consideration also gives opponents ample opportunities to sue.
ACOF took its time studying those potential impacts. After three years, in March 2016, city staff approved a final report on the environmental effects of building an apartment building on the dirt lot, demanding some changes and conditions but otherwise saying there would be no significant impacts from the project.
Almost immediately, the owners of El Mercado—a landmark Latin market next door to the prospective affordable housing development—filed an appeal claiming the final environmental report failed to sufficiently address several potential effects. This included a failure to appropriately account for the amount of shade the building would cast on El Mercado, or the possibility that the site could be of archeological interest, or that the soil could be contaminated by an oil well that had been abandoned in 1949 or a lumber yard that went out of business in 2001.
El Mercado's attorneys also claimed that city staff had failed to appropriately address the environmental impact of introducing a "sensitive tenant population"—i.e., former addicts and mentally ill residents—into Boyle Heights.
"El Mercado does not object to the provision of housing for the chronically mentally ill and/or addicts," reads the appeal. "However, the City must ensure that such housing is sited in appropriate areas." By "appropriate areas" they meant "not next to us."
This stalled approval for the project for another two years. Finally, on March 6, 2018, Councilman Jose Huizar, a longtime holdout who represents Boyle Heights, flipped sides on condition that the number of units reserved for formerly homeless residents would be reduced.
But even with city council approval, construction will not go ahead yet. On April 5, El Mercado filed a suit demanding that the city vacate the approval it granted to ACOF to start building, ensuring more months if not years of new delays.
All the while, Metro's Lorena lot will remain vacant.