Feds Seize Control of Backpage.com; Founder Faces 93-Count Indictment
Site had long been a target for sex work and sex trafficking advertisements.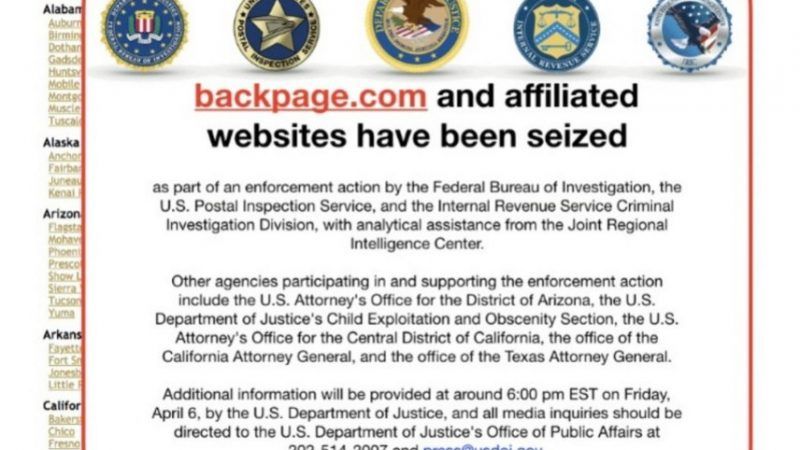 Backpage.com, a site that has long been fighting with federal and state governments over online sex trafficking advertisements, was seized this afternoon by the Department of Justice.
Details are not available as yet. The Department of Justice is planning a press conference at 6 p.m. Eastern. Visitors to the site are greeted with this image: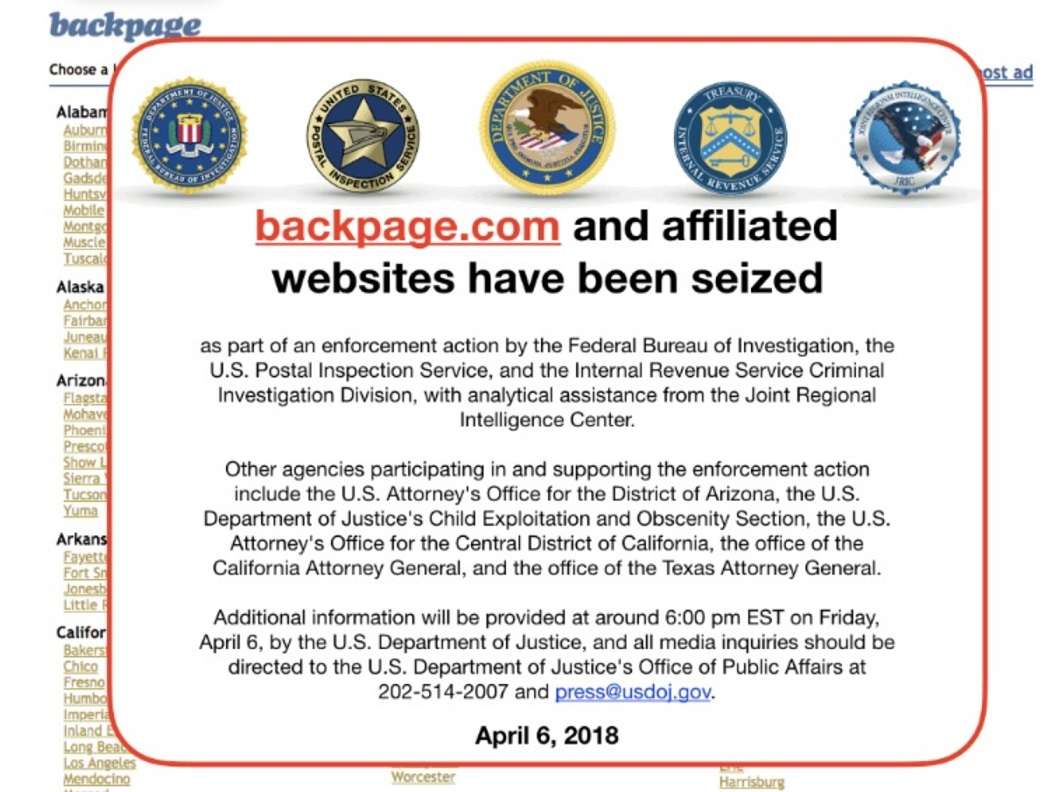 Elizabeth Nolan Brown has been warning that the newly passed so-called "Allow States and Victims to Fight Online Sex Trafficking Act" (FOSTA) that turned online sex trafficking adds a federal crime would destroy some of the legal liability protections sites had over the content posted by third parties.
It's not clear yet that there's any relationship between the passage of FOSTA and Backpage's seizure. But it's hard to ignore the timing. Stay tuned for more. In the meantime, more on Backpage in Reason's archives here.
UPDATE (5:30 p.m. Eastern): The FBI has raided the Sedona, Arizona, home of Backpage founder Michael Lacey.
UPDATE (8:50 p.m. Eastern): The Department of Justice still has not released the charging documents but Lacey's lawyer has confirmed to The Arizona Republic that he faces a 93-count indictment, but he does not know the details. Read more here.
UPDATE (9:00 p.m. Eastern): According the a Department of Justice spokesperson, the court has ruled that the case will remained sealed this evening. We will not know tonight what the charges are.