10 Ways Trump's New Tariffs Will Piss You Off
And 1,300 more that will make you scratch your head.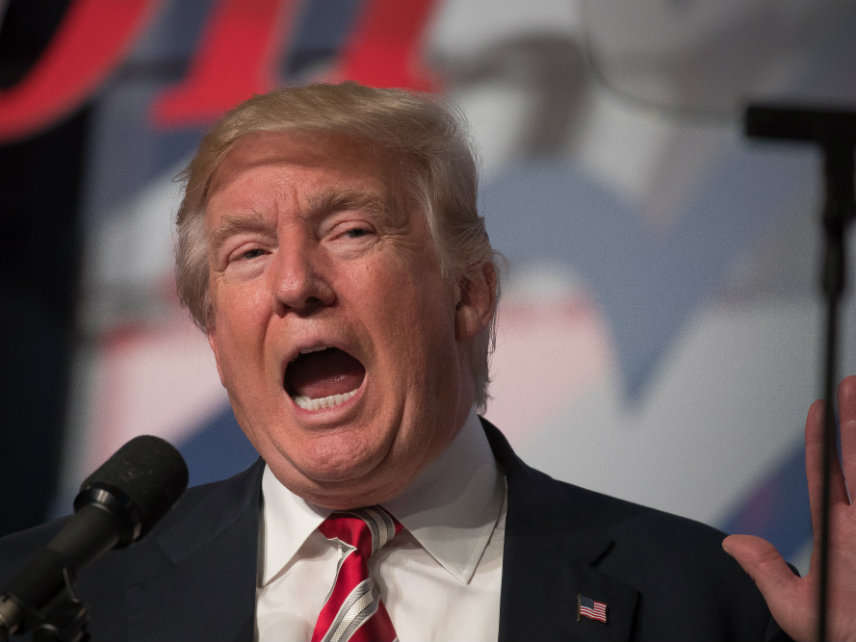 President Donald Trump nudged the United States and China closer to a full-fledged trade war this week by outlining a new set of tariffs aimed at more than 1,300 specific Chinese imports.
In response to the announcement of additional tariffs on Chinese goods—Trump imposed a 25 percent tariff on steel imports and a 10 percent tariff on aluminum imports last month—China on Wednesday announced a new round of tariffs on American-made goods, including soy beans, chemicals, and technology.
Tariffs are import taxes, and like all taxes they end up being paid by consumers after being passed down the supply chain. While Trump's tariffs might restrict the number of Chinese goods that flow into the United States, the main consequence of the White House's new tariff announcement is that Americans will pay higher prices for everything from biscuits to televisions. China's retaliatory tariffs might temporarily lower domestic prices for American-made goods, but will ultimately hurt American businesses that won't be able to sell their products in China, one of the world's fastest growing markets.
In a 58-page filing, the Office of the United States Trade Representative argues that the new tariffs are necessary to counteract China's unfair use and theft of American intellectual property and technology. The tariffs will not take affect immediately, but will be subject to a public hearing on May 15 with a final decision on the tariffs expected by mid-summer.
Each product subject to a new tariff is listed by its eight-digit code under the Harmonized Tariff Schedule of the United States (HTSUS). I read through the entire document so you don't have to—but it's embeded at the bottom of this post in case you have nothing better to do.
Food
Trump's tariffs come down particularly hard on anyone who has to eat. Tariffs will be applied to "Cooking stoves, ranges & ovens, other than microwave, for making hot drinks or for cooking or heating food." Microwaves don't escape either, as they are listed under a different HTSUS code. More specific tariffs will hit equipment used to make chocolate, sugar, and "macaroni, spaghetti or similar products," along with machinery used in the production of poultry, meat, nuts, fruit, and eggs. And in case anything managed to slip through the cracks, there's another tariff on "machinery for the industrial preparation or manufacture of food or drink."
And also "bakery ovens, including biscuit ovens," which seems like a weird thing to have to specify.
Alcohol
Trump's earlier tariff on aluminum would make beer cans more expensive, and his tariff on steel threatens not only to make kegs of beer more costly but also to drive the only remaining American keg-making company out of business. Now, Trump is aiming to drive up the cost of making the stuff that goes in those cans and kegs. "Brewery machinery" will be subject to tariffs, but so will "presses, crushers, and similar machinery used in the manufacture of wine, cider," and even non-alcoholic beverages like juices.
Clothes
Pretty much every aspect of the manufacture of cloth and clothing will be subject to new import taxes. Sewing machines, spindles, looms, weaving machines, and various other textile-making equipment are subject to tariffs. Even sewing needles, knitting needles, and embroidery needles make the list. "Machinery for making felt hats," is included, as is "machinery for making or repairing footwear."
Lighting, Heating, and Home Entertainment
You like using things like lights, televisions, and the internet, right? Unfortunately, the electricity used to power those things has to come from somewhere, and many of Trump's tariffs will end up being passed along to consumers in the form of higher energy bills. Electric generating equipment, including transformers, converters, and wind-powered turbines will be subject to tariffs. Fuses, switches, breakers, are included in the tariffs, along with lithium, nickle, and zinc batteries.
Many of the devices where you might consumer that more-expensive electricity will become more expensive too, because tariffs will hit both high definition and non-HD televisions, audio equipment like speakers and headphones, and light bulbs.
Often, it is too hot. Occasionally, it is too cold. Either way, you'll pay. Tariffs will be placed on boilers, condensers, thermostats, and various other parts of heating and air-conditioning systems.
Dishwashers
Roll up your sleeves and get to work making America great again by scraping the burned-on remnants of last night's dinner off the bottom of that pot, because "dishwashing machines of the household type" are subject to Trump's tariffs. Also "dishwashing machines other than the household type" and "parts of dishwashing machines," just for good measure.
Recreational Gear
Have a boat? Trump's tariffs will increase the price of outboard motors and boat propellers. Like skiiing? "Chair lifts, ski draglines," and various parts for both are included in the list of tariffs. Play golf? Hope you like walking the course, because "golf carts and similar motor vehicles" are subject to tariffs too.
Trains, Planes, and Automobiles (and boats too)

Rail locomotives, rail coaches, rolling stock, and trams are subject to tariffs. So are airplanes, parts of airplane engines, airplane tires and propellers (including turbopropellers). Helicopters weighing less than 2,000 kilograms are subject to tariffs, but so are helicopters weighing more than 2,000 kilograms. There are full pages detailing all the types of motor vehicles that will be subject to tariffs, and including all the parts that you could possibly ever use to build or repair any of them. Tankers, cruise ships, tug boats, ferry boats, "excursion boats," fishing vessels, and even lifeboats are subject to tariffs.
The list also includes "ships' logs" and "flight data recorders." No, really.
Construction Equipment
The construction industry was already dreading the consequences of paying higher prices for steel, but now it will have to pay higher prices for lots of other things too! Overhead cranes, bulldozers, graders, levelers, scrapers, front-end loaders, backhoes, cement mixers, and any "machinery for lifting, handling, loading or unloading" are all subject to tariffs. Going to do some construction the old fashioned way? Buckets and shovels are on the list too. Trump's much anticipated Infrastructure Week just got a whole lot more expensive.
Farms
Farmers were already pretty pissed about Trump's tariffs on steel and aluminum, and then got whacked a second time when China imposed retaliatory tariffs on a whole host of agricultural products. Now, things are going to get even worse. Haymaking machinery, straw balers, threshing machinery, harvesting machinery, milking machines, and poultry incubators will be subject to tariffs, and those higher costs will be passed along to anyone who buys milk, eggs, meat, or pretty much anything else that comes from a farm.
Flamethrowers (But Also Fire Extinguishers)
Whether you're trying to stop The Thing from killing you or merely trying to keep your house from burning down, Trump's tariffs will make your goals more expensive to achieve. Tariffs will apply to "fire extinguishers, whether or not charged," and to the parts of fire extinguishers. At least Elon Musk will be pleased (at least until he sees that boring and drilling machinery is also subject to a tariff).
But That's Not All!
Trump's tariffs will also apply to a wide range of random shit, like:
Vaccines (for humans and for animals)
Malaria test kits
Dental fillings
Anti-freeze and other de-icing fluids
Nuclear reactors (also "parts for nuclear reactors")
Hand-held blow torches
Chain saws
Syringes (with or without needles attached)
Rocket launchers
Grenade launchers
Catalytic converters
Snowplows and snowblowers
Bookbinding machinery
Cash registers
Human blood
Literally none of these are made up, but don't take my word for it. Here's the full list.