Troubled by Highway Seizures, Kansas Enacts Asset Forfeiture Transparency
Kansas police spend millions in asset forfeiture revenue under vague, lax laws. Now they'll have to open their books.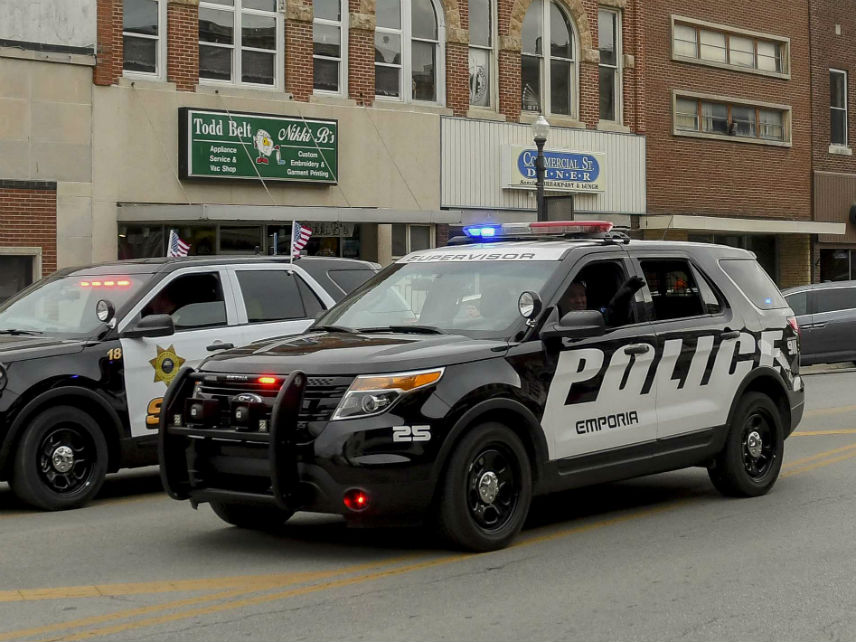 The Institute for Justice had a simple question: How much does the Kansas Highway Patrol spend from the cash and other property it seizes?
Those public records are supposed to be easily accessible to everyday citizens. Instead, it took the public interest law firm five months and $500 to get them.
When the documents finally arrived, they showed that from 2009 to 2015, the agency spent $1.36 million in such proceeds on salaries and overtime, plus another $2.7 million on a new headquarters.
That money comes from people like Salvador Franco, a Las Vegas resident. The Kansas Highway Patrol searched his car at a rest stop last March and found $32,000 in cash under his seat. Franco said he was driving to St. Louis to buy a truck he'd been saving up for. Using a process known as civil asset forfeiture, the troopers declared it drug money and seized it, even though they never charged Franco with a crime.
But now journalists, civil liberties groups, and regular Kansas citizens will no longer have to file a public records request to see what police are doing with asset forfeiture funds. Republican Gov. Jeff Colyer signed a bill yesterday that will require much greater transparency about how much state and local police collect through asset forfeiture and how they spend it.
H.B. 2459 will require Kansas law enforcement to report the date, location, and value of asset seizures, as well as whether or not criminal charges were filed in conjunction with the seizure. It will also make police departments to open their books and show their forfeiture fund balances, deposits, and expenditures.
The bill passed the legislature with bipartisan support and was also championed by the Kansas chapter of the American Civil Liberties Union (ACLU).
"Kansas now has one of the best forfeiture transparency laws in the Midwest," Institute for Justice senior legislative counsel Lee McGrath said in a statement today.
Under typical civil asset forfeiture laws, police can seize property suspected of being connected to criminal activity, whether or not the owner is charged with a crime. Civil liberties groups say the process has far too few protections for innocent property owners and far too many perverse profit incentives for police.
Last year the Institute for Justice released a report finding 26 states had little to no transparency requirements regarding asset forfeiture; 14 of those states did "not appear to require any form of property tracking, leaving in doubt even such basic questions as what was seized and how much it was worth, who seized it, when it was seized, where it was seized, and why it was seized."
Since then, several states, including Mississippi and Alabama, have considered new transparency requirements. More than half of all states of passed some form of forfeiture reform over the past five years.
Law enforcement groups argued the reforms were unnecessary, the Topeka Capital-Journal reports:
Former Sen. Greg Smith, who works with the Johnson County Sheriff's Department, said current state law on asset forfeitures was sufficient and argued existing statute provided Kansas law enforcement a powerful tool to thwart criminals.

"Our location on the Kansas-Missouri metro places us in the transportation pipeline for both drug and human trafficking," Smith said. "Asset forfeiture is an effective tool to deter these types of crimes."
Kansas is still one of 36 states that do not require a criminal conviction before law enforcement can forfeit property, a reform that is at the top of civil libertarians' wish list.
"By itself, improved transparency cannot fix the fundamental problems with civil forfeiture—namely, the property rights abuses it permits and the temptation it creates to police for profit," Institute for Justice researcher Jennifer McDonald said in a statement. "Transparency is no substitute for comprehensive forfeiture reform, but it is still vitally important to bring forfeiture activity and spending into the light of day."