Everyone Loses as China Escalates Trade War With Tariffs on American Pork, Fruit, and More
"No one wins in these tit-for-tat trade disputes, least of all the farmers and the consumers."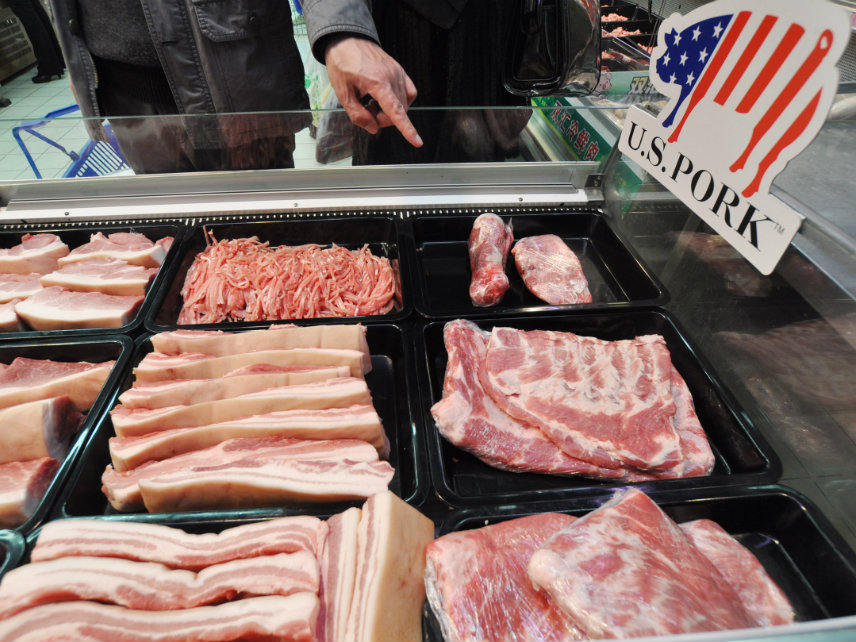 President Donald Trump's trade war just got a little harder to win.
China announced new tariffs on 128 American imports yesterday, primarily targeting agricultural products such as pork, nuts, fruit, and wine. In a statement, the Chinese government said it was imposing the new tariffs "in order to safeguard China's interests and balance the losses caused by the United States' additional tariffs."
Trump put tariffs on steel and aluminum imports to America last month, then doubled down with a second round of tariffs on Chinese-made electronics, furniture, and other goods. If the former failed to trigger a trade war with China, Trump seemed determined to get one started when he announced the latter on March 22. "This is the first of many" penalties aimed at Chinese goods, the president said as he signed the order.
Regardless of whether it's Trump or Chinese President Xi Jinping ordering the tariffs, Americans stand to lose.
The trade barriers Trump issued to prop up the steel and aluminum industries will end up increasing costs for thousands of downstream businesses—by one count, there are 46 American jobs in steel-consuming industries for every steel-producing job in the country. Other tariffs aimed at Chinese goods will likely have less of a direct effect on the economy as a whole, analysts say, but will leave Americans will fewer options and higher prices for a variety of household items.
Now retaliatory tariffs may cut off overseas markets for American farms and wineries. If American pork, wine, and other products become more expensive in China, Chinese importers might start getting their supplies elsewhere. Spanish pork, Chilean wine, and Australian nuts could replace American products in one of the world's largest and fastest-growing economies.
No wonder American producers are worried.
"We sell a lot of pork to China, so higher tariffs on our exports going there will harm our producers and undermine the rural economy," says Jim Heimerl, president of the National Pork Producers Council and the owner of an Ohio farm. "No one wins in these tit-for-tat trade disputes, least of all the farmers and the consumers."
According to Heimerl's group, the United States exported $1.1 billion of pork to China, making that country the third largest market for U.S. pork.
The Chinese tariffs will hit a wide range of American-grown fruit as well, including apples, oranges, watermelons, strawberries, raspberries, cranberries, cherries, grapes, and pineapples.
China's retaliatory tariffs have to meet two conditions to be effective, writes Alicia Garcia-Herrero, chief economist for Asia Pacific at Natixis, a French investment firm.
"First, China should be a large enough (possibly irreplaceable) market for a specific US export product, so that a reduction in Chinese imports due to tariff measures does harm the US industry providing that specific good," Garcia-Herrero writes. "Second, the US should not be the main producer of that specific product, so China can easily find substitutes when trying to import that product."
Trade retaliation will be costly for China, in the same way that slapping tariffs on Chinese commodities and consumer goods will be costly for Americans. That might be enough to push China to negotiate with Trump, but a trade war is unlikely to be as straightforward or as easy as Trump seems to think. China could also retaliate in other ways, by slowing investment in the U.S. or selling American debt, says Garcia-Herrero.
The new Chinese tariffs are a double blow to American farmers, who were already facing the prospect of higher prices for farm machinery and equipment, thanks to Trump's tariffs on steel and aluminum. In a March letter to the White House, Iowa's congressional delegation urged Trump to reconsider the tariff.
The effects are being felt on Wall Street too. The Dow Jones industrial average, like other major stock market indices, has slid more than 10 percent since peaking on January 26, shortly before Trump began dialing up his rhetoric on trade. Significant drops on the stock market have coincided with Trump's announcement of new tariffs, and the Dow fell 65 points this morning following news of China's retaliatory tariffs (and following Trump's Easter Sunday Twitter tirade against the North American Free Trade Agreement). Walmart was the biggest loser among the index's members on Monday.
"The new bearish narrative is that tariffs implemented by the Trump administration will spur a global trade war that would spiral the world into a recession," Nick Raich, CEO of the investment analysis website The Earnings Scout, tells CNBC. "We understand the fear."