Will Stephon Clark's Killing by Police Finally Force Open California Misconduct Investigations?
Lawmakers have tried to counter the powerful law enforcement lobby and failed.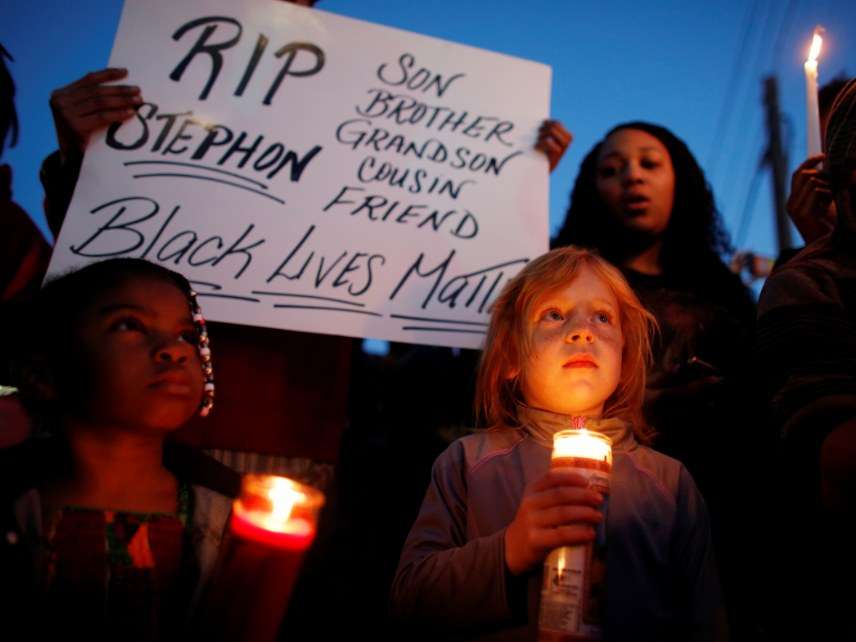 Stephon Clark was shot eight times in the back and side by the Sacramento police officers who chased him into his own backyard, according to a private autopsy ordered by his family and released today.
This information will most certainly complicate the claims made by the police. When the officers shot Clark on March 18 while investigating a 911 call about vehicle break-ins, it was because he "turned and advanced towards the officers while holding an object which was extended in front of him," the police have said.
After the shooting, the police discovered that Clark, 22, did not have a gun or any weapon. He was holding a cellphone. The autopsy report released today questions whether the police were even telling the truth that Clark was confronting them. Police body camera footage (and helicopter footage) released after the shooting does not provide a clear picture.
According to the private autopsy, it likely took between three to 10 minutes for Clark to die. From The New York Times:
"These findings from the independent autopsy contradict the police narrative that we've been told," Benjamin Crump, the family's lawyer, said in a statement. "This independent autopsy affirms that Stephon was not a threat to police and was slain in another senseless police killing under increasingly questionable circumstances."

Mr. Crump said the results proved that Mr. Clark could not have been moving in a threatening fashion toward the officers when they opened fire.

Mr. Clark's family has expressed frustration with the response from county and city officials, whom they have suggested are trying to cover up misconduct by their police officers. The independent autopsy, Mr. Crump and his team said, was undertaken to guarantee impartiality. The Sacramento County Coroner's office has not publicly released Mr. Clark's autopsy results, but did confirm that he died of multiple gunshot wounds. They had not disclosed how many bullets hit Mr. Clark. The Sacramento police did not immediately respond to a request for comment on the private autopsy.
Clark's death has prompted Black Lives Matter protests and activism in Sacramento, as well as the familiar "he was no angel" defense of police behavior (Clark had a criminal record and was on probation for robbery at the time he was killed—but there's no indication the police knew anything about him when they chased him).
Clark's killing by police has also sparked another round of discussion and debate over how opaque and secretive investigations of police misconduct are in the Golden State. Reason and other media outlets have made note over and over again how the powerful police lobby in the state has worked to craft the law so that it conceals just about all information that comes out of police misconduct investigations. Law enforcement unions fight to keep misconduct records even out of the hands of prosecutors who are trying to make sure they don't put bad cops up on the stand. It took a California Supreme Court decision to force stubborn law enforcement agencies to cough up just the names of police officers involved in fatal shootings (in another case involving an unarmed man shot to death).
Next week, state Sen. Nancy Skinner (D-Berkeley) plans to introduce new legislation that would require more public disclosures of police investigations that involve shootings and use of force. She has a tough fight ahead of her.