New Medicare Rule Promises Needless Suffering for Pain Patients
Taking a cue from the CDC, the proposed regulation imposes an arbitrary cap on opioid prescriptions.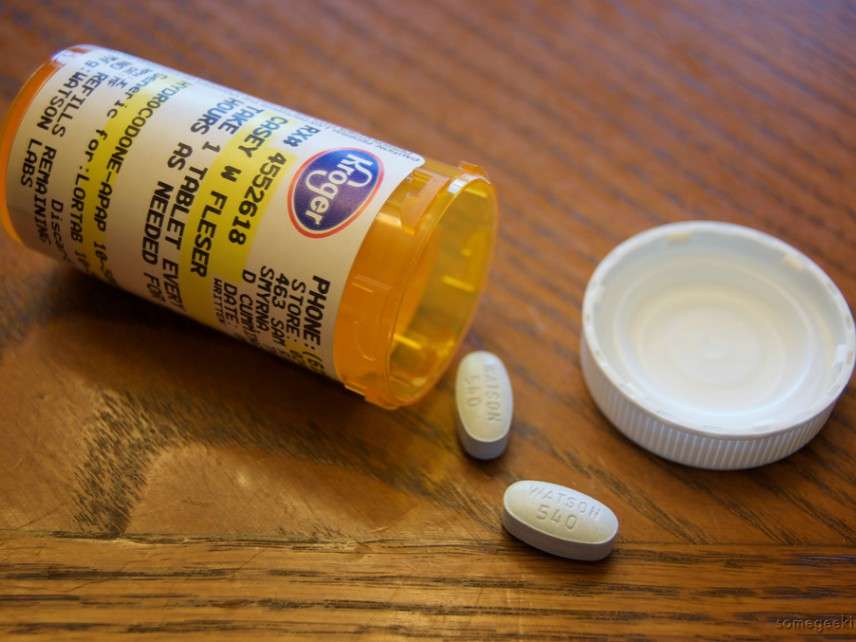 The CDC's controversial but officially optional opioid prescription guidelines, which encourage doctors to be as stingy as possible with pain medication, seem to be getting more mandatory every day. The recommendations, which were published in March 2016, already have been imposed on veterans, incorporated into state laws, and adopted as a guide to proper medical practice by regulators, insurers, and doctors. Now the Trump administration plans to impose them on the 44 million Americans enrolled in Medicare, against the advice of critics who say that move will lead to needless suffering. Those critics include doctors who helped produce the guidelines.
For patients suffering from severe chronic pain, the most problematic aspect of the guidelines is the recommendation that doctors "should avoid increasing dosage" above 90 morphine milligram equivalents (MME) per day, or at least "carefully justify a decision to titrate dosage" above that level. Critics say that threshold, which many doctors have interpreted as a hard cap, is arbitrary because patients vary widely in the way they metabolize and respond to opioids, especially if they have developed tolerance after taking pain medication for years. Thanks to the CDC's advice, patients across the country have seen their doses dramatically reduced, even when they had been responding well to opioids for years.
Lynn Webster, a former president of the American Academy of Pain Medicine (AAPM), hears from such patients almost every day. He says opioids enabled them to "have a reasonable life…maybe for a decade or more," but "many of them are now bedridden, because they're being forced to take a dose far less than what has been necessary to keep them functional."
The Trump administration seems determined to replicate that pattern among Medicare recipients. Under a proposed rule that is expected to take effect in January, Medicare will not cover pain medication amounting to 90 MME or more a day for more than a week, except for cancer and hospice patients. According to the Centers for Medicare and Medicaid Services (CMS), 1.6 million patients currently exceed that cap. That means many patients with severe chronic pain will have to choose between agony and paying thousands of dollars more every year for their medication, assuming they can afford it.
"While a strong case can be made for consensual, supported opioid dose reductions for voluntary patients, no data support nonconsensual/forcible dose reductions or curtailment in otherwise stable patients that have become common as prescribers react to regulations, mandates, insurers and fear for professional security," say 150 physicians in a letter to CMS criticizing the new policy. "The CMS plan risks accelerating a chaotic pattern of churn, abandonment and medical harm to patients who receive opioids as physicians flee an increasingly risk-laden and cumbersome decision matrix that may not advance patient safety."
Stefan Kertesz, the University of Alabama at Birmingham pain and addiction specialist who spearheaded that letter, notes that several experts who worked on the CDC's guidelines have expressed concerns about the proposed CMS limits. One of those CDC advisers, University of Minnesota internist Erin Krebs, told The New York Times she worries about "aggressive tapering or immediate discontinuation," which "could harm people, even if opioids have no benefit for their pain." Krebs emphasized that "we can't walk away from patients who have been treated with opioids for years or even decades now."
Another doctor who worked on the guidelines, Lewis Nelson, chairman of emergency medicine at Rutgers New Jersey Medical School and University Hospital, told the Times: "We didn't take a specific position on people who were already on high doses. We did say that established, high-dose patients might consider dosage reduction to be anxiety-provoking, but that these patients should be offered counseling to re-evaluate." He added that "there is a difference between a CDC guideline for doctors and a CMS hard stop for insurers and pharmacists."
Deborah Dowell, a co-author of the guidelines, likewise has insisted that the CDC did not intend to encourage involuntary tapering or cessation. "We do hear stories about people being involuntarily taken off opioids," she said at an April 2017 conference. "We specifically advise against that in the guidelines." That's not exactly true, although the guidelines do describe tapering as a consensual process.
Webster says the CDC, given its status within the medical community, should have known that its advice would be interpreted as a mandate. "The CDC bears full responsibility for how these arbitrary dose levels are being implemented throughout the country and the consequences for the people in pain," he says. "I said at the time when they were proposed that if something comes from the CDC as a guideline, it is more than a guideline. It will be interpreted basically as a level of dosing that if you exceed [it], then you are at legal jeopardy."