City of Dallas Sues Nightclub Over Mural Honoring Fallen Officers
The tribute to five slain officers is allegedly a code violation.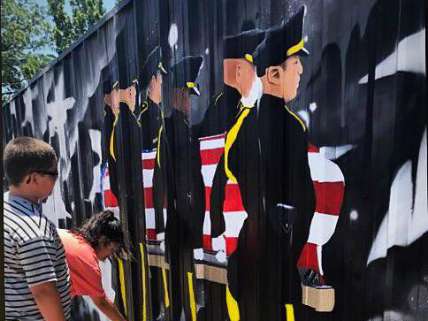 The owners of Last Call Lounge in Dallas installed some sheet metal on their property's preexisting fence last year. Then they had a mural painted on it to commemorate five officers killed at a march against police violence the previous year.
"We're just trying to honor and respect the Dallas Police Department about what happened a year ago," co-owner Diana Paz told Fox News in 2017.
Now the mural is no more. The bar took it down yesterday under threat of a lawsuit from City of Dallas, which says the fence is a code violation. City officials claim that they first issued a citation and notice of violation to the club's owners "on or about" May 26, 2017; the citation said that the siding was added without a permit and that it obstructed visibility at the nearby intersection.
The mural itself was completed in July 2017, a year after the honored officers were killed. The club's other owner, Cesar Paz, disputes the city's timeline, telling the local CBS affiliate that he never recieved a notice of violation until after the mural was complete.
An Associated Press story notes the steps the club took to remedy the violation once it was discovered, including applying for a permit for the fence and spending an additional $2,100 to have the fence moved back from the road to increase visibility. The whole project has reportedly cost $15,000.
This did little to appease the city, which started hitting the Last Call Lounge with fines. On March 5, 2018, the city also filed a suit demanding that the fence be dismantled, saying the structure "is illegal and constructed in such a way that it can conceal illegal activity."
Across the country, murals are becoming flashpoints in the struggles over everything from code enforcement to housing construction. The City of New Orleans faces a lawsuit after threatening resident Neal Morris for a mural depicting Trump's "grab her by the pussy" comments. In a different sort of case in San Francisco, anti-development activists are citing a long-gone mural to establish the alleged historical significance of a laundromat whose owner is struggling to convert it into apartment buildings.
For the Last Call Lounge, having to take down the mural is a tough pill to swallow.
"We thought we were doing something right and something nice for the city. We never thought we were going to have these kind of issues," says Paz.
The dismantled mural is reportedly being stored at the Dallas office of the National Latino Law Enforcement Organization, which is looking to find it another home.