When a Mash Note to a War Criminal Hit the Top 40
Friday A/V Club: My Lai's musical apologists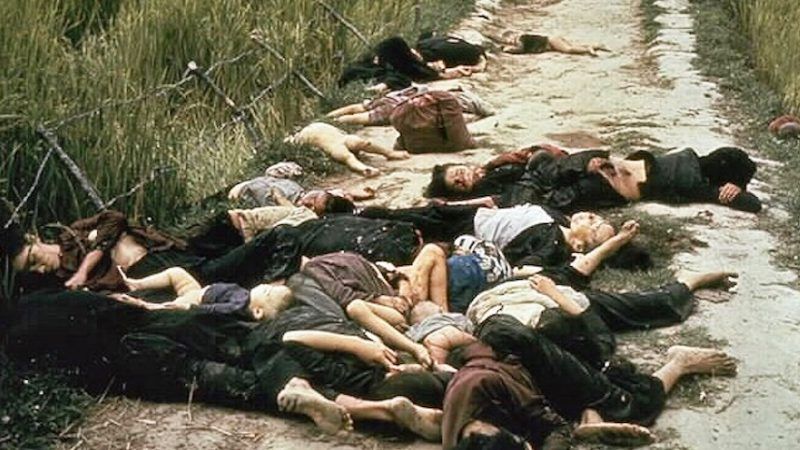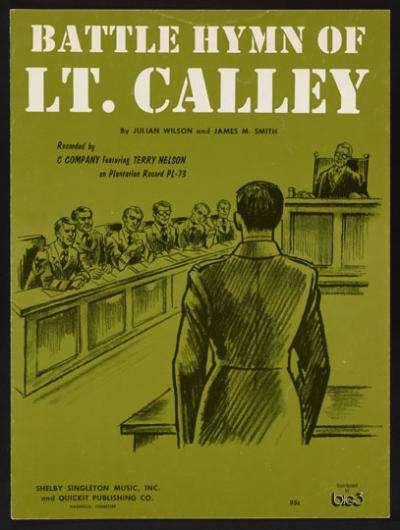 Today marks the 50th anniversary of the My Lai massacre, in which a group of American soldiers slaughtered hundreds of unarmed Vietnamese civilians. You can read more about that grisly episode in Lucy Steigerwald's story on the subject, posted elsewhere on this site today. I just want to highlight something Lucy mentioned in passing as she described the trial of Lt. William Calley, the one man convicted for his role in the crime. Back in the U.S., she writes, "Calley became a twisted sort of folk hero."
It's true. The most infamous of the killers in one of America's most infamous war crimes had a cheering section in the States. No, not everyone: Of course many Americans were revolted by the rapes and murders at My Lai. But then there were the people who told themselves a different story about what had happened. The people who made a gold record and a top 40 hit of a deeply dishonest apologia called the "Battle Hymn of Lt. Calley."
"Battle" was written by Julian Wilson and James Smith, a couple of businessmen from Muscle Shoals, Alabama, and it was recorded by a DJ named Terry Nelson at FAME Studios, the legendary birthplace of dozens of soul, pop, and country hits. Tex Ritter was going to release a version of the song too, but the higher-ups at Capitol Records decided that would be a bad idea. ("[I]f we want to glorify a war hero," one executive told Billboard, "let's find someone other than Lt. Calley.") The folks at Plantation Records had no such scruples, and they put out Nelson's recording right after Calley was convicted:
"I'm just another soldier from the shores of U.S.A.," the song's Calley declares, even if "they've made me out a villain, they have stamped me with a brand." The real villains are elsewhere: "While we're fighting in the jungles they were marching in the street/While we're dying in the rice fields they were helping our defeat/While we're facing V.C. bullets they were sounding a retreat." In real life, My Lai was an assault on unarmed civilians. In the song, "We responded to their rifle fire with everything we had."
The rifle fire may be imaginary, but I guess the "everything we had" part was true: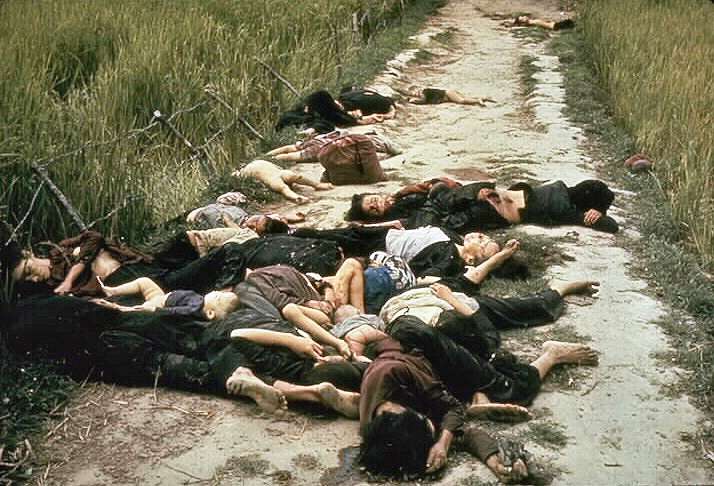 The record peaked at #37 on the Billboard charts. To hear Casey Kasem introducing it on American Top 40—right after a snappy little number called "(For God's Sake) Give More Power to the People"—go to the 2:28 mark here. For seven more pro-Calley songs (and one anti-anti-Calley song), go here. For past editions of the Friday A/V Club, go here.