Movie Review: Tomb Raider
The video game curse continues.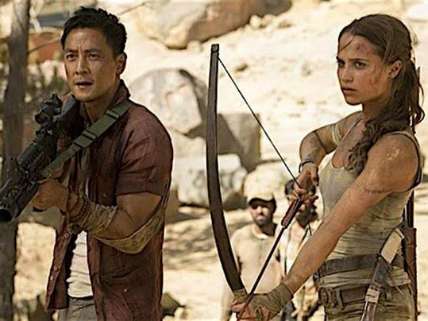 Fresh out of the action factory though it may be, the new Tomb Raider is already ripe to be remade—as a better movie. A movie that would more stylishly recycle the Indiana Jones readymades at the heart of its video-game DNA, and use them for something more dynamic than set dressing. A movie that would take some Indy tips about creating memorable secondary characters. An improved film would also hack down the thick underbrush of exposition, structure the narrative more gracefully, and—this is important!—assign somebody to turn on the lights during midnight mud-fight scenes.
The director, Norwegian genre specialist Roar Uthaug, is a pro and he does some things well (the action editing is pretty snappy throughout). But he also makes some puzzling choices. The movie begins with a bit of voiceover mumbo-jumbo about an evil Japanese queen named Himiko, who was long ago entombed on the "lost island of Yamatai" and is just "waiting to be unleashed." Fine—great, in fact: who doesn't love this sort of stuff?
Then we meet the soon-to-be tomb raider of the title, Lara Croft. In two earlier films, in 2001 and 2003, Lara was played by an unblushingly sultry Angelina Jolie, whose body was strategically padded out for the part in order to meet a 15-year-old boy's standard of pulchritude. Now, in a post-pulchritudinous age, she's played by the more petite Alicia Vikander, an actor of deep talent, none of which is called upon in this movie.
Instead of getting right down to business, director Uthaug and his various writers give us a bicycle race (Lara works as a London bike messenger!) that is exceedingly well cut-together, but is, nonetheless, a bicycle race, and a long one. There's a cash prize, and Lara's determined to win it, and just as we're figuring she must be broke, we learn that she's actually the motherless daughter of a bazillionaire business titan—an Indy-like amateur explorer and occultist named Lord Richard Croft (Dominic West). Dad disappeared seven years ago on one of his mysterious trips ("searching the world for proof of another realm," as he put it), and the family 's retainers (Kristin Scott Thomas and Derek Jacobi) are now pressuring Lara to sign some official presumed-dead papers that will allow her to take charge of her fiscal inheritance and also hold on to Croft Manor, a country estate approximately the size of Hogwarts.
Lara is reluctant to acknowledge the possibility that her father is dead, and hope is rekindled when she finds some possible clues to his whereabouts. Soon she's off to Hong Kong, where we're given a chase across the docks and sampans that leads her to a boat owned by a young drunk named Lu Wen (Daniel Wu, of Geostorm). He agrees to take Lara to the lost island of Yamatai, even after realizing it's located in the Devil's Sea—or, as we know it, the Sea of Make-It-Stop CGI.
After a refreshing shipwreck, Lara falls into the hands of murderous Mathias Vogel (Walton Goggins), an old associate of Lara's dad who is already on the island conducting an excavation in search of Himiko's legendary tomb. But for whom is he doing this? Or for what? Dad also turns up—although we've already been seeing quite a bit of him in chokingly lachrymose color-drained flashbacks to Lara's childhood. He's kind of a sappy guy, and before very long at all you start wishing he'd go back to being lost.
The movie is by now in full sprawl, with Indy-isms piling up like ancient Sankara stones: the jungle cave, the skeletons, the spiders, the rickety bridge over the gaping chasm—even, at one point, some magicky stones with an actual Sankara-like glow. These familiar visual elements, so cool in their original Indy context, just feel dragged-in here, where the context is so garbled (what exactly are the "ordeals of Himiko"?) and the story's telling is so lacking in panache or momentum or fantasy exuberance of any sort.
The movie Is expensively dull, and Alicia Vikander does not belong in it. She doesn't pop as an action hero, for one thing, and she's too richly gifted a performer for a picture that only requires her to run and jump and get a little scuffed up at times. At the end, when the movie grabs you by the ears and screams "Sequel!" in your face, you hope for her sake that no such cheerless prospect will ever transpire.