Collapsed FIU Bridge Was Funded by Federal Grant Program Criticized for Shoddy, Politicized Review Process
The TIGER grant program has come under fire for putting politics ahead of technical concerns.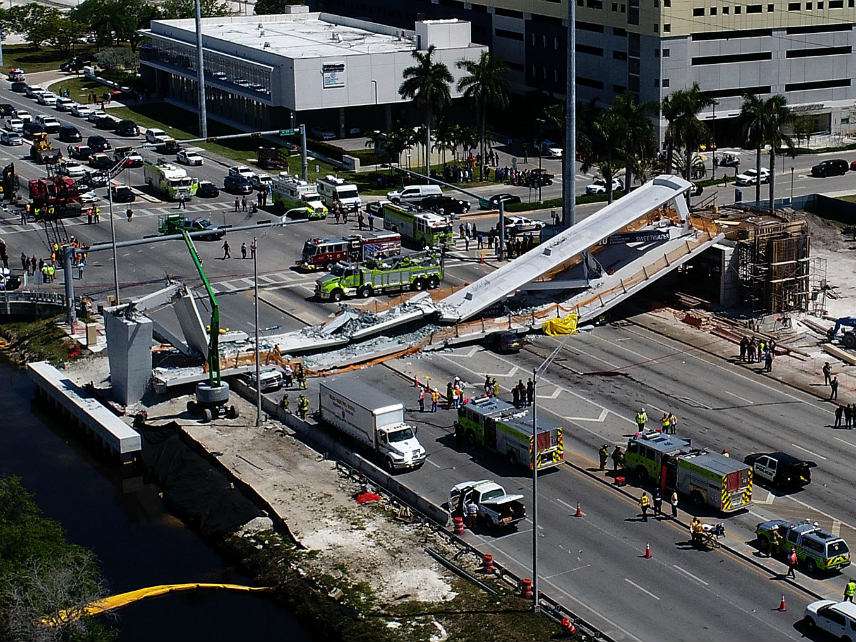 The pedestrian bridge that collapsed at Florida International University's Miami-Dade campus today, killing several people, was funded with $11.4 million from the U.S. Department of Transportation's Transportation Investments Generating Economic Recovery (TIGER) program. The TIGER program has come under repeated fire for awarding money based on politics rather than merit.
Eight vehicles were reportedly crushed when the 174-foot, 950-ton pedestrian bridge, installed Saturday over Southwest Eighth Street in Miami, collapsed this afternoon. The bridge was supposed to demonstrate methods developed by FIU's Accelerated Bridge Construction University Transportation Center (ABC-UTC), whose work is also funded by U.S. DOT grants.
"This project is an outstanding example of the ABC method," said Atorod Azizinamini, the center's director, in a press release on Saturday. "This bridge is the result of great support from our congressional delegation and the U.S. Department of Transportation," said FIU CFO Kenneth Jessell in the same press release. "FIU and our surrounding community will benefit from this project for generations to come."
In 2013, the FIU was awarded $11.4 million in TIGER money for its University City Prosperity Project, which included the pedestrian bridge. Some 52 projects were awarded $458 million in that round of TIGER grants—known as TIGER V—using methodology that was later criticized by the Government Accountability Office (GAO) for violating DOT's own standards.
DOT staff are tasked with evaluating all applications to the TIGER program for how closely they adhere to several "desired long-term transportation outcomes," including economic competitiveness, state of good repair, livability, environmental sustainability, and safety. Each project is assigned a rating that ranges from acceptable to highly recommended.
In 2014, the GAO released a report that was highly critical of how DOT handled the TIGER V grants, which included money for the FIU pedestrian bridge project. The report said DOT advanced projects with lower technical ratings in lieu of those with higher technical ratings and upgraded the technical rating of 19 projects from acceptable or recommended to highly recommended without documenting a justification. It is unclear from the GAO report whether the FIU bridge project was advanced over more qualified projects or if its technical rating was subsequently upgraded, since the report does not give project-by-project detail.
TIGER, which Reason has covered here, here and here, was created as an economic stimulus measure under President Barack Obama and morphed into a permanent program. It has awarded $5.6 billion in nine rounds of grants since 2009.
A 2012 report from the Reason Foundation, which publishes this website, found that 40 percent of the grants in the first two TIGER rounds went to districts represented by Republicans on the House Transportation and Infrastructure Committee. The four highest-ranking Democrats on the same committee each received at least one TIGER grant.
Members of Florida's congressional delegation publicly lauded the TIGER award to FIU. "Thanks to this TIGER funding, FIU students will be able to walk from their student housing to class through a pedestrian bridge across Southwest Eighth Street," Rep. Debbie Wasserman-Schultz (D-Fla.) said in 2013. "More jobs will be created in our community thanks to this grant, and I look forward to celebrating the project's success with everyone in South Florida."
Rep. Mario Diaz-Balart (R–Fla.) made similar comments on Saturday. "FIU has come a long way since the TIGER grant that funded this pedestrian bridge was awarded in 2013," he said. "This project represents a true collaboration among so many different partners at local, state, and federal levels, and in both the public and private sectors."
The precise cause of the bridge's collapse has not been determined yet, and neither has the total number of dead and injured.