Why Is Silicon Valley's Cool New Self-Flying Taxi Taking Off in New Zealand Instead of California?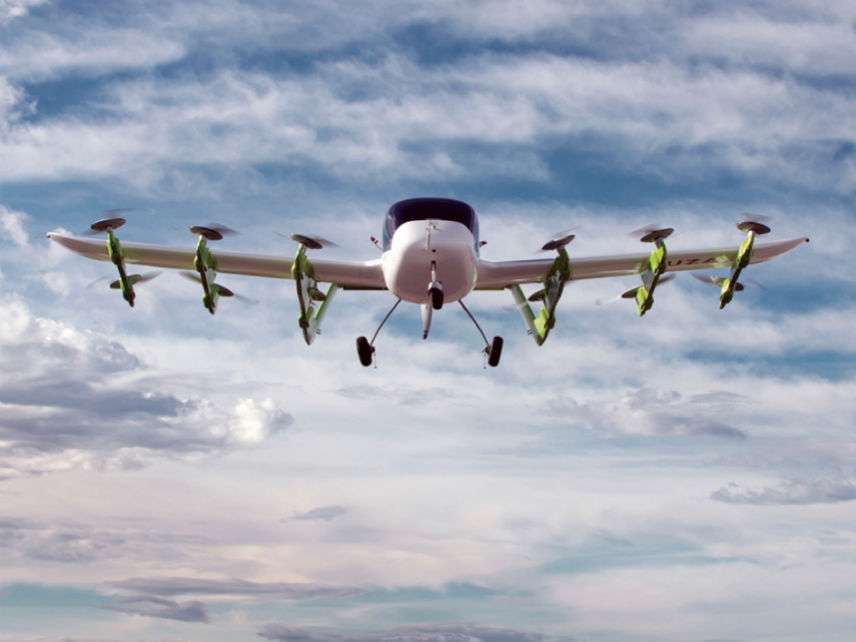 The air taxi vehicle developed by the startup called Kitty Hawk is now public, and it is impressive. The aircraft will be able to take off vertically and fly up to 60 miles, intelligently piloting itself during the entire flight.
Kitty Hawk is funded by Alphabet CEO Larry Page, and boasts a lineup of accomplished executives from the San Francisco Bay area, including alumni from Google, Twitter, and Virgin America.
But instead of launching an air taxi service close to their homes and families in Silicon Valley, Kitty Hawk chose New Zealand—a not-very-convenient commute that's something like 15 hours each way.
Kitty Hawk did preliminary testing at an airstrip in Hollister, an agricultural town about 50 miles south of San Jose, and the company's headquarters has not shifted from Mountain View. But when its executives conducted a global search for a location to start a service that would eventually carry passengers, California failed to make the cut.
A report from New Zealand's Stuff.co.nz news site explains why. It quotes Fred Reid, Kitty Hawk's chief operating officer, as saying they were looking for a country that was open to new ideas, such as approving a single aircraft design that could be used from testing through commercialization. New Zealand Prime Minister Jacinda Ardern said she wanted to send "the message to the world that our doors are open." Another excerpt: "[CEO Sebastian] Thrun said when meeting people from the government for the first time, the first question everyone asked was how they could make the process faster for Kitty Hawk."
It turns out that startups designing autonomous vehicles are as mobile as the aircraft they dream up. If the United States is perceived as too slow to recognize the benefits of these technologies, companies will look elsewhere.
The sheer weight of the regulatory structure for autonomous planes will "strangle further innovation—at least in the U.S.," Joe Blair, a vice president at Vancouver, B.C.-based Chrysalix Venture Capital, wrote in an essay last year. "Other countries have welcomed autonomous drones with open arms."
France and Switzerland allow drones more flexibility than the U.S. when operating beyond visual line of sight. New Zealand was the location that Domino's chose for the world's first commercial drone delivery service (the pizza's flight time was less than 5 minutes). A cluster of drone companies is forming around Delft in the Netherlands. Dubai will host Uber's air taxi service, a Kitty Hawk competitor that's scheduled to launch in 2020.
"It's really a problem," Janina Frankel-Yoeli, vice president of Israel's Urban Aeronautics, told the BBC. Current aircraft are already "virtually capable of taking off, flying and landing on their own," but the Federal Aviation Administration (FAA) will not allow them to fly without a pilot. Greg McNeal, co-founder of drone software company AirMap, told Recode: "We asked why autonomous cars weighing 3,500 pounds can drive next to hundreds of pedestrians, but a three-pound drone can't fly over people."
Nobody wants to wake up to an autonomous vehicle crashing through their roof, but it's possible to prevent that without driving companies overseas. Requiring passenger services to secure a hefty amount of insurance is one approach—strict regulations would exist, but would be drafted by insurers. A model can be found closer to the ground: the insurance industry's car safety ratings tend to be tougher and more comprehensive than the federal government's. (The FAA already recognizes "equivalent levels of safety.")
For its part, the FAA has shown some signs of trying to break out of a 1950s-era regulatory mentality. In 2016, it released what it calls Part 107 rules for drone operations. These permit lightweight line-of-sight drones operated by a human; waivers are available to permit night flying or operating beyond line of sight. But Part 107 waivers do not extend to carrying passengers or autonomous operations.
Not helping matters is the dizzying complexity of regulations: Part 107 waivers don't apply to aircraft over 55 lbs., so an operator of a heavier drone may need a section 333 exemption with a part 61 pilot rating, plus a "blanket Certificate of Waiver or Authorization" for flights at or below 200 feet. There's also been a flurry of quasi-contradictory governmental announcements: six test sites, then 333 exemptions, then a "Center of Excellence" for drones, then Part 107, and finally a "UAS Integration Pilot Program." Aviation lawyer Jonathan Rupprecht quips: "How do we know that some new program won't come along a year later and be the cool new thing on the block?"
For his part, President Donald Trump seems to recognize the job potential of drones: Last fall, he directed his Transportation Department "to promote the safe operation of unmanned aircraft systems" including for human transportation. That sounds like rare common sense. For the next Kitty Hawk to fly in Kitty Hawk, North Carolina, instead of in Canterbury, New Zealand, we need more of it.