City Threatens to Sue Online Gadfly for Complaining About Bad Smells
A web developer's First Amendment lawsuit says Sibley, Iowa, officials conspired to silence him.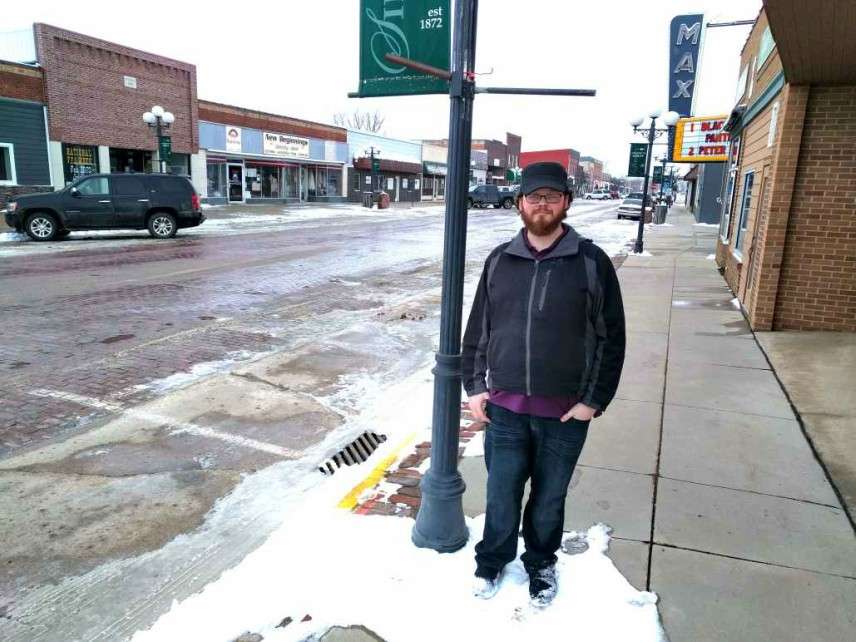 When I was a reporter for a South Carolina newspaper in the late 1980s, I wrote a story that delved into possible explanations for the sulfurous smell that often assaulted me as I drove from Charleston to North Charleston. Was it swamp gas? Sewage? Fumes from a local paper plant? The mayor of North Charleston was not pleased by the article, but no one threatened to sue me.
Josh Harms, an Iowa web developer who complained online about the "horrible rotten blood and stale beer" odors emanating from a dog food factory in Sibley, was not so lucky. "If the web site is not taken down within ten days," Daniel DeKoter, a lawyer representing the city, said in a December 12 letter to Harms, "your next notice will be in the form of a lawsuit."
DeKoter did not specify on what grounds the city might sue Harms, although he claimed Harms' website, which said "you can't escape the stench no matter where you are in town," "libels the city of Sibley, interferes with the recruitment of businesses and new residents, and negatively affects property values." In a letter he sent Harms a month later, DeKoter explained that "Iowa recognizes a type of lawsuit called 'slander of title,' which involves disparagement of real estate." By complaining about unpleasant smells in Sibley, DeKoter argued, Harms had committed that tort, leading to "a reduction in taxable value of the property that forms the city's tax base." After threatening to sue Harms for libeling land, DeKoter closed by assuring him that "this letter is not a threat of litigation and is not in any way intended to deter your exercise of your legal rights."
According to a First Amendment lawsuit that the American Civil Liberties Union of Iowa filed on Harms' behalf last week, DeKoter had already accomplished that goal on the city's behalf. Under the threat of legal action, Harms had edited his website, shouldyoumovetosibleyia.com, in the hope of appeasing the city. For example, "He changed the answer to his question, 'Should you move to the Sibley, Iowa?' from 'Not Yet' to 'Only you can answer that.'" Harms added a sentence saying his intent was to "give you my opinion on both the good and the bad so that you can make an informed decision," and he added a list of good things about Sibley. He also noted that the odors associated with the Iowa Drying and Processing (IDP) plant, which had been the subject of multiple nuisance citations and litigation between the city and IDP, were not as obtrusive as they used to be.
Shortly after Harms made those changes, Lana Bradstream, a reporter for The N'West Iowa Review, left a message for him, asking for an interview. Harms' website had attracted a lot of attention in town, and Bradstream wanted to ask Harms about the threats from the city. But according to the lawsuit, Harms decided not to make any public comments about the controversy after meeting with a lawyer from DeKoter's firm, who told Harms that talking to the press would not be in his best interest.
Sibley Mayor Jerry Johnson and City Councilman Larry Pedley did talk to Bradstream, denying that they had authorized a cease-and-desist letter. But the official minutes of the December 11 city council meeting say officials "discussed a negative website regarding moving to Sibley," adding, "attorney sending letter to get it down." A local newspaper reported that City Administrator Glenn Anderson and City Clerk Susan Sembach "gave details about a website (shouldyoumovetosibleyia.com) that voices concerns as a deterrent to someone considering moving to Sibley based on the IDP odor issue, that while still not 100% eliminated, has improved." The article said Anderson and Sembach "think they have determined who the perpetrator is and are working with the city attorney to attempt to remove the site."
The main complaint about Harms' website was that it did not give city officials sufficient credit for alleviating the odor problem caused by the IDP plant, which according to the Des Moines Register produces "a high-protein animal feed supplement made from pig plasma." But instead of simply communicating that concern, city officials conspired to violate Harms' First Amendment rights by threatening him with a frivolous and unconstitutional lawsuit.
"The First Amendment allows no such action for defamation by a government against a citizen," the ACLU notes. "Despite Harms's desire to continue informing his fellow citizens about the IDP odor problem and Harms's belief that Sibley was not adequately addressing the issue, Sibley's letters together gave Harms the reasonable impression that the City would sue him or not entirely based on its own arbitrary criteria of whether Harms had engaged in a sufficient amount of speech positive about Sibley, and how many iterations of the statement that his website represented his opinion it determined were adequate."
The lawsuit says "Harms's continuing fear of litigation has prevented him from changing or updating his website, speaking with reporters, and creating a second website to report on IDP odors." The ACLU argues that the city's threats amount to a prior restraint on speech, viewpoint discrimination, and "unconstitutional retaliation and harassment for Plaintiff engaging in activity protected by the First Amendment." The lawsuit, which was filed in the U.S. District Court for the Northern District of Iowa, seeks a declaratory judgment to that effect and compensation for the violation of Harms' constitutional rights.
"I want to use my skills as web developer to protest and to help my community," Harms says. "I grew up here. My family lives here. I'm trying to make the lives of myself and the people who live here better." He adds that "the right to free speech, especially online, is extremely important to me," and "receiving this threat from the city was the first time I've ever felt afraid that what I might write and put online would make me a target of my own government."
Update, March 29: Today U.S. District Judge Leonard Strand issued an injunction that orders the city of Sibley to refrain from threatening Harms or trying to stop him from talking to the press. The ACLU of Iowa says the city also has agreed to provide First Amendment training for its staff, give Harms a written apology, and pay him $6,500 in damages, plus $20,475 for attorney fees.