Controversial Law Professor's Comments on Affirmative Action Get Her Banned From Teaching First-Year Classes
For months, Penn Law has resisted calls to punish Amy Wax for her public comments on race. Yesterday, they caved.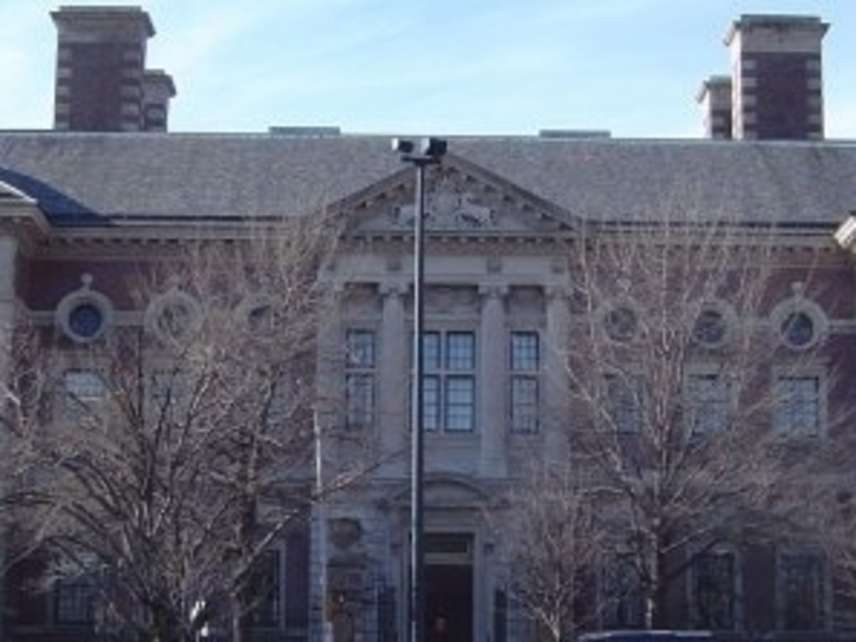 A professor at the University of Pennsylvania Law School whose outspoken views on race and culture have drawn intense criticism from students and colleagues will no longer be allowed to teach a mandatory class for first-year law students, Penn Law Dean Theodore Ruger announced yesterday.
The ban is the latest escalation of a months-long feud between the law school and conservative professor Amy Wax.
The tensions began last August, when Wax co-authored an op-ed in the Philadelphia Inquirer which touted the superiority of the "bourgeois cultural hegemony" that Wax and her co-author, Larry Alexander, said reigned in America before the 1960s.
In the portion of the piece which drew the most outrage, Wax and Alexander said:
All cultures are not equal. Or at least they are not equal in preparing people to be productive in an advanced economy. The culture of the Plains Indians was designed for nomadic hunters, but is not suited to a First World, 21st-century environment. Nor are the single-parent, antisocial habits, prevalent among some working-class whites; the anti-"acting white" rap culture of inner-city blacks; the anti-assimilation ideas gaining ground among some Hispanic immigrants. These cultural orientations are not only incompatible with what an advanced free-market economy and a viable democracy require, they are also destructive of a sense of solidarity and reciprocity among Americans. If the bourgeois cultural script — which the upper-middle class still largely observes but now hesitates to preach — cannot be widely reinstated, things are likely to get worse for us all.
The op-ed set off an extended series of responsive op-eds, petitions, and open letters between Wax, her colleagues, and various other Penn-affiliated groups. Five of Wax's colleagues criticized her piece in an op-ed in Penn's student paper, The Daily Pennsylvanian, and 33 signed an open letter "categorically reject[ing]" her claims. Wax fired back in the student paper, and later, in The Wall Street Journal, which prompted yet another response from a critical colleague. Heather Mac Donald jumped in. You get the picture.
One of the critics' repeated demands was to remove Wax from teaching civil procedure, a mandatory first-year course in which students are assigned randomly to year-long "sections" taught by different professors. Black students, they said, should not be forced to be taught by a professor who allegedly thought them inferior. The Penn Law chapter of the National Lawyers' Guild, a progressive legal organization, said that Wax's comments were "an explicit and implicit endorsement of white supremacy," and asserted that "her bigoted views inevitably seep into her words and actions in the classroom and in private conversations with students."
Throughout all this, Ruger publicly declined to discipline or denounce Wax, citing the law school's commitments to open expression. Wax alleged in her Wall Street Journal op-ed that Ruger had privately asked her to take a leave of absence, however, which Ruger denied.
This month, however, a new front in the controversy opened when a group of Penn Law alumni published a new petition drawing attention to remarks Wax made on a September 2017 episode of "The Glenn Show," a video series on the website Bloggingheads.tv hosted by Brown University economics professor Glenn Loury. In her hour-long talk with Loury, Wax discussed the controversy around her op-ed and her opposition to race-based affirmative action, which Loury, who is black, also fiercely opposes.
In the course of that discussion, Wax discussed her belief in the so-called "mismatch hypothesis" of affirmative education in higher education, which holds that racial preferences harm minority students by placing them in high-stakes elite academic environments for which they have not been adequately prepared.
"Here's a very inconvenient fact, Glenn," Wax said, "I don't think I've ever seen a black student graduate in the top quarter of the [Penn Law School] class and rarely, rarely in the top half… I can think of one or two students who've graduated in the top half of my required first year course. Well, what are we supposed to do about that? You're really putting in front of this person a real uphill battle, and if they were better matched, it might be a better environment for them. That's the mismatch hypothesis, of course."
The petition again called for Wax to be prohibited from teaching civil procedure. This time, Ruger complied.
In an email sent to Penn Law students, the text of which was obtained by the Daily Pennsylvanian, Ruger said the decision was based not on the substance of Wax's comments, but on her disclosure of student rankings and grades in violation of law school policy. "As a scholar, [Wax] is free to advocate her views, no matter how dramatically those views diverge from our institutional ethos and our considered practices. As a teacher, however, she is not free to transgress the policy that student grades are confidential."
He also asserted, though, that Wax's claims about black Penn Law students' performance were false, and could have a negative effect on black students in her classes. "In light of Professor Wax's statements, black students assigned to her class in their first week at Penn Law may reasonably wonder whether their professor has already come to a conclusion about their presence, performance, and potential for success in law school and thereafter," he said.
Ruger took care, however, to portray his decision as merely an administrative judgment call, not a punishment: As dean it is my responsibility to allocate faculty teaching resources in the best interest of students and of the Law School." he said. "This curricular decision entails no sanction or diminution of Professor Wax's status on the faculty, which remains secure. Normally, this decision would be private, but because Professor Wax made these inaccurate public statements, and students and alumni raised their concerns publicly, sharing it with our community is important."
The Foundation for Individual Rights in Education (FIRE), a civil liberties watchdog group for students and faculty at public colleges and private schools which guarantee expressive rights, isn't so sure. "We're monitoring the situation," says Samantha Harris, FIRE's vice president of policy research, "both to make sure that Penn is not punishing a professor for speaking on a matter of public concern, and also to make sure that there's no double-standard being applied by the University with regard to what Penn professors can and can't say without facing some sort of official retribution."
For his part, Loury didn't buy Ruger's explanation. In an email, he called Ruger's justifications "clearly a tendentious stretch…intended to discredit [Wax] and to justify his reprehensible actions."
Disclosure: I attended Penn 2013-2016 and interned at FIRE in 2015.