Rand Paul Will Oppose Trump's Pro-War, Pro-Torture Nominees for State, CIA
Paul says Mike Pompeo, Trump's pick to be the next secretary of state, will repeat the foreign policy mistakes of the past two decades.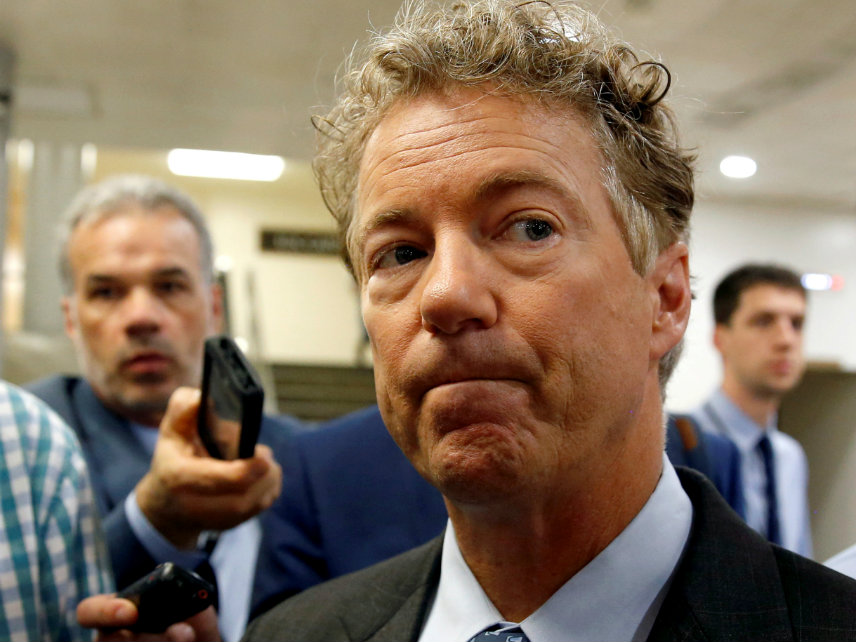 Sen. Rand Paul (R-Ky.) plans to oppose the nominations of Mike Pompeo for secretary of state and Gina Haspel as Pompeo's replacement running the Central Intelligence Agency.
Paul's opposition could complicate the Trump administration's plans to replace outgoing Secretary of State Rex Tillerson, who was fired this week and will leave his post at the end of the month.
When it comes to picking a replacement for America's top diplomat, Paul says he could not support nominees who are trying to steer Trump in a more interventionalist direction.
"I cannot endorse his nomination of people who loved the Iraq war so much that they want an Iran war next," Paul says. "President Trump sought to break with the foreign policy mistakes of the last two administrations. Yet now he picks for secretary of state and CIA director people who embody them, defend them, and, I'm afraid, will repeat them."
Paul sits on the crucial Senate Foreign Relations Committee, giving him significant leverage over these nominations. If the committee's 10 Democratic members also oppose Pompeo's or Haspel's appointment, Paul would be the swing vote on the 21-member committee. If either nominations make it to the Senate floor via a different route (Senate leaders could bypass the committee process, Politico says), Republicans could face another close vote with a slim 51–49 majority.
There's good reason for lawmakers on both sides of the aisle to think long and hard about a confirmation vote for Pompeo. As Emma Ashford explains, Pompeo has been very vocal on policy, including his outspoken support for withdrawing from the Iranian nuclear deal. It's unusual for the director of the CIA to speak out on matters of policy, and Pompeo's tendency to do so might complicate the high-level diplomatic negotiations he would oversee as secretary of state. When it comes to other potential hotspots, from North Korea to the ongoing proxy war on the Arabian Peninsula, Pompeo is likely to take a more hawkish stance than Tillerson did.
Domestically, Pompeo has supported the expansion of a surveillance state. In a 2016 Wall Street Journal op-ed, Pompeo called on Congress to "pass a law re-establishing collection of all metadata, and combining it with publicly available financial and lifestyle information into a comprehensive, searchable database." He has also called for the execution of Edward Snowden.
Paul opposed Pompeo's appointment to run the CIA last year, saying in January 2017 that Pompeo's "desire for security will trump his defense of liberty."
Less high-profile but no less important is Trump's pick to replace Pompeo at the CIA. Paul says that Haspel's record on torture, which includes running a CIA "black site" prison in Thailand, should disqualify her from consideration.