Trump to Rex Tillerson: Someone Has Told You That You're Fired!
Secretary of State replaced by CIA Director Mike Pompeo, who is replaced by torture aficionado Gina Haspel.
Rex Tillerson, the Where's Waldo of the Trump administration's divided foreign policy shop, has been fired as secretary of state and replaced by CIA Director Mike Pompeo. According to the president, part of the reason was a difference of approach on the Iran-nuclear agreement. "We were not thinking the same," Trump told reporters. "With Mike Pompeo, we have a similar thought process."
The president's thought process about eighty-sixing Tillerson is likely to come under scrutiny, since the existing timeline doesn't make sense. White House spokesperson Sarah Huckabee Sanders said today that Tillerson was informed Friday. The State Department, meanwhile, says the secretary found out today, from reading this Trump tweet:
Mike Pompeo, Director of the CIA, will become our new Secretary of State. He will do a fantastic job! Thank you to Rex Tillerson for his service! Gina Haspel will become the new Director of the CIA, and the first woman so chosen. Congratulations to all!

— Donald J. Trump (@realDonaldTrump) March 13, 2018
Trump later told reporters that Tillerson will be "much happier now."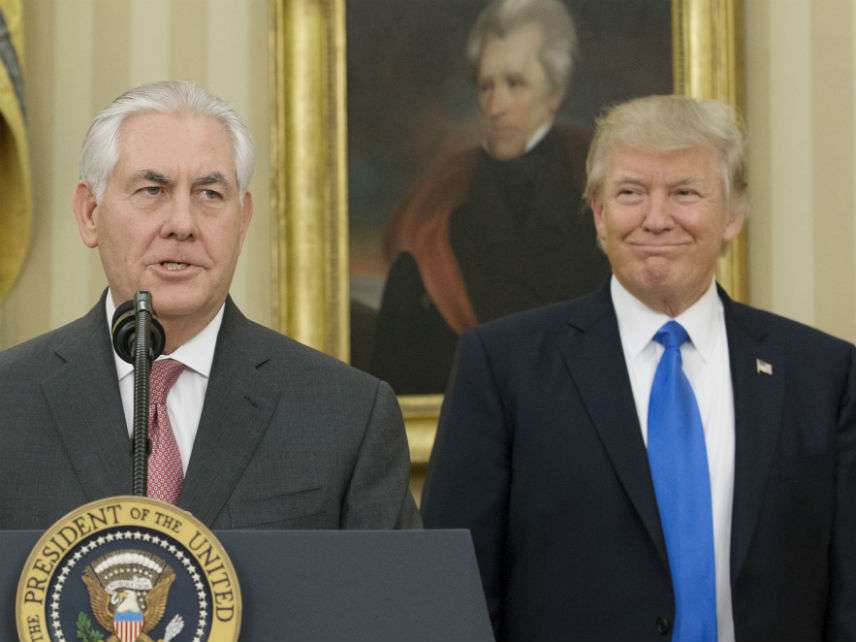 Steve Goldstein, State Department undersecretary for public diplomacy and public affairs, has released this statement: "The secretary did not speak to the president and is unaware of the reason, but he is grateful for the opportunity to serve, and still believes strongly that public service is a noble calling. The secretary had every intention of staying because of the critical progress made in national security. He will miss his colleagues at the Department of State and the foreign ministers he has worked with throughout the world."
Tillerson, a government newbie who had spent the previous four decades at ExxonMobil, seemed frequently out of sync and even out of touch with the mercurial president. Yesterday, for example, Tillerson said that the poisoning of an ex-Russian spy in London was "an egregious act" that "clearly came from Russia," which was in sharp contrast to Huckabee Sanders' repeated reluctance to point the finger at Moscow. Last week, too, the secretary of state was clearly out of the loop when Trump decided to meet with North Korean dictator Kim Jong Un. (Last October, in a reversal of those positions, the president said Tillerson was "wasting his time trying to negotiate with Little Rocket Man.")
Pompeo, a former congressman and Army tank officer, is seen as much more hawkish than Tillerson. He supports the bulk collection of Americans' metadata, the use of CIA black sites, enhanced interrogation methods, and the execution of National Security Agency whistleblower Edward Snowden.
Pompeo's replacement at the CIA, his former deputy Gina Haspel, had a "leading role in torture" during the Bush administration, according to this New York Times profile. Back when Tillerson/Pompeo rumors were heating up three months ago, the Weekly Standard pointed out that Haspel's prominence soothed some agency nerves frayed by Trump's sporadically intemperate criticisms.
So the out-of-touch realist is out at Foggy Bottom, the partisan pro-surveillance hawk is in, and Langley is now run by an in-house torturer. Meanwhile, Trump's personal assistant, John McEntee, has reportedly been escorted out of the White House due to security reasons. In other words, it's a normal Tuesday morning.