Girl Scouts Write Anti-Smoking Legislation in Colorado
A government for the children, of the children, by the children.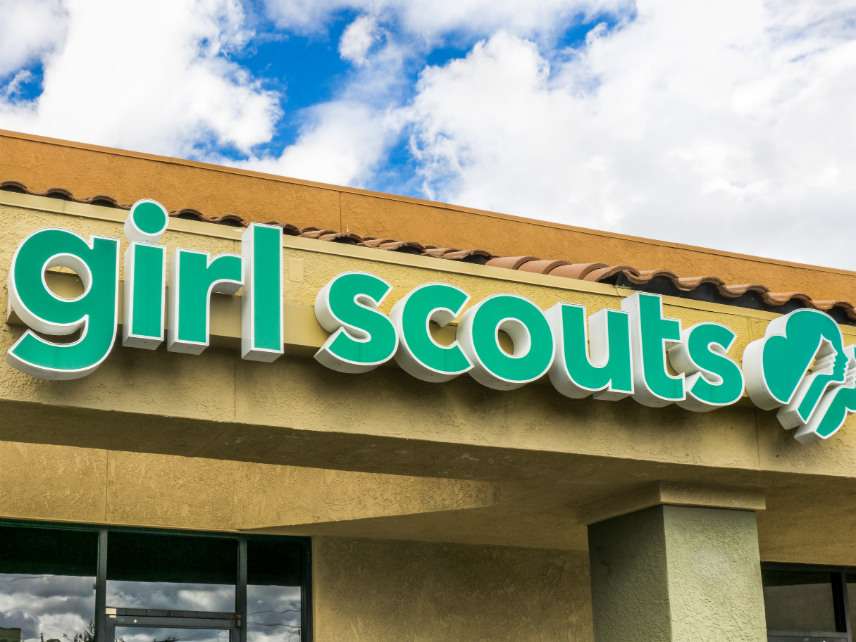 Politicians' childish antics have created an unexpected opening for actual children to participate in politics.
This includes everything from the inauguration of Oregon's first kid-governor in January—swept into office on an anti-bullying platform—to a 9-year-old providing crucial (albeit inaccurate) facts in our national conversation about regulating straws.
In the Denver suburbs, some precocious youngsters have achieved the ultimate form of political expression by getting a nitpicky smoking restriction passed into law.
In Aurora, Colorado, Girl Scout Troop 60789 drafted an ordinance banning people from smoking or vaping in their cars if a minor is present. The city council approved the measure by a vote of 6–5.
"I'm not a sentimental guy, but it gave me a real renewed faith in the youth of our country," Councilmember Charles Richardson, who worked with the troop to write the legislation and then voted to approve it, told The Washington Post.
That Post write-up was itself laudatory, noting how the girls did their own research into second-hand smoke while learning about politics along the away. Local media outlets were no less congratulatory, with the Denver ABC affiliate calling the scouts' activism a "noble effort."
While a light touch is perhaps to be expected when the press covers schoolchildren's extracurricular efforts, it's less appropriate when those efforts are going projects with actual legal consequences.
Violating the scout-sponsored law exposes people to penalties laid out in Sec. 1-13 of the Aurora City Code, which includes fines as high as $2,650 and a year in jail, though the municipal court is also expected to offer an option to do community service instead.
Troop 60789 had initially suggested fines of $150 for the first violation, plus an added $50 for any subsequent violation.
Justifying these penalties required some rather shoddy reasoning from the scouts. In a September presentation to the city council, they claimed, among other things, that second-hand smoke could cause Sudden Infant Death Syndrome. This seems irrelevant when it comes to the older children and teens also covered by the ordinance.
The girls also claimed that smoking even half a cigarette in a car can make the air quality inside the vehicle more than 10 times higher than the level the Environmental Protection Agency (EPA) deems hazardous. They sourced this fact from a website run by the California Tobacco Control Program, although the figure comes with no citation there. There is a noticeable lack of any such figure on the EPA's own webpage on smoking in cars, and given that the EPA has said that any level of exposure to the toxicants in tobacco smokie is hazardous, it's not clear even what this statistic is supposed to measure.
It may be unfair to ask 13- and 14-year-old kids in-depth questions about the primary sources for such claims. But in that case, we perhaps should rely less on children to draft our laws.