Trump's Tariffs Will Hurt America's Automobile Industry, Including Workers Who Build Cars
And the EU's response to the tariffs will whack workers who build motorcycles.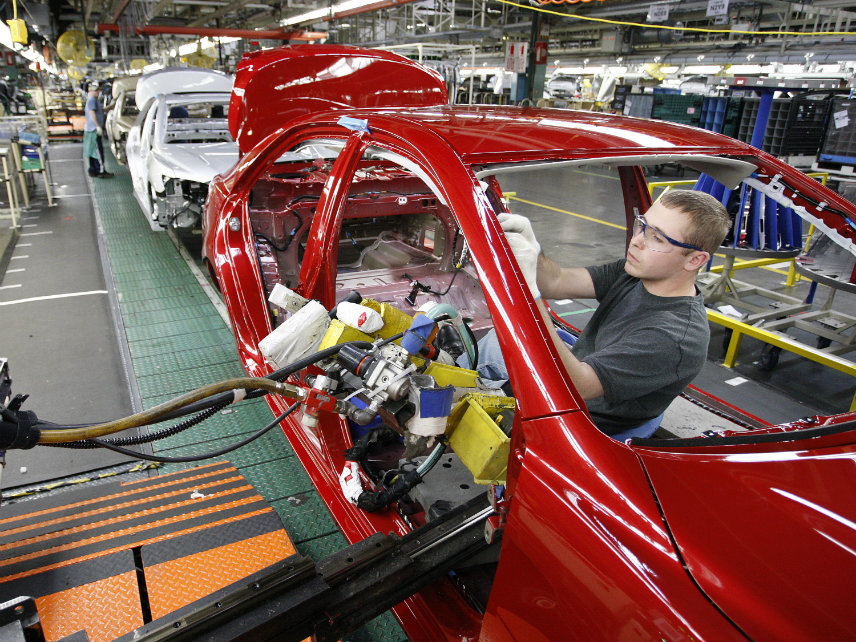 At six facilities that stretch across the American heartland from West Virginia to southern Texas, workers build more than 1.3 million Toyota cars each year, accounting for more than half of all vehicles sold annually by Toyota in the United States.
Meanwhile, at plants in Missouri, Pennsylvania, and Wisconsin, workers on Harley-Davidson production lines churn out more than 230,000 motorcycles every year. About one in every five of them will be shipped overseas, mostly to Europe and Japan.
One is an Japanese company that has brought jobs and prosperity to Middle America. The other is an iconic American brand that exports the physical embodiment of freedom to the world. Both will be hurt if President Donald Trump goes forward with his plan to impose a 25 percent tariff on all steel imports to the United States, propping up America's steel industry at the expense of almost everyone else. The Trump administration is also planning to hit aluminum imports with a 10 percent tariff.
Those levies "will adversely impact automakers, the automotive supplier community and consumers as this would substantially raise costs and therefore prices of cars and trucks sold in America," Toyota Motor North America, the company's American subsidiary, said in a statement.
It's not just manufacturers who will be hurt. Tariffs will likely raise prices on all automobiles—indeed, on all products made with steel—setting off a chain reaction that will burn the entire industry.
"Auto sales have flattened in recent months, and manufacturers are not prepared to absorb a sharp increase in the cost to build cars and trucks in America," says Cody Lusk, president of the American International Automobile Dealers Association. "These proposed tariffs on steel and aluminum imports couldn't come at a worse time."
If costs rise and automobile sales continue to decline, that's nothing but bad news for the hundreds of thousands of Americans employed by auto manufacturers. That would be a major misstep for the president, who has prided himself on bringing jobs—and specifically automobile manufacturing jobs—into the United States.
Big announcement by Ford today. Major investment to be made in three Michigan plants. Car companies coming back to U.S. JOBS! JOBS! JOBS!

— Donald J. Trump (@realDonaldTrump) March 28, 2017
Meanwhile, the flipside of Trump's tariff proposal will deal a second blow to American manufacturers already likely to face higher costs on steel and aluminum.
The European Commission outlined a plan yesterday to impose retaliatory tariffs against American-made goods such as bourbon whiskey and blue jeans. Included in the proposal, which was first reported by Bloomberg, would be a 25 percent tariff on motorbikes imported from the United States.
For Harley-Davidson, that means getting hit from both sides at once.
"Import tariffs on steel and aluminum will drive up costs for all products made with these raw materials, regardless of their origin," the company told the Milwaukee Journal-Sentinel. "Additionally, a punitive, retaliatory tariff on Harley-Davidson motorcycles in any market would have a significant impact on our sales, our dealers, their suppliers and our customers in those markets."
The proposed European tariffs have obvious political motivations. Harley-Davidson is based in the home state of Speaker of the House Paul Ryan (R-Wisc.), while bourbon whiskey is produced only in Kentucky, home of Senate Majority Leader Mitch McConnell. Both Ryan and McConnell have spoken out against Trump's tariff proposal this week, but neither has suggested what action, if any, Congress should take to block the administration from starting a trade war.
That trade war would be a potentially catastrophic blow for domestic Harley-Davidson workers. The company has scaled back its American production lines in recent years in favor of opening a new plant in India, where motorbikes are highly sought, to get around a massive import tariff imposed there. Harley-Davidson has plans to open another facility in Thailand for the same reason.
If Trump wants to hasten the demise of an iconic, blue-collar, American-made brand, a trade war would be a good way to do it. And if Trump wants to stop foreign companies like Toyota from investing in American facilities and hiring American workers, a trade war would be a good way to do that too. The administration can prioritize American manufacturing jobs, or it can prioritize economic protectionism; it can't do both.