New York to Trump: Drop Dead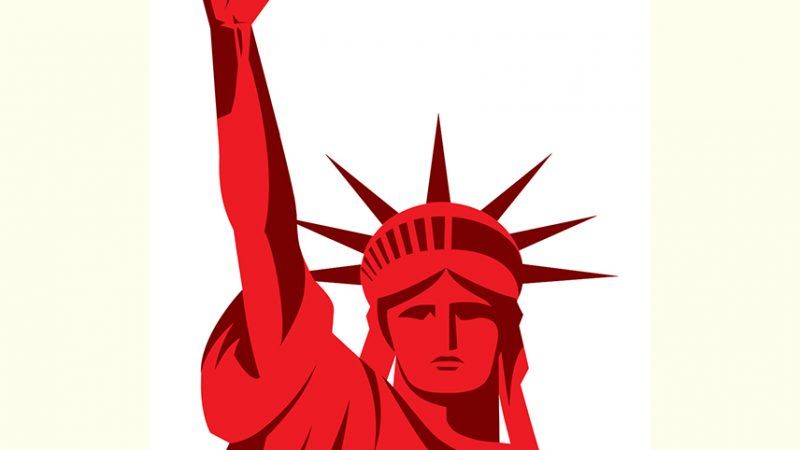 There is an alternative universe where not only did Hillary Clinton win in 2016, she won by 60 percentage points. Guns are scarce and arduous to legally obtain; bikes are ubiquitous. Public transit is so widespread that millions of adults don't even own cars. People disdain Donald Trump and look down at the intelligence of his supporters.
This place, this progressive near-utopia, is called New York City. And it is run by morons.
"It's time for Big Oil to take responsibility for the devastation they have wrought," New York Mayor Bill De Blasio, recently re-elected by 39 percentage points, tweeted in January. He went on to announce he is suing five of the world's biggest oil companies for the damage caused by Superstorm Sandy and starting the process of divesting $5 billion in city pension-fund investments from the oil sector. That night the Empire State Building was lit up green. "At the local level we have to act now," De Blasio said on Morning Joe, "especially because our national government is not."
New York politics, city and state alike, are dominated by hostility toward the loud New Yorker currently residing in the White House. "NYC must lead the way in standing up to Trump Administration bigotry, injustice & corruption," ran the first sentence in the voter guide from my local city councilman, Brad Lander (who won a third term in November 2017 unopposed).
Lander's email bulletins are filled with organizing announcements about "the resistance" and defiant subject lines that might as well have been written by Dumbledore's Army about he-who-must-not-be-named. "We won't let him destroy our kids' planet (or their country)," reads one. "Time to start talking about (the road to) impeachment," reads another.
Silly me—I just want the subway to occasionally function and the airports not to be garbage dumps.
The sad truth, acknowledged in private to me by multiple senior New York Democratic Party officials, is that Lander, De Blasio, and Gov. Andrew Cuomo are all just responding rationally to the political marketplace. New Yorkers might not have any clue who their borough president or state assemblywoman are, but they sure do hate Donald Trump. In New York, all politics are national.
A local brownstone real estate agent on the main commercial thoroughfare of my Brooklyn neighborhood spent the first several months after the November 2016 election displaying in his shop window pictures of the president's face next to a pig's ass, fliers advertising general strikes, and, on the toddler-eye level, cartoon figurines sharing anti-Trump messages. "Kids," one of his fliers instructed, "Ask your parents if they like Trump or support him in any way. Then, if they say they do, remind them that it's not right to lie, cheat, mislead and be a racist and that if they continue thinking that way they cannot ask you to not lie, cheat, mislead [or] be racist either."
Some of this elected-official resistance can be useful and appropriate, such as when De Blasio refused to comply with the Trump administration's request to hand over information about the immigration status of prisoners in New York's custody. (As Rudy Giuliani and other prior mayors have rightly pointed out, residents who fear that every contact with authorities could lead to their deportation will stop contacting authorities, which makes a city harder to police.) But sadly, much of New York's rebellion is petulant, counterproductive, and wrong.
"We have vindicated the promise of progressive government," Gov. Cuomo bragged in a January State of the State speech that was long on complaints about how the Trump administration "is working to roll back so much of what we have done." On his things-to-do-list: Regulate social-media advertising so that "Russia and big anonymous donors" can no longer "jeopardize our democracy." Blue states to the rescue!
Ironically, the main constraint on local leaders' tough talk and bad behavior came as part of the biggest legislative accomplishment under Trump so far. The tax reform passed in December bit heavily into the deductibility of state and local taxes, thereby reducing New York's latitude to extract nearly infinite revenue from its wealthiest residents.
So in late January, Cuomo announced that New York, New Jersey, and Connecticut will sue the federal government to reverse the law on constitutional grounds. "We will not stand idly by," the governor tweeted, "as the federal government attacks the fiscal health of our states."
This article originally appeared in print under the headline "New York to Trump: Drop Dead".