Democrats Release Memo Rebutting Claims that FBI Inappropriately Snooped on Former Trump Aide
Argues that secret wiretap authorizations were not abused.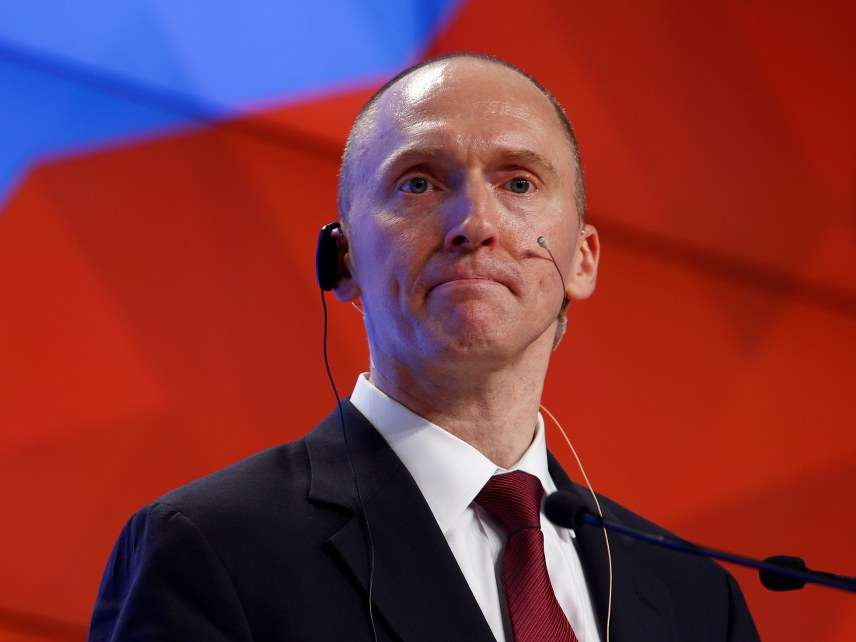 House Democrats this afternoon publicly released its own memo about the secret surveillance of former Donald Trump campaign aide Carter Page, arguing that the FBI's behavior in its investigation of Page's ties to Russia was appropriate and not tainted by a controversial dossier with origins in Democratic politics.
This memo by Democratic members of the House's intelligence Committee was drafted in January in response to a memo put together and released by House Republicans led by Committee Chairman Devin Nunes (R-Calif.). In Nunes' memo, Republicans claimed that the FBI had misled the Foreign Intelligence Surveillance Court (FISC) both about the political roots of the controversial "dossier" by Christopher Steele and their reliance on the dossier's claims in order to justify snooping on Page.
The Democrats have responded that, no, the FBI did not abuse this process; they had already begun investigating Page's ties to Russia; and they informed the court that the information being gathered in the Steele dossier was likely intended to be used to discredit a presidential campaign (Trump's, in this case).
The heavily redacted document can be looked through here. Some summarization of what they're claiming:
The FBI had been concerned about Page's ties to Russian interests years before his involvement in the Trump campaign. The memo notes that in 2013, prosecutors indicted two spies who had attempted to recruit Page. The FBI had opened its current investigation on Page in July 2016. It didn't get its hands on the Steele dossier until September.
When the FBI pursued renewals of their authorization to wiretap Page, they provided additional information obtained through independent sources that corroborated Steele's reporting of ties between Page and Russia. The explanations of who these independent sources were and what they said is fully redacted in this memo.
The FBI gained "valuable evidence" from this surveillance of Page. Once again, there are redactions here concealing what that evidence was, but apparently it contradicted testimony from Page to the House Intelligence Committee.
The FBI informed FISC that Steele had been hired by U.S. people to find information likely to discredit a presidential campaign. If that all sounds vague—that's because of the masking process intended to protect U.S. identities who are not the direct targets of surveillance. So the funding by sources connected to Hillary Clinton's campaign was not directly named (and neither was Trump), but the court was aware of political machinations going on.
The FBI informed the FISC when they terminated their relationship with Steele because Steele was secretly leaking confidential information to the press. The FBI canceled payment for the Steele dossier. Steele never received money from the FBI for this information.
This afternoon the Republicans in the House Intelligence Committee also put out a response to the Dem's response to the Nunes memo here, if you don't feel like you're far enough down the rabbit hole.
Just as with the Nunes memo, we as citizens are not really in a position to determine who is telling the truth here. Media outlets have gone ahead with asking FISC if they'll release the underlying warrant documents so that the public can get a better sense of what's going on without Congressional partisans attempting to spin it their way.
Trump has started tweeting:
The Democrat memo response on government surveillance abuses is a total political and legal BUST. Just confirms all of the terrible things that were done. SO ILLEGAL!

— Donald J. Trump (@realDonaldTrump) February 24, 2018
Read more about the memo's release here.