Jeff Sessions and Chuck Grassley Spar Over Sentencing Reform
"If General Sessions wanted to be involved in marking up this legislation, maybe he should have quit his job and run for the Republican Senate seat in Alabama."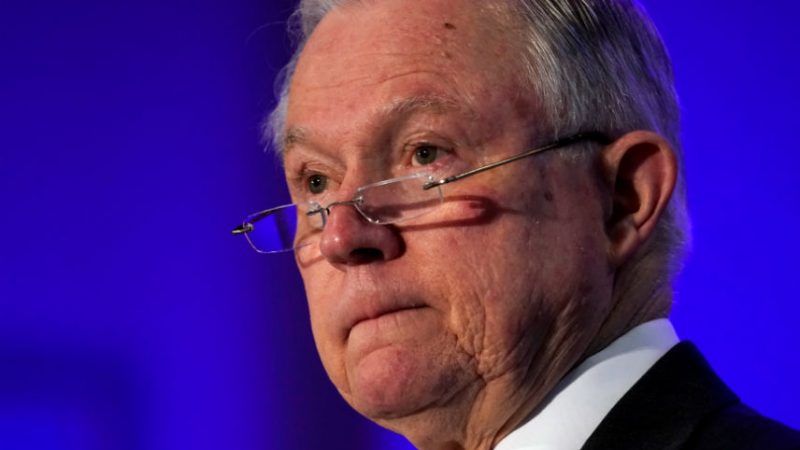 (YURI GRIPAS/REUTERS/Newscom)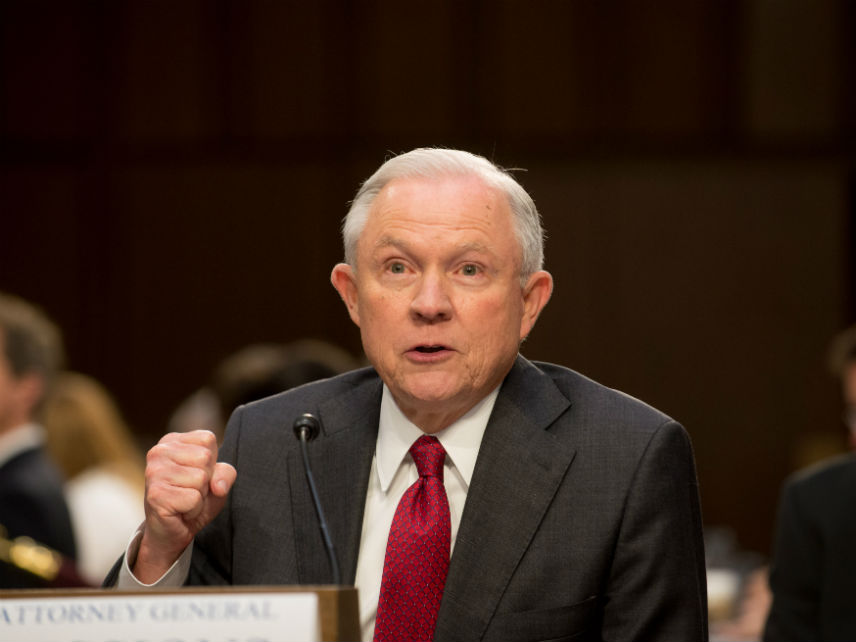 Today the Senate Judiciary Committee advanced a bipartisan sentencing reform bill over the protests of Attorney General Jeff Sessions.
The Sentencing Reform and Corrections Act, which would reduce some federal mandatory minimum sentencing guidelines, sparked a testy back-and-forth between Sessions and Judiciary Committee Chairman Chuck Grassley (R-Iowa).
In a letter to the committee yesterday, Sessions warned that passing the proposed legislation would be a "grave error."
"In recent years, convicted drug traffickers and other violent criminals have received significant sentencing breaks from the federal courts and the United States Sentencing Commission." Sessions wrote. "Passing this legislation to further reduce sentences for drug traffickers in the midst of the worst drug crisis in our nation's history would make it more difficult to achieve our goals and have potentially dire consequences."
Sessions was a staunch opponent of efforts to roll back mandatory minimums during his time as an Alabama Republican senator. So was Grassley, a traditional law-and-order conservative, but in a turnabout, he's now leading the efforts of a core group of Republicans and Democrats who have been trying to overhaul federal sentencing laws for several years.
"When I read his letter, it was almost as if Senator Sessions was back on the Judiciary Committee," Grassley shot back in a prepared statement at today's committe hearing. "But that's the problem. He is now the Attorney General and is charged with executing the laws that Congress passes, not interfering with the legislative process."
"Certainly we value input from the Department of Justice, but if General Sessions wanted to be involved in marking up this legislation, maybe he should have quit his job and run for the Republican Senate seat in Alabama," Grassley continued.
Unswayed by Sessions, the committee voted 16–5 to advance the bill to the full Senate.
"We don't have to report to the Justice Department," Sen. Pat Leahy (D-Vt.) said. "We're 100 individual senators, and we can make up our own mind."
The bill would reduce the mandatory minimum sentencing guidelines for repeat drug offenders without serious violent felonies, and it would broaden the "safety valve" exception to federal mandatory minimum sentences. It would also add new mandatory minimum sentences for interstate domestic abuse and for providing support for terrorists, while strengthening penalties for certain other crimes.
An identical version of the legislation, a result of months of negotiations between Democrats and Republicans, passed out of the committee in late 2015. But it failed to ever reach the Senate floor for a vote, despite the support of a broad group of both conservative and progressive advocacy groups.
Many criminal justice reformers considered it the best chance in more than a decade to overhaul federal sentencing laws, but the bipartisan momentum behind it faded during a contentious election year. Senate Majority Leader Mitch McConnell (R-Ky.), facing opposition to the bill from a small but vocal group of conservative Republicans, said he was waiting for the House to pass its own slate of criminal justice bills. That package never made to the House floor either.
The bill will face the same challenges now, plus a president who seems allergic to any proposals that someone might call "soft on crime." On the other hand, Trump's son-in-law—White House adviser Jared Kushner—has been meeting with Grassley and other senators over the past year to discuss criminal justice reform.
Sen. Mike Lee (R-Utah) has also emerged as key advocate for sentencing reform in the GOP caucus. "I support this not in spite of the fact I am a conservative, but precisely because I am a conservative," he said at the committee hearing.
Lee cited the case of Weldon Angelos, who became an unfortunate poster child for excessive sentencing after receiving a 55-year mandatory prison sentence for selling marijuana to an undercover police officer on three separate occasions. Angelos was 24 when he was sentenced and would not have been released until he was 72. He was granted an early release last year after more than a decade of advocacy on his behalf, including by Lee.
Grassley, Lee, Kushner, and the coalition of groups supporting the bill will have to contend not just with Sessions and like-minded Republicans, but with outside law enforcement groups whose opinions are near and dear to the president's heart.
The Fraternal Order of Police, which touts itself as the largest police union in the country, sent a letter to Trump today urging the White House to oppose the Sentencing Reform and Corrections Act.
"At a time when our nation is being ravaged by an epidemic of overdose from the use of heroin and opioids, it seems at variance with common sense and sound policy to drastically reduce sentences for drug traffickers and then apply these reduced sentences retroactively," the letter argued. "This same troubling approach was taken by the previous Administration and thousands of offenders benefitted from early release without any consideration to the impact on public safety. We cannot explain why proponents of this bill seek to repeat this same error."