Trump's Transit Cuts: A Good Idea That Probably Won't Get Anywhere
Members of both parties will fight tooth and nail to preserve their transportation pork.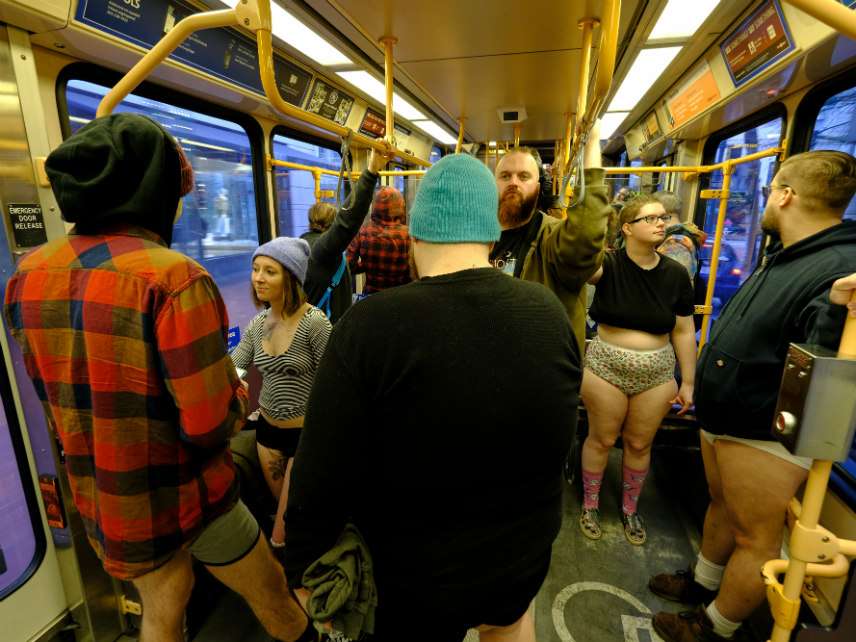 The Trump administration released its 2019 budget proposal yesterday. Buried between all the funding increases the White House wants for border security and the military, you'll find some calls for cutting wasteful transportation spending. Those cuts are good ideas, and they probably won't get anywhere.
The budget proposes a $15.6 billion discretionary budget for the Department of Transportation, a 20 percent reduction from 2017 levels. The cuts would eliminate the Transportation Investment Generating Economic Recovery (TIGER) grant program, wind down the Capital Investment Grant program, and slash subsidies to long-distance Amtrak routes. The administration estimates these cuts will add up to $68.5 billion over ten years.
"What he [Trump] is trying to do is have the federal government fund federally relevant transportation projects," says Baruch Feigenbaum, a transportation policy expert at the Reason Foundation (the nonprofit that publishes this website).
That all sounds well and good. It also sounds depressingly familiar. The administration called for killing those same programs in both its 2017 and 2018 budget proposals. The cuts didn't materialize then, and they aren't likely to appear now.
"The Trump administration knows they are not going to happen," Feigenbaum says. "Congress is going to take a look at this, especially the Senate, and say, 'Get real.'"
Already the proposed cuts are provoking fierce opposition from Democratic legislators whose mass-transit dreams depend on federal funding.
Rep. Peter DeFazio (D-Ore.) was fairly typical, calling the budget "embarrassingly small"—even when paired with the administration's separate infrastructure proposal.
A similar line is being coming from local transit agencies themselves, plenty of whom rely on federal dollars for projects they already have in the works.
Hear Peter Rogoff—CEO of Seattle-area Sound Transit system—tells the Seattle Times "there seems to be something about delivering people in trains and buses that is very hard for this administration to support."
Sound Transit is just beginning to break ground on a $54 billion light rail and transit expansion that voters approved with the assumption that the feds would front at least $7 billion of the costs.
Also endangered is a more modest $2.47 billion light rail project in the Raleigh/Durham/Chapel Hill area of North Carolina. GoTriangle—the transit agency responsible for the project—is counting on $1.2 billion in federal grants for their light rail line, all of which would be axed by Trump's 2019 budget.
"The fact of the matter is this, we cannot complete the project without a full funding grant agreement from the federal government," GoTriangle government affairs manager Matthew Clark warned Orange County Commissioners last week.
If recent history is any guide, these transit agencies have little to worry about.
Though still a minority, Democrats—particularly in the Senate—have a remarkable amount of leverage they can bring to bear to preserve these grants. Already, senators from New York and New Jersey are holding up important Department of Transportation nominees because of the Trump administration's January decision to not fund the $13 billion Gateway rail project connecting the two states.
Sen. Diane Feinstein (D-Calif.) used a similar tactic last year to secure funding for California's disastrous high-speed rail project. And some Republicans have kept up a quiet pressure to maintain the same programs beloved by urban Democrats.
"A number of suburban Republicans like transit because it brings something to their district," says Feigenbaum. The same can be said for Amtrak. "Amtrak travels through some 46 states. If you are senator, you don't want your line to be cut because everyone else is getting it."
And so Sen. Mike Rounds (R–S.D.)—a member of the Senate's Environmental and Public Works Committee, which deals with infrastructure spending—has publicly pressed Sec. of Transportation Elaine Chao on preserving the TIGER program. Fellow committee members Jodi Ernst (R-Iowa.) and John Barrasso (R-Wyo.) have likewise pushed for more direct federal spending on infrastructure.
If fiscal sanity prevails, they won't succeed this time. But this is Washington, the city where fiscal sanity goes to die.