White House Won't Declassify Dems' Memo on Campaign Surveillance—at Least Not Yet
Trump says he's inclined to do so, but letter expresses concerns about "sensitive passages."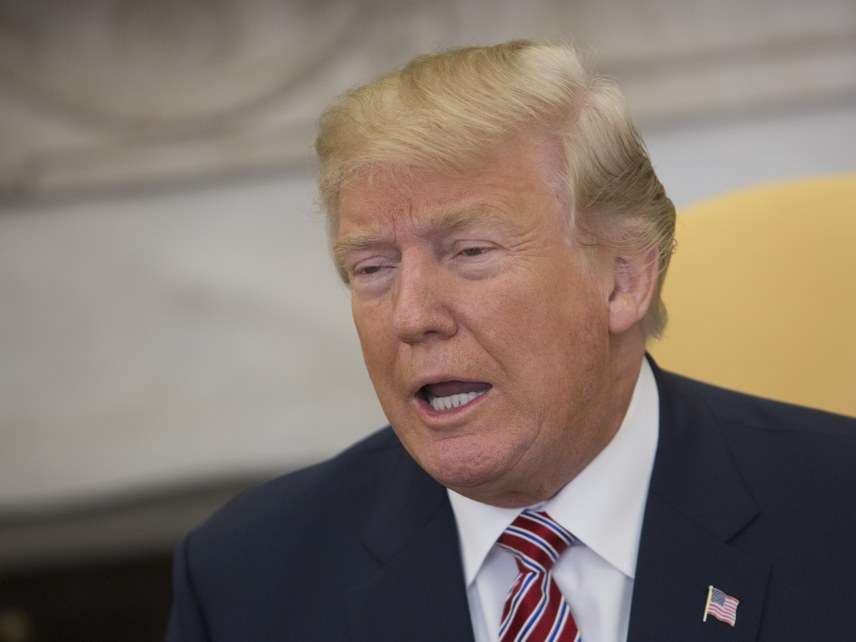 The White House has alerted Congress it will not yet declassify the memo put together by House Democrats that provided their own interpretation of the circumstances of the federal surveillance of a Donald Trump aide during and following the 2016 president election.
The letter from White House Counsel Donald McGahn explained, "The Department [of Justice] has identified portions of the February 5th Memorandum the disclosure of which it believes would create especially significant concerns for the national security and law enforcement interests."
The letter concludes that President Trump wants to ultimately declassify the memo and has asked the Justice Department to assist the Intelligence Committee to make any changes or redactions needed. There was a second letter that was not publicly disclosed (no doubt due to the classified information within) detailing to the House Intelligence Committee the problems they have with releasing the memo.
This memo was put together by Rep. Adam Schiff (D-Calif.) and Democrats in the House Intelligence Committee in direct response to the four-page memo by staff of Intelligence Chair Rep. Devin Nunes (R-Calif.). The Nunes memo claimed that the FBI concealed from the Foreign Intelligence Surveillance Court the politicized roots of the "Steele dossier" used to justify snooping on aide Carter Page in order to investigate his ties to Russia.
Democrats wrote a longer memo that purportedly explains that the FBI were not reliant on the dossier as the sole piece of evidence to convince the court to authorize a wiretap and that the court did know about the dossier's political background. But obviously we do not at this point know what the additional evidence is.
Rep. Justin Amash (R-Mich.) quickly jumped on Twitter to say he disagreed with the White House's decision:
Both the Republican and Democratic #FISA memos should be released. I've read both memos. Neither one endangers national security. The American people deserve the opportunity to read both memos.

— Justin Amash (@justinamash) February 10, 2018
Trump earlier today said that the memo would be released soon. So we'll have to see if they work things out. Read the response from McGahn here.