New Orleans Nixes Plan for Strict Cap on French Quarter Strip Clubs
"There is nothing inherent" to strip clubs "that causes crime," say city planners.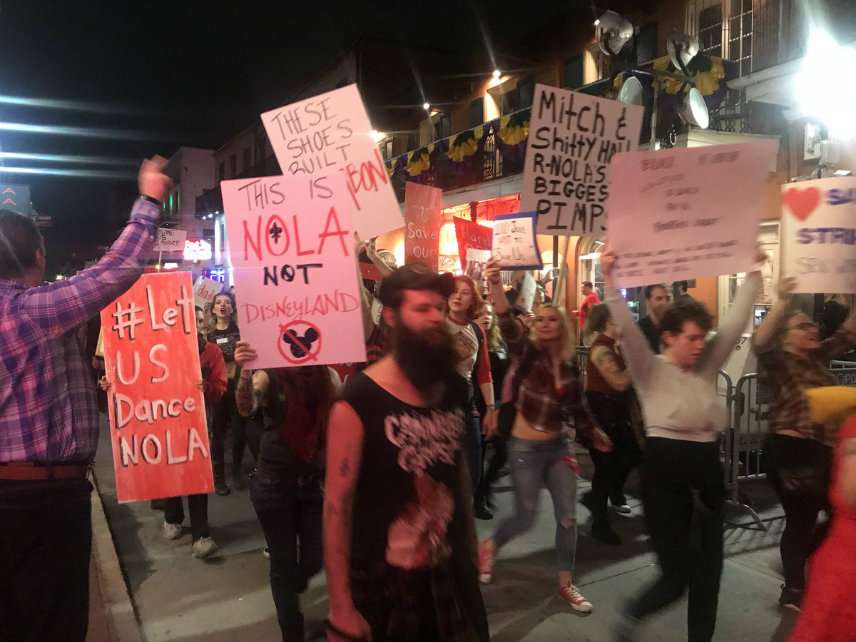 Amid an outpouring of protests from New Orleans strippers and their supporters, city regulators have opted against a plan to limit the number of French Quarter strip clubs to one per blockface.
The plan, proposed by the New Orleans City Council last year, would have capped the number of strip clubs in the area at 14 and prevented any new venues from opening on the same blockface as an existing club.
At a public hearing on Tuesday, the City Planning Commission voted in favor of a modified proposal drafted by city planners, who rejected lawmakers' per-block limits and recommended only a "soft cap" of 14 live adult entertainment venues around the Bourbon Steet area (which the city calls the "Vieux Carré Entertainment District").
The proposal leaves open "the possibility of more than 14 venues being allowed to operate so long as any applicant businesses above that number receive conditional-use approval," explains The Times-Picayune. And it "does not outright recommend changes to French Quarter zoning rules related to strip clubs" but "offers up recommendations 'if' the council decides to move forward with enacting changes."
The commission explicitly rejected the idea that limiting the number of strip clubs in the area was a good crime-reduction strategy. Any "negative secondary impacts…cannot only be attributed to the concentration of" strip clubs, it stated in a report:
Staff believes that the nature of Bourbon Street and particularly the Vieux Carré Entertainment District is in itself a cause for higher crime because of the concentration of entertainment uses including not only [strip clubs] but mostly bars, live performance venues, and live entertainment, and the concentration of visitors drawn to these uses in a small geographic area. Because of this particular characteristic, staff believes that there is nothing inherent to [strip clubs in the district] that causes crime.
Writer and dancer Reese Piper, who tweeted live updates from yesterday's hearing, said the room was "packed with dancers," who spoke out against the proposed caps and recent police actions against the clubs. "In New Orleans, women of the night do not go quietly," one speaker told the commission.
"What happens in New Orleans matters to citizens everywhere," said Lyn Archer of the Bourbon Alliance of Responsible Entertainers.
Speaker with BARE asked for those in crowd who stand with dancers to stand up. Whole room stood up. pic.twitter.com/xB8UyJQLvN

— The_GambitLIVE (@The_GambitLIVE) February 6, 2018
No one at yesterday's meeting spoke out in favor of a strip club cap.
"In New Orleans, ladies of the night will NOT go quietly into the night!" witnessing stripper power in full force at this CPC meeting pic.twitter.com/bQ3lHvp0vN

— Beck (@fictionalbeck) February 6, 2018
But the city HEARD us. They heard us in the streets and at their meetings and it made a difference. They amended their proposal and agreed that "adult entertainment does not increase crime"

— Reese Piper (@TheNudeReporter) February 6, 2018
soft victory today with CPC approved recommendations: reducing club numbers by attrition, no limit of one block per block face, holding a soft cap at 14, using a conditional use process to go above 14. No true win until they leave us alone! #LetUsDanceNola

— BARE NOLA (@bare_nola) February 7, 2018
It's now up to the New Orleans City Council to decided whether it will incorporate the planning commission's proposal into the city's Comprehensive Zoning Ordinance.