Movie Review: May It Last: A Portrait of the Avett Brothers
The greatest little band that's never gone platinum.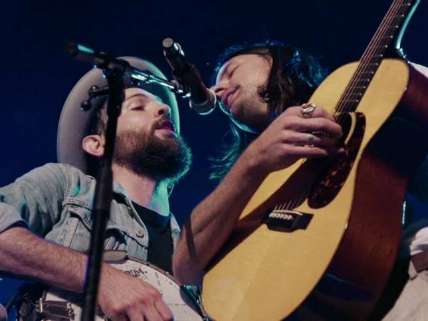 I have failed several times to pigeonhole the Avett Brothers for people I think might like them. It's hard. To begin with, there's no ignoring the fact that this is a band with a banjo player, and who wants to deal with that? Is this some kind of country act? If so, what's with the cello?
The Avetts aren't country, exactly (in Grammy world they've been consigned to the vague Americana category). But there's no use in trying to describe them precisely. The Avetts (whose surname would rhyme with HAY-vet if that were a word) have to be heard and seen in order to absorb the full experience of their music. Conveniently, both of those bases are covered in a new documentary called May It Last: A Portrait of the Avett Brothers, which premiered on HBO this week. The film was co-directed by Judd Apatow, the Hollywood comedy king, and veteran documentarian Michael Bonfiglio, and it surely qualifies as a labor of love—something the Avetts seem to inspire in many of those who enter their orbit.
May It Last chronicles the making of the group's ninth album, True Sadness, which was released in 2016. We spend quite a bit of time in studios with the band—which includes, along with Scott (banjo and piano) and Seth (guitar), upright-bass player Bob Crawford and cellist Joe Kwon, plus auxiliary fiddle, keyboards and drums. We see Scott and Seth demo'ing songs on their own, with Scott on drums and Seth on bass. We see them tossing snatches of lyrics back and forth as they build a song. We see them getting in their trucks at the end of the day and each saying, "Good night, I love you," before driving off.
Then we follow the brothers out to Malibu, where they move into producer Rick Rubin's Shangri-La Studios to get down to work. We hear them talk about their lives and their beliefs, both of which are candidly examined in their music, and are the reason why it has connected with so many people. (The Avetts aren't chart-topping superstars, but they can sell out New York's Madison Square Garden – as we see at the beginning of this film—and they've booked a three-night stand at Red Rocks Ampitheater, near Denver, for later this year.)
Their story: Scott and Seth hail from a rural area (cows, log-splitting) of Concord, North Carolina. Growing up, they listened to Hall & Oates, Duran Duran, and Prince and Nirvana, too. In the late '90s they fronted a loud, riffy rock band called Nemo. Then Seth, the younger of the brothers, met the North Carolina acoustic-guitar virtuoso Doc Watson, and in hanging around with him Seth says he learned that really powerful music required something other than just volume. He and Scott went acoustic and started recording for a local label. (Throughout the film we note that Scott's banjo style, while entirely capable of the raucous assault often associated with the instrument, can be lilting when he's gently fingerpicking his way through a ballad.)
The 2007 album Emotionalism was the Avetts' breakthrough, in that it came to the attention of Rubin, the studio Buddah who has recorded acts ranging from the Beastie Boys and Public Enemy to Tom Petty and the Red Hot Chili Peppers to At the Drive-In (an Avetts fave) and Johnny Cash. Rubin was stirred by the brothers' music. He signed them to his American Records label and promoted them to his friend Judd Apatow. And here we are with May It Last.
The film demonstrates why the Avetts's music is so moving. It's largely derived from their lives, from the love and concern they feel for their bandmates and families (when Crawford's two-year-old daughter was diagnosed with a brain tumor, one or another member of the band was always on hand with him at the hospital) and their pained-but-stoic acceptance of life's sorrows and losses. The deep fatalism in their worldview is vividly conveyed in one electrifying scene in the film in which they're quietly recording "No Hard Feelings," an instant farewell-to-the-world classic. Throughout the rest of the film we see them smiling and singing and whirling around stages—there's a lot of upbeat music in their repertoire. But the darkness is always there.