Get Yourself Ready for 'The Memo'—Will It Rock Your World or Put You to Sleep?
Trump has reviewed a document alleging FBI misconduct. It might be released Friday.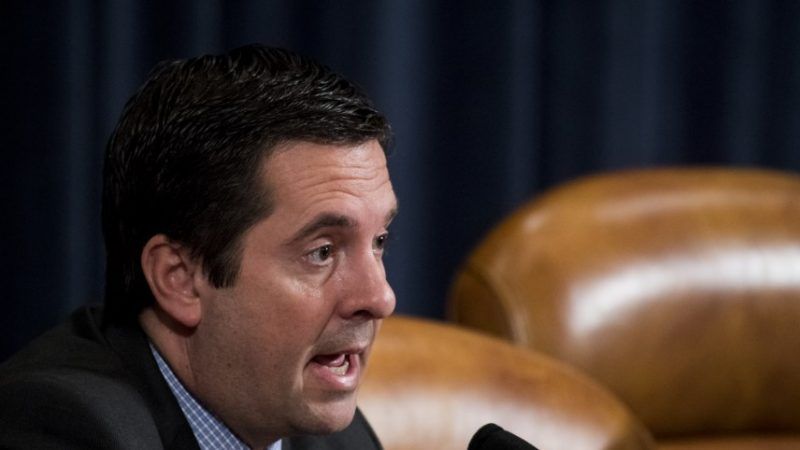 (Bill Clark/CQ Roll Call/Newscom)
This afternoon President Donald Trump read "The Memo." It is likely that soon you'll be reading it too. Maybe Friday. Maybe not. But possibly:
Senior White House official comes to back of Air Force One and tells reporters Trump is "OK" releasing the memo and he will tell Congress that "probably tomorrow," per pooler @tparti. Official declined to take any questions or be identified publicly, per pool.

— Josh Dawsey (@jdawsey1) February 1, 2018
"The Memo," depending on whom you ask, provides evidence either that the FBI was out to undermine President Donald Trump or that top Republicans will do anything to undermine the FBI's investigation into allegations of collusion between the Russian government and Trump's campaign.
The Memo has been consuming entire news cycles this week, even though we don't fully know what's in the four-page document, which was produced by the staff of House Intelligence Chair Devin Nunes (R-Calif.). We know it argues that the FBI inappropriately used the infamous Steele dossier and concealed its origins as a Democratic opposition tool to get a court's permission to secretly snoop on former Trump aide Carter Page.
Whether that's an accurate assessment of what actually happened we don't really know. As Reason's Jacob Sullum has pointed out, based on what we know about Page's interactions with Russian officials, the FBI likely would have been able to produce enough probable cause to get a wiretap approved even without the Steele dossier. Orin Kerr notes that claims of bias in the warrant process may not even matter if the facts themselves provide enough probable cause.
I've said much of what I've had to say about the prerelease fight over the memo earlier this week, but for anybody just tuning in: I think it's obviously a partisan-focused fight from two parties trying to discredit the other. But Americans do have a right to know how the surveillance state operates when it's investigating people closely connected to our president. I also still feel terribly frustrated that this debate has virtually no chance of becoming a substantive discussion of how much secret, warrantless domestic surveillance the FBI is already doing in violation of the Fourth Amendment.
Instead, the current discussion is entirely about who may be losing or leaving their jobs. House Minority Leader Nancy Pelosi (D-Calif.) wants Nunes stripped of his chairmanship of the House Intelligence Committee. That seems unlikely unless the memo ends up outright humiliating the Republican Party.
In addition, now that FBI Director Chris Wray went out on a limb with a public statement that the FBI has "grave concerns about material omissions of fact that fundamentally impact the memo's accuracy," there are concerns that he might quit if the memo gets released. Recall, Trump selected him to replace James Comey after Trump fired Comey.
The never-ending stream of shifting speculation makes the whole story hard to keep tabs on. What will matter is the actual contents of the memo when it's released. If it does come out tomorrow, I (and no doubt dozens of other journalists) will be all over it.
In the meantime, Cato surveillance expert Julian Sanchez also feels the pain of the debate we're not having:
Let me just register again how heartbreaking it is that we're finally having a huge public debate about surveillance abuse and it's so transparently frivolous that I'm forced to take FBI's side. https://t.co/VY82FtKQCz

— Julian Sanchez (@normative) February 1, 2018