Here Are 5 Criminal Justice Reform Measures That Americans Say They Support
A new poll says voters want change. They can get it if they truly want it.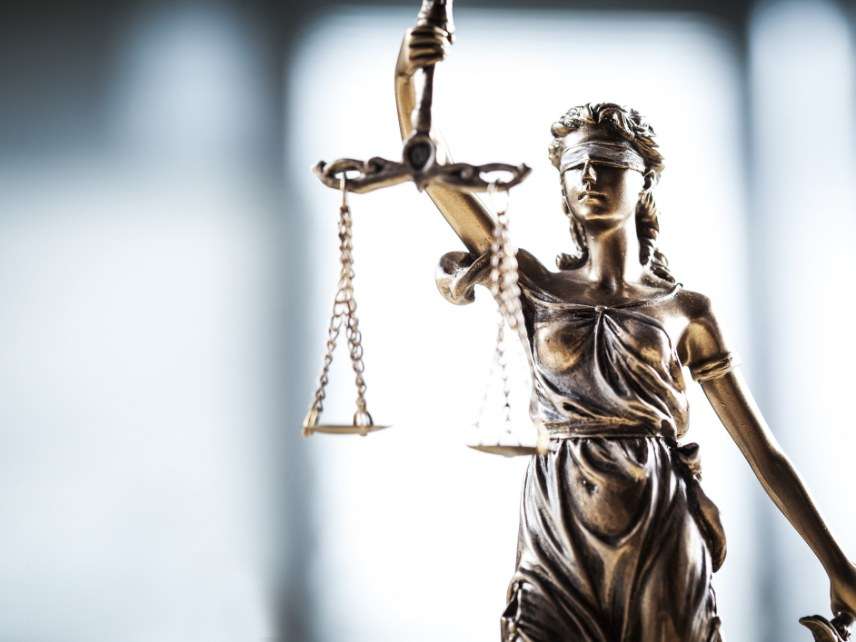 A new poll shows that Americans really do want to make the criminal justice system much less harsh in several ways. But what does that actually look like?
The survey, conducted by Public Opinion Strategies on behalf of the Justice Action Network, asked 800 registered voters their opinions about mandatory minimum sentences, bail reform, criminal background checks, and alternatives to incarceration for nonviolent criminals. The good news is that Americans across the political spectrum overwhelmingly support reforms to make justice system less harsh to make it easier for those released from jail to return to a normal life. The poll found that 85 percent of Americans believe that the goal of the criminal justice system should be rehabilitation, not punishment.
The Justice Action Network, a group devoted to creating transpartisan coalitions for criminal justice reforms, didn't craft these questions randomly. Many of the queries were directly connected to specific legislative pushes:
1. Mandatory Minimums
A full 87 percent of those polled support replacing mandatory minimum sentences in nonviolent cases with sentencing ranges, so judges can make decisions on a case-by-case basis. Mandatory minimums are among the most corrosive consequences of the drug war, sending nonviolent offenders to prison for decades. Much of the mercy President Barack Obama and his Department of Justice offered when commuting federal sentences during his second term was directed toward those who had been stuck in prison for mandatory minimum drug sentences.
Yet even as Americans are increasingly aware that mandatory minimums have been putting away their neighbors, not scary violent drug lords, Attorney General Jeff Sessions is calling for harsher prosecutions and states are adding new drugs to mandatory-minimum lists to satisfy demands that they do something about opioids.
If Americans really do object to mandatory minimums, they should take a look at the federal Sentencing Reform and Corrections Act, sponsored by Sens. Chuck Grassley (R-Iowa) and Dick Durbin (D-Ill.). The law bill would reduce the scope of mandatory minimum sentence demands for nonviolent federal drug offenders and would give judges more leeway. The bill has struggled under resistance from drug warriors and law enforcement groups.
2. Cash Bail Reform
Should people who get arrested have to front money to be released if they aren't a threat? According to the poll, 85 percent want to replace cash bail with supervised releases, especially in cases where the defendant does not pose a threat to society.
Cash bail reform will likely be a major issue this year and beyond. Last year New Jersey all but eliminated cash bail entirely and switched to a system of pre-trial assessments and supervised releases. This month Alaska joined them. There are pushes in cities and states across the country to change the pre-trial system so that nonviolent people aren't detained simply because they cannot afford bail. Yesterday a California judge ruled that it's unconstitutional for the state to set bail so high that defendants cannot pay, unless they're dangerous.
On the federal level, Sens. Rand Paul (R-Ky.) and Kamala Harris (D-Calif.) have teamed up to try to create a fund to help states research replacements for cash bail. The Pretrial Integrity and Safety Act would set aside $10 million in grants to assist in implementing new systems of pre-trial assessments.
3. Suspending Driver's Licenses
Another set of reforms would curtail states' tendency to suspend driver's licenses as a form of punishment. This can make it harder for people, particularly poor people, to make ends meet legally—an absurd approach to fighting crime. States often suspend driver's licenses for drug-related crimes even when the arrest had nothing to do with driving while impaired. That's not entirely the states' own choice: Federal law mandates that they do so or lose some of their Department of Transportation funding.
In the Justice Action Network poll, 73 percent say that states should be able to decide whether to suspend licenses without having to risk federal funding. A bill introduced last year by Reps. Beto O'Rourke (D-Texas) and Justin Amash (R-Mich.) would do exactly that. The Better Drive Act may be one of the shortest bills ever written. It simply repeals the part of the federal code that requires states to suspend licenses for drug convictions or lose transportation funding. That's it.
4. Expunging Records for Young Adults' Low-Level Crimes
In the poll, 79 percent think people under the age of 25 should have an opportunity after completing probation to expunge a first-time, low-level conviction for a nonviolent crime.
Thanks to a law passed in 1984 under President Ronald Reagan, adults under the age of 21 already have this option. The Renew Act, sponsored by Reps. Hakeem Jeffries (D–N.Y.) and Trey Gowdy (R–S.C.) would increase the eligibility age for expungement to 25.
5. Government Jobs and Criminal Background Checks
The poll has 65 percent agreeing that people who apply for public sector jobs should get the chance to explain their qualifications and skills before having their criminal history examined.
This is a component of the "Ban the Box" movement, which aims to either convince or require employers to wait until later in the hiring process to consider whether a job candidate's criminal background should disqualify him or her from consideration. The idea here is that employers often remove ex-cons from the hiring pool as soon as they know of their past without even evaluating whether the crimes should disqualify them.
This question focused on public sector jobs. There are House and Senate versions of legislation that would require the federal agencies and federal contractors wait until they've extended a potential employment offer to a person before submitting them to a criminal background check. There are a bunch of exceptions, of course, for those who apply for jobs in law enforcement, national security, or positions that involve access to sensitive or classified information.
The House version of the bill is sponsored by Reps. Darrell Issa (R-Calif.) and Elijah Cummings (D-Md.). The Senate version is sponsored by Sens. Cory Booker (D-N.J.) and Ron Johnson (R-Wisc.).
Note that every single criminal justice reform bill mentioned here has bipartisan sponsors. If people support reform as much as this poll suggests, there are lawmakers on each side of the aisle who agree.
Read the rest of the poll results here.