'Sexually Promiscuous' Professor at the University of Rochester Faces Censure Vote
Florian Jaeger engaged in inappropriate sexual relationships with students, but broke no university policy.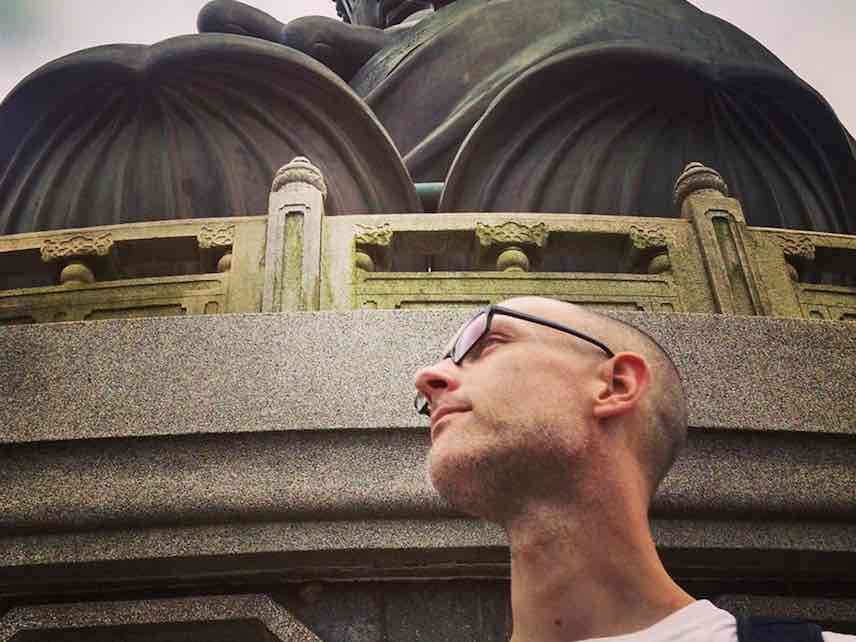 Later today, the faculty senate of the University of Rochester will vote on a motion to censure Florian Jaeger, a professor of brain and cognitive sciences, for sexual misconduct.
"Professor Jaeger engaged in a variety of inappropriate and unprofessional sexual or sexualized behaviors in his interactions with students," Senate Co-Chairs Mary Jane Curry and Kevin McFarland wrote in an email to the faculty senate that was obtained by Reason. "These behaviors had predictable and harmful impact on students."
Jaeger, who was hired at Rochester in 2007 at the age of 31, is accused of having inappropriate relationships with multiple students, of creating a climate of sexual harassment within the brain and cognitive sciences department, and essentially of being a serial predator. The allegations against Jaeger, which did not become public until last fall, seem damning at first blush. One of his accusers, former Rochester Ph.D. student Celeste Kidd, said he constantly made her feel uncomfortable. On September 1 of last year, Kidd and six other academics filed a complaint with the Equal Employment Opportunity Commission (EEOC) alleging a pattern of harassment and discriminatory behavior. According to this complaint, Jaeger
made it clear that students who wanted to excel needed to please him, socially and sometimes sexually. He used obnoxious and objectifying sexual language, intentionally crossed boundaries with women, including undergraduates, intentionally humiliated female students, and knowingly made women feel physically unsafe; they got the sense that their discomfort excited him.

He used illegal drugs with students and hosted hot tub parties.
Kidd and her fellow complainants have also accused the university of retaliating against them. They filed an additional complaint in federal court on December 8, 2017. Student-activists have protested Jaeager's continuing employment at Rochester. Many signed a petition calling on him to be fired. One student even launched a hunger strike.
Largely absent from the conversation is one inconvenient fact: Jaeger was cleared of any wrongdoing. Not once, not twice, but three times. It's easy to see why investigators repeatedly reached this conclusion: University policy did not bar professors from engaging in sexual relationships with their students until 2014, by which point Jaeger's objectionable behavior had ceased. That's why Rochester determined that while Jaeger may have crossed certain lines, there was no grounds to terminate him—a decision the university stood by even after the complainants appealed.
Moreover, some significant factual assertions made at various stages of the investigation were deemed false during a subsequent, independent investigation conducted at the university's request by the law firm Debevoise and Plimpton.
The results of this investigation—led by Mary Jo White, a former chairperson of the Securities and Exchange Commission—were released earlier this month. The document detailing the findings is more than 200 pages long. It recommends that the university make certain changes to its sexual misconduct policy. But it also concludes that "while there is no doubt that Jaeger, at one time, had a reputation as promiscuous—another aspect of his character that did not change from his years as a graduate student—Jaeger's characterization as a 'sexual predator' in the complaints is baseless."
While Jaeger did indeed pursue sexual relationships with students before the university changed its rules, he was never accused of sexual assault. "We are aware of no evidence—or even allegation—that Jaeger ever engaged in sexual assault or any other nonconsensual sexual contact whatsoever."
White and her team interviewed more than 140 witnesses, including 14 of the 17 graduate students and seven of the 10 postdoctoral fellows who worked with Jaeger between 2007 and present. It was clear to them that Jaeger's inappropriate sexual behavior—including his tendency to make sexually explicit jokes and comments—abated after the university became stricter about such things in 2014.
Further, the White investigation concluded that several claims concerning Jaeger were simply false:
The EEOC Complaint, for example, suggests in two separate places that Jaeger engaged in sexual activity with a prospective student who stayed with Jaeger and his partner during a visit to [the university] in 2015. To the EEOC Complainants' credit, their subsequent federal lawsuit, where Rule 11 pleading requirements apply, withdraws that assertion, noting that the student has now confirmed that she did not experience any sexual advances or other misconduct by Jaeger during her visit.
Rule 11 is a federal provision that essentially subjects attorneys and their clients to possible legal sanction if they make unsubstantiated claims. It doesn't apply in EEOC filings—nevertheless, this aspect of the EEOC complaint was simply false, according to White.
Perhaps the most troubling aspect of Jaeger's behavior—the place where the harassment case seems most compelling—is his treatment of Kidd, who claims she was subjected to "unwelcome, harassing sexual comments." Her claims are complicated by the fact that she lived with Jaeger for nearly a year: She rented a room in his apartment from the summer of 2007 until the spring of 2008. Kidd characterized this arrangement as coercive—he "pressed" her to live with him—but that's hard to accept at face value. As White's report noted:
The unedited Facebook messages between Jaeger and Kidd, as well as their email communications, suggest that in summer 2007, when Kidd moved into Jaeger's house, their relationship was friendly and harmonious, and we found no evidence indicating that Jaeger coerced Kidd into living with him. Interviewees overwhelmingly indicated that while they found Kidd's and Jaeger's living arrangement strange, they all thought Kidd and Jaeger were friends from summer 2007 to spring 2008. Emails between Jaeger and Kidd at the beginning of their living arrangement echo this perception.

By all accounts, Jaeger's and Kidd's living arrangement appears to have been initially friendly and mutually acceptable, although we note that we view it as a serious lapse in Jaeger's judgment to live with a graduate student.
It's hard not to see parallels between Jaeger's situation and that of Northwestern University Professor Peter Ludlow, who was accused of engaging in a nonconsensual sexual relationship with a student—even though, as Laura Kipnis wrote in her book about the Ludlow investigation, it was difficult to imagine how the long-running relationship could possibly have been forced. "What would it mean to not consent to sending a thousand text messages?" wrote Kipnis. A similar dynamic seems to be at play here.
There's one more element to the Jaeger situation: Since 2014, he has been in a relationship with Chigusa Kurumada, who is also a professor in Rochester's cognitive and brain sciences department. Kurumada is from Japan, and living in the U.S. on a work visa. (Jaeger is himself from Germany.) Kurumada told me that she strongly disputes the complainants' claims. Moreover, in their zeal to destroy Jaeger's career, she says they have imperiled hers.
"In what was purported to be a campaign to protect and empower women, Florian's accusers—my own colleagues—belittled my professional achievements and insinuated that I was complicit in his behaviors or even enabled them," she writes via email. "I was the only woman not given a pseudonym in the EEOC complaint. Using my real name, obviously foreign, furthered the goal of presenting Florian as a perpetrator by portraying me as a stereotypically submissive Asian woman."
Kurumada's prospects have suffered greatly as a result of the efforts to oust Jaeger, she claims.
"While I have consistently carried out my academic responsibilities, I have done so while being publicly shamed by my colleagues and while my partner endures death threats and daily hate mail," she wrote. "My plans for grant proposals and journal submissions have been in large part tabled, and I have been disinvited from one speaking engagement in Japan, my native country."
It would be easier to count the damage to Kurumada's career as an acceptable loss if it meant holding a serial sexual abuser accountable. But it's hard to argue with White's exhaustively researched conclusion: Jaeger's long-ago behavior may have been gross and ill-advised, but it did not violate university policy and it no longer threatens students or faculty members at Rochester.
Nevertheless, the censure vote in the faculty senate later today could result in a loss of tenure for Jaeger.
"My client Florian Jaeger has now undergone three separate investigations…each one determined he did not violate any law or University policy," says his lawyer, Steve Modica. "Now some members of the faculty senate wish to revoke Florian's tenure because he engaged in consensual relationships 10 years ago with several female students. I would hope a group of educators from a world renowned institution like Rochester would be concerned about due process, facts, and context instead of complaints filled with misinformation and distortions."