Leaked Copy of Trump's Infrastructure Plan Reveals Emphasis on Private Investment
The document gives us the most detailed take yet on the administration's $1 trillion infrastructure plan.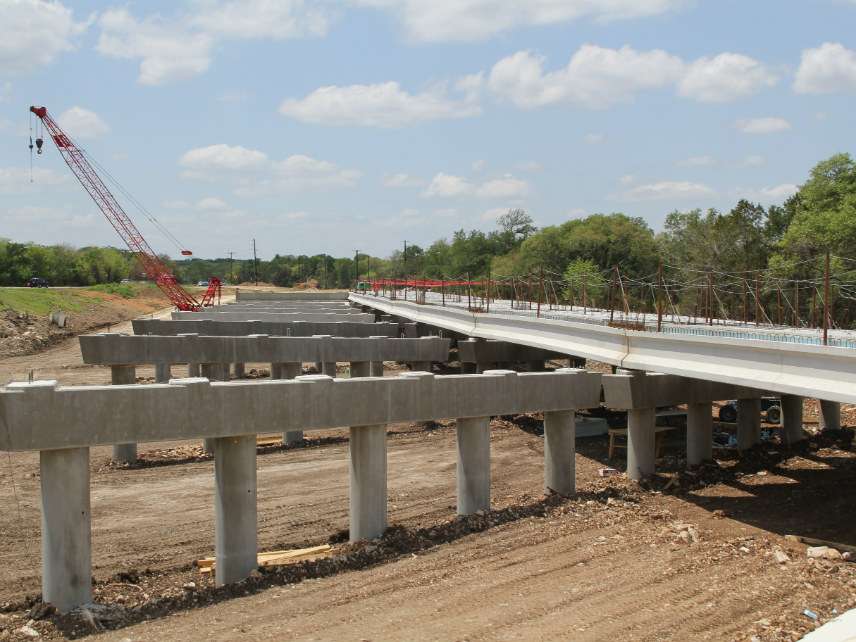 In Trump's America, every week is infrastructure week.
Donald Trump came into office promising a detailed $1 trillion infrastructure plan within his first 100 days. That timeline did not quite work out, leaving his administration to dole out vague principles and sometimes contradictory hints about the package over a series of seemingly endless "infrastructure weeks."
Monday gave us the most detailed look yet at Trump's intentions, thanks to a six-page draft "funding principles" document leaked to Axios.
Bob Poole, director of transportation policy at the Reason Foundation (the nonprofit that publishes this website) had a "fairly positive" reaction to the document. "It's consistent with the idea that they've said all along, that there is not going to be mass amounts of federal money," he says.
Trump's team has long suggested that the plan will use $200 billion in direct federal funding to entice an additional $800 billion in state, local, and private financing. The leaked document focuses on where that direct federal spending will go.
Some 50 percent of the $200 billion is allocated to an "Infrastructure Incentives Initiative" covering everything from surface transportation and airports to storm water facilities and Superfund sites.
The feds would be restricted to paying for no more than 20 percent of any such project funded under this section, and the money will theoretically be steered toward those projects that would generate sustainable nonfederal revenue. The federal government currently funds upwards of 50 percent of project costs on major infrastructure projects, so Poole is glad to see a smaller federal role envisioned.
The document also calls for the elimination of federal restrictions on interstate tolling.
Though hardly crumbling, many of the nation's interstates are in need of repair. A 2015 Department of Transportation report found that 36 percent of the nation's federal-aid highways are in good shape, as measured by the International Roughness Index. Another 44 percent score "fair" on the index, while a full 20 percent are in "poor" condition. Tolling offers a way to repair the system without the massive gas tax increases favored by business interests; instead, direct user fees would pay for repair, maintenance, and expansion.
Poole thinks such user fees could attract billions in investment from private infrastructure firms, which could transform the highway system with dedicated lanes for semi-trucks and semi-autonomous vehicles.
This is still, to be sure, a proposal to spend billions of taxpayers' dollars, opening the door to all sorts of waste and cronyism. About 35 percent of the direct federal funding would still go toward traditional tax-and-spend infrastructure projects. That includes 10 percent for "transformative projects," described as "viable projects unable to secure financing through the private sector due to the uniqueness of the program." In those cases, the feds would provide up to 80 percent of construction costs. So taxpayers might have to shell out for Elon Musk's hyperloop after all.
Another 25 percent of the direct federal funding in Trump's infrastructure plan (about $50 billion) would go to projects in rural states. Unlike the Infrastructure Incentives Initiative, these would be block grants given for governors to spend with few restrictions. Poole sees this as a political move to shore up support for a final bill. "The clear feedback from Congress, including Republican senators, particularly Republican senators from rural states," he says, "is if you expect to get an infrastructure bill largely on self-help and [public-private] projects, that's not going to fly."
Indeed, Sen. John Barrasso (R-Wy.), who chairs the Senate's Environment and Public Works Committee, has insisted explicitly that projects built around private funding "may be innovative solutions for crumbling inner cities, but do not work for rural areas." Sens. Inhofe (R-Okla.) and Jodie Ernst (R-Iowa), both of whom sit on Barrasso's committee, are also skeptical about the idea.