The Feds Are Willing to Let More Medical Workers Treat Opioid Addicts. Now the States Need to Step Up and Allow It.
It's time we unleashed non-physicians to help opioid addicts.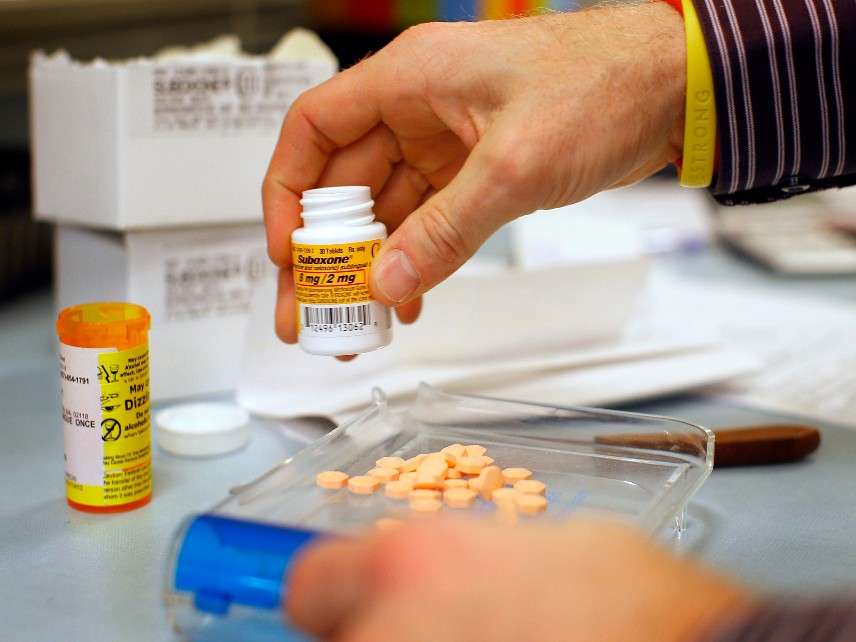 The Drug Enforcement Administration (DEA) announced today that it will begin granting waivers making it easier for nurse practitioners and physician assistants to administer a drug designed to wean people off prescription painkillers and heroin without inducing withdrawal. Under the new rule, they'll be able to give patients the drug—buprenorphine—in outpatient settings without requiring that care providers register as narcotics treatment programs. If the state where they practice allows it, nurse practitioners will also be allowed to administer the drug without a physician on the premises.
The Food and Drug Administration approved buprenorphine in 2002. That same year, the Department of Health and Human Services created a waiver program that would allow physicians to administer the drug in a primary care setting.
The waiver system was designed to provide an alternative to the regulatory obstacles physicians must navigate to set up a treatment center. Establishing a federally approved treatment program requires you to submit an application to both the DEA and the Food and Drug Administration, plus a state regulatory agency. Applicants must then be interviewed and have their facilities inspected by all three agencies. The waiver provision—which also involves a fair amount of paperwork—was intended to expand treatment access to Americans in rural areas. But nurse practitioners and physician assistants weren't allowed to apply for the waivers.
In 2016, the Comprehensive Addiction and Recovery Act changed the waiver eligibility language from "qualifying physician" to "qualifying practitioner." The DEA's notice states that the definition of "qualifying practitioner" will include physicians, physician assistants, and nurse practitioners until October 2021, at which point the language will have to be reauthorized.
Under the new regulations, any nurse practitioner or physicians assistant who is licensed to administer a schedule III drug can now apply for a waiver. (Schedule III drugs have moderate potential for abuse and can be mildly habit forming.) They will be required to undergo 24 hours of training, and they will need a physician's authorization if their state requires them to work under a doctor's supervision. All physician assistants require such supervision, but 22* states and the District of Columbia allow nurse practitioners "full practice" status, meaning they can prescribe drugs independently of a medical doctor.
Unfortunately, many of the states hit hardest by opioids do not allow nurse practitioners this independence. Pennsylvania, New Hampshire, Kentucky, West Virginia, and Ohio had the highest overdose death rates in 2016. Of those five, only New Hampshire allows nurse practitioners to prescribe independently.
That blunts the impact of today's announcement. According to the DEA, "rural providers of buprenorphine report a demand far beyond their capacity and say they lack the resources to adequately support themselves and patients in treatment." A 2017 report from the National Rural Health Association revealed that only 39 percent of rural counties have a waivered physician.
Meanwhile, a 2016 survey found that 36 percent of waivered physicians who are not treating the maximum number of patients allowed by Health and Human Services say it's because they lack the time to treat additional patients. A 2015 research review by the Kaiser Family Foundation found that nurse practitioners "can manage 80–90% of care provided by primary care physicians" and that primary care outcomes between nurse practitioners and physicians are roughly identical.
The DEA took a step in the right direction today. Now states need to make it easier for non-physicians to keep their patients alive.
*Correction: This post erroneously stated that nurse practitioners have full practice authority in 21 states; they currently have full practice authority in 22 states.