Dallas Cash Bail System Leaves Poor Languishing In Jail, Lawsuit Says
"The county operates a wealth-based system of detention. Every day people are held in jail simply because they can't afford very small amounts of money."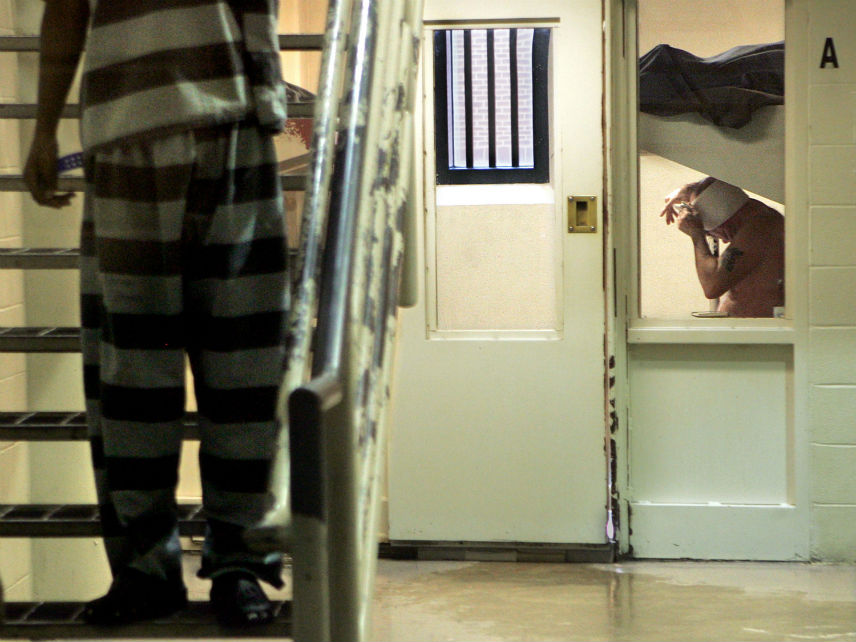 Shannon Daves has been held in solitary confinement at the Dallas County, Texas, jail for nearly a week because she can't afford a $500 bail.
Daves, 47, an unemployed, homeless transgender woman accused of theft, is one of hundreds of criminal defendants in Dallas County languishing behind bars every day simply because of their inability to make bail, according to three civil rights groups.
Those groups—the American Civil Liberties Union (ACLU), Civil Rights Corps, and Texas Fair Defense Project—filed a federal class-action lawsuit late Sunday night on behalf of Daves and five other named plaintiffs challenging the constitutionality of Dallas County's bail policies. In all six of the plaintiffs' cases, their arraignments lasted less than a minute, and the judges never asked about their income or ability to pay before setting bail.
Dallas County, which includes the city of Dallas, is the latest to be hit in a wave of lawsuits around the country challenging the constitutionality cash bail policies. Similar challenges have been filed in Alabama, Georgia, Louisiana, Mississippi, Missouri, Tennessee. Last April, a federal judge issued a stunning ruling that found the bail practices in Harris County, Texas, were unconstitutional and ordered almost all misdemeanor defendants to be released within 24 hours.
Civil liberties groups say cash bail practices like Dallas County's keep defendants, who are presumed innocent, behind bars because of their inability to pay—essentially a debtor's prison. Sunday's lawsuit claims about 70 percent of the jail population are there because they can't afford bail. The cost to county taxpayers, the civil rights groups estimate, amounts to $225,321 per day.
Brandon Buskey, an ACLU senior staff attorney, argues that system violates the core constitutional principles of equal protection and due process.
"The current situation is that the county operates a wealth-based system of detention," he says. "Every day people are held in jail simply because they can't afford very small amounts of money. On the other hand, if you're wealthier you go free, often within a few hours."
The civil rights groups argue that even short stays in jail can have devastating consequences for defendants, especially poor ones. "Pretrial detention of presumptively innocent human beings causes people to lose their jobs and shelter, interrupts vital medication cycles, and separates parents and children," the lawsuit states. "It coerces guilty pleas and results in longer sentences."
Around one-third of inmates at the Dallas County Jail have some form of mental illness, according to the lawsuit.
Dallas County officials began working to reform their bail policies last year, after the Dallas Morning News reported on the case of a grandmother who spent two months in jail after shoplifting two school uniforms worth $105. Her bond was set at $150,000, of which $15,000 was nonrefundable.
Opposing such reform efforts is the professional bail bond industry. Industry represenativies have filed lawsuits in New Jersey and New Mexico arguing that denial of cash bail is actually a violation of defendants' constitutional rights.
"What that does, in a nutshell, is it takes something that is constitutionally protected as a liberty-preserving option and turns it into an option of last resort," former U.S. Solicitor General Paul Clement, now working for the American Bail Coalition, argued before a New Jersey judge last year.
Civil liberties groups, however, say that the bail bond industry's opposition is little more than an attempt to preserve its bottom line.
"Most people who go through the system in Dallas county or elsewhere in the country can be released without any worry and without any condition on their liberty," Buskey says. "For those who present some risk, money is not the answer. The bail bond industry's efforts to save itself by asserting that, somehow, cash bail is needed to keep people safe is just that—a self-interested and desperate attempt to keep their livelihood going."