Kamala Harris: No Friend to Criminal Justice Reform
She didn't push for reform when she had the opportunity as district attorney and as attorney general.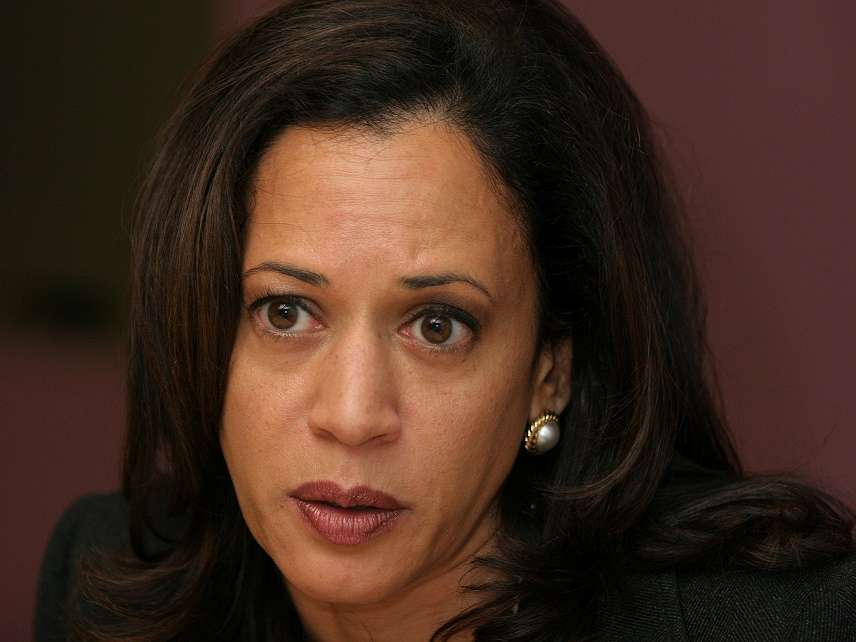 Sen. Kamala Harris (D-Calif.) was named to the Senate Judiciary Committee this week. Harris has occasionally supported sensible changes to the criminal justice system, as when she joined with Sen. Rand Paul (R-Ky.) to back bail reform. But as San Francisco's district attorney and then as California's attorney general, she rarely strayed far from a punitive law-and-order mentality. Criminal justice reformers shouldn't get their hopes up that she'll be a reliable ally.
During her time as San Francisco's district attorney, Harris oversaw the city's mismanaged crime lab. A San Francisco superior court judge ruled that the D.A.'s office ignored demands that it take responsibility for the lab's failings, and that it violated defendants' rights by hiding information about a corrupt technician who had been stealing cocaine.
As attorney general of California, Harris challenged the release of a man who had been exonerated by the Innocence Project and had his conviction overturned. Harris argued that Daniel Larsen, who spent 13 years in prison for the crime of possessing a concealed knife, had not produced evidence of his innocence fast enough. A federal judge overturned his conviction after finding that Larsen had shown he was innocent, that the cops testifying at his trial weren't credible, and that his attorney, since disbarred, was constitutionally ineffective because he had failed to call any witnesses.
When the Supreme Court decided that California's overcrowded prisons represented cruel and unusual punishment, Attorney General Harris fought a ruling ordering California to release some of its prisoners. Harris claims she had to fight the ruling for Gov. Jerry Brown. "I have a client, and I don't get to choose my client," she said. But the attorney general in California is an independent, elected position, not an appointee serving at the governor's pleasure.
She also refused to endorse sentencing reform measures on the ballot in 2012 and 2014, saying she couldn't do so because she was responsible for producing an official explanation of the measures. John Van de Kamp, a Democrat who served as attorney general from 1983 to 1991, told The New York Times Magazine that her explanation was "baloney." No statute prohibits attorneys general from endorsing ballot measures, and de Kamp himself endorsed three separate 1990 ballot measures while he held the office.
When a federal judge ruled in 2014 that California's application of the death penalty was unconstitutional, Harris fought that ruling too, almost certainly for political reasons. The first time she had run for attorney general, back in 2010, only one law enforcement group endorsed her; the rest were upset that she hadn't sought the death penalty against an alleged cop killer in San Francisco. In 2014, by contrast, nearly 50 police groups endorsed her reelection campaign.
Harris has also been a staunch supporter of the drug war. As San Francisco D.A. she opposed a measure to legalize marijuana, and when she ran for attorney general she argued that legalization would encourage people to work and drive while high. As attorney general, she called for an expansion of the state's efforts to track prescription drug users. She also opposed cuts to drug enforcement programs that often targeted drug dealers for nonviolent offenses.
Harris also wanted to threaten the parents of truants with jail time. Truancy in California is defined as having three unexcused absences or being late to school by 30 minutes three times in one school year. "We take this matter very seriously," she told lawmakers. "A child going without an education is tantamount to a crime."
Whether Harris will double down on the instincts she honed as a DA and attorney general or live up to the reform rhetoric she's now coopting remains to be seen. The answer will ultimately depend on the pressure her constituents place on the senator, and how big a free pass her liberal fans are willing to give her.