New Jersey Prisons Back Off Ban of The New Jim Crow, But Censorship Behind Bars Is Still Widespread
Texas alone bans 10,000 books, including The Color Purple and Where's Waldo?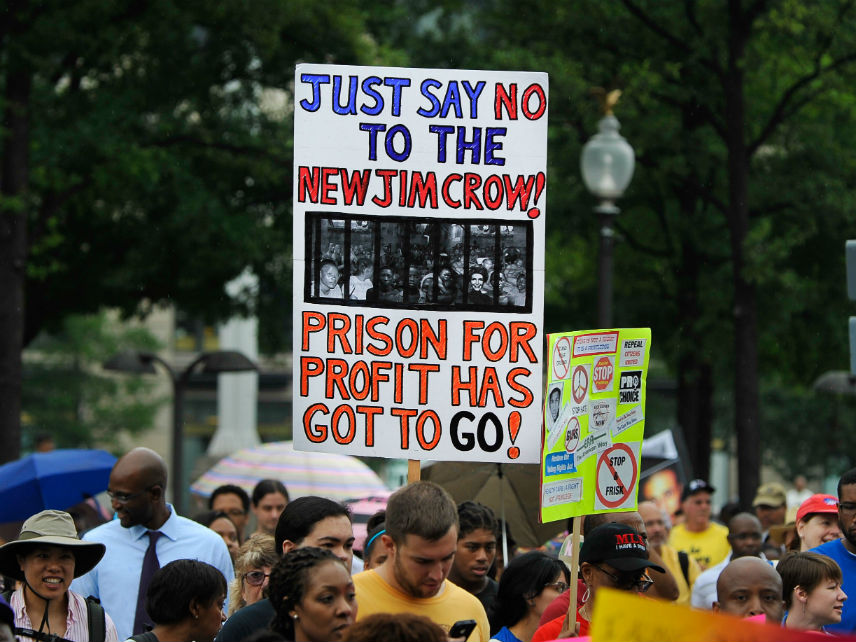 Hours after the American Civil Liberties Union (ACLU) accused it of censorship, New Jersey prison officials rolled back a ban on Michelle Alexander's influential critique of mass incarceration, The New Jim Crow.
The ACLU discovered the book was banned in two New Jersey prisons through a public records request. The Intercept reports:
"The ban on 'The New Jim Crow' violates the right to free speech enshrined in the First Amendment to the U.S. Constitution, and the correlative protection of Article 1, paragraph 6 of the New Jersey Constitution," ACLU attorneys Tess Borden and Alexander Shalom wrote to Gary Lanigan, commissioner of the New Jersey Department of Corrections.

The ban also points to some blood-boiling ironies.

"Michelle Alexander's book chronicles how people of color are not just locked in, but locked out of civic life, and New Jersey has exiled them even further by banning this text specifically for them," said ACLU-NJ Executive Director Amol Sinha in a statement. "The ratios and percentages of mass incarceration play out in terms of human lives. Keeping a book that examines a national tragedy out of the hands of the people mired within it adds insult to injury."
Shortly after that, NBC reported that officials were lifting the ban at those two prisons and reviewing their policies.
Unfortunately, New Jersey was not an outlier. State prison systems ban thousands upon thousands of books.
At least as of 2015, the North Carolina prison system also banned The New Jim Crow, along with hundreds of other titles.
Texas, one of the most censorious prison systems in the nation, bans roughly 10,000 publications, including The Color Purple, Where's Waldo?, and John Pfaff's Locked In, another book on mass incarceration. It does, however, allow Mein Kampf.
Just last week, new rules went into effect at three New York prisons banning care packages that aren't purchased through one of five approved vendors. State officials say the policy, which will eventually go statewide, is meant to crack down on contraband. But prison rights organizations say the move will severely restrict what inmates can receive, including books.
NYC Books Through Bars, a volunteer group that sends free books to inmates across the country for free, wrote in a letter last week to New York Governor Andrew Cuomo that "this draconian restriction closes off so much of the world to thousands of people":
The approved vendors' catalogs are currently limited to the following books: five romance novels, fourteen bibles and other religious texts, twenty­four drawing or coloring books, twenty­one puzzle books, eleven guitar, chess, and how­to books, one dictionary, and one thesaurus. No books that help people learn to overcome addictions or learn how to improve as parents. No Jane Austen, Ernest Hemingway, Maya Angelou, or other literature that helps people connect with what it means to be human. No texts that help provide skills essential to finding and maintaining work after release from prison. No books about health, about history, about almost anything inside or outside the prison walls.
Reason, too, has had run-ins with prison censors. Issues of Reason have been impounded by Florida and Arizona prison officials. The latter found my cover story on the deplorable conditions inside the Washington, D.C., jail "detrimental to the safe, secure, and orderly operation of the institution."
And in what is surely the crown jewel of stupid prison bans, in 2010 the Seventh Circuit Court of Appeals upheld the Wisconsin prison system's ban on Dungeons & Dragons. The game constitutes a gang threat, according to very serious prison officials.