Misguided Preschool Mandate Will Cost D.C. Parents and Teachers But Won't Help Kids
All day care workers will have to get a specialized degree by 2020 or risk losing their jobs.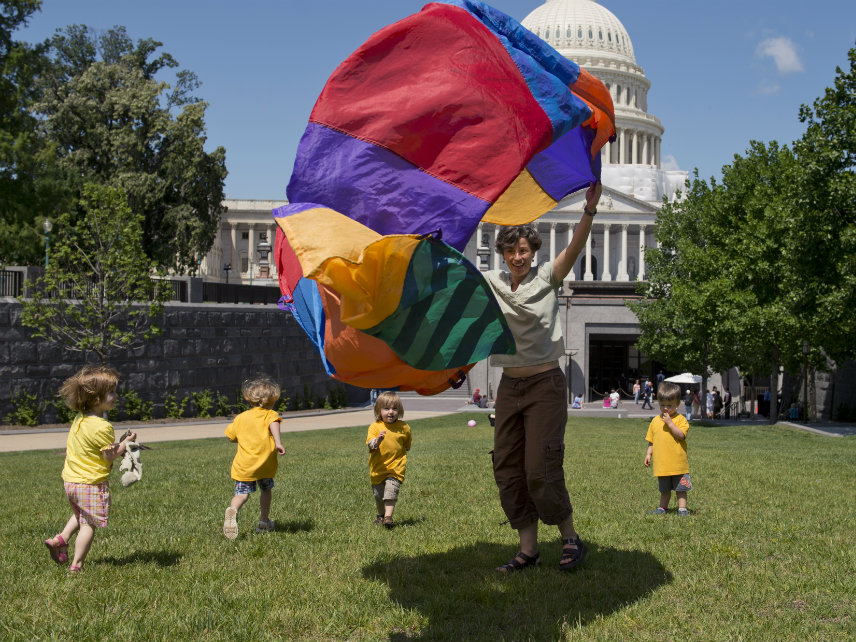 Hundreds of workers at day cares and preschools in the nation's capital will have to get a degree in early childhood education or a related field by 2020, thanks to a mandate approved last year by the Office of the State Superintendent for Education (OSSE).
The rule jeopardizes workers' jobs if they don't comply, and it creates a new barrier to entry for the child care business. It's also likely to hike costs for parents in a city where child care is already unusually expensive.
The OSSE is now thinking of postponing the degree requirement until 2023. A public comment period on the possible change ended this week, and a decision is expected sometime early next year.
Instead of merely postponing the new mandate, the OSSE should "scrap it entirely," says Jill Homan, whose 1-year-old daughter attends a day care program in the Capitol Hill neighborhood.
"If you can push it out a couple years, then why not 2043? It becomes a very arbitrary date," she tells Reason. "If they're lacking a specific skill…teach them whatever they are missing. But if you can't articulate what skill they are lacking, then why require this additional degree?"
Washington already has nearly universal pre-K programs, and teachers in those programs (aimed at four-year-olds) are already required to have a degree in early childhood education. The OSSE's new mandate covers those who provide care and basic education to children between birth and age three.
The OSSE says it wants day care providers to have skills rivaling elementary school teachers. But the mandate's supporters haven't identified any specific deficiencies in the current child care workforce. Instead they focus on the supposed benefits of having trained early childhood educators working with children as young as 18 months. "This is a real opportunity to build the profession and set our young children on a positive trajectory for learning and development," Elizabeth Groginsky, the district's assistant superintendent of early learning, told The Washington Post in March.
Apparently, "building the profession" may require pushing some qualified people out of it.
Dale Sorcher has worked with children aged 18–24 months for more than two decades at the Gan HaYeled preschool in D.C. She has masters' degrees in education and social work, but those don't count for the OSSE's mandate, which requires a degree specifically in early childhood education. She has no intention of going back to school to take the 24 credits for an associates' degree—"which, quite frankly, I could teach," she says—on top of the continuing education requirements for her social work license.
If the OSSE absolutely must implement mandatory education for existing teachers and day care providers, the regulatory board should provide it as part of teacher in-service training, Sorcher suggests. "Then it's done on-site during the day when your workforce is there," rather than forcing current workers to attend night school or otherwise a degree program into their lives.
The requirement could also have the perverse consequence of exhausted caretakers watching the kids.
Earlier this year, The Washington Post published a lengthy look at the consequences of the new mandate. One preschool teacher, Debbie James-Dean, talked about getting up at 4:15 a.m. each day to finish homework before working a full day and then taking classes until after 9 p.m.
"After working a full day of caring for our daughter, now they have to go to night school," says Homan. "The last thing I want is her teachers and caregiver to be stressed or tired."
The mandate's advocates claim that early childhood education is essential to success later in school and life, echoing the arguments used to expand pre-K programs across the country in recent years.
"Early learning begets later learning, and we're really setting up a positive trajectory," Groginsky told The Atlantic earlier this year.
Yet studies have found that most educational gains from early childhood education tend to wash out after a few years. The largest and most well-known early childhood education program, Head Start, has consumed more than $160 billion in federal funds since its creation in the 1960s. After tracking a group of 5,000 preschoolers who participated in Head Start, the Department of Health and Human Services in 2010 concluded that any benefits from the program "yielded only a few statistically significant differences in outcomes at the end of the 1st grade."
By the end of 2015, 54 state-funded pre-K programs were operating in 42 states plus Washington, D.C., at a cost of more than $6.2 billion for state taxpayers. Programs that used to be narrowly targeted to low-income students are now being expanded. New York City recently adopted a universal pre-K program, and PresidentBarack Obama called for states to do the same in his 2016 State of the Union address.
Advocacy groups hope to use D.C.'s requirement to push for similar rules elsewhere. But what good is leading the way if a program yields few benefits while driving qualified workers out of their jobs and costing parents more?
The average cost of child care in D.C. is more than $22,600 annually, the highest of any metropolitan area in the country, according to the Economic Policy Institute, a think tank focused on policies affecting consumer costs. That's likely to go up if the mandate goes into effect. The required associates' degree costs about $6,000 on average for a two-year program, according to The College Board.
While the city and OSSE have made some scholarship programs available to help current child care workers afford the added cost, that doesn't address "the other costs and time constraints would-be childcare workers would face, including the opportunity cost of missed work time," write C. Jarrett Dieterle and Shoshana Weissmann, policy fellows at the R Street Institute, in official comments submitted to the OSSE last week.
Although the degree mandate was created last year without input from the public or the city council, new rules passed this summer give the city council the authority to review any similar rules made by the OSSE in the future. Reopening the mandate to potentially extend the compliance date to 2023 creates an opportunity for D.C.'s city government to act.
The public seems to have noticed. Since the Institute for Justice, a libertarian law firm, established SaveDCDaycare.com to collect public comments about mandate, more than 300 comments have been submitted. That total doesn't include any comments submitted directly to the OSSE.
The OSSE will likely wait until after the holidays to review the public comments and make any changes to the policy. The office also has to complete a report, requested by the city council, on the expected costs associated with the mandate. The city council will likely have a chance to act to delay or discontinue the requirement.
"I hope they decide that this is really stupid and makes no sense," says Sorcher. "In certain areas, certain positions, I think life experience is way more valuable than 24 credit hours. It's crazy."