Venezuelan Bitcoin Miners Must Register With the Government
Will a new regulatory framework help stop extortion and police abuse, or will it set the stage for a brutal crackdown?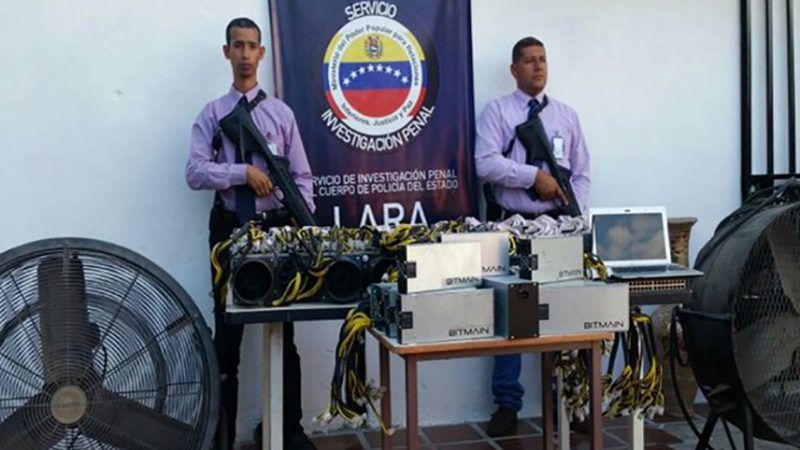 The Venezuelan government is developing a legal framework to tax and regulate cryptocurrency mining. As a first step, it's compiling a detailed registry of the country's miners. Carlos Vargas, recently appointed as the first "superintendent of Venezuelan cryptocurrency" by President Nicolás Maduro, announced the plan at a press conference on Tuesday.
"We want to know who they are, we want to know where they are, we want to know what equipment they are using," Vargas said. The government will launch an online registry on December 22, and miners will be required to sign up.
Meanwhile, local police have continued arresting miners.
On December 9, four days before Vargas' announcement, a criminal investigations team from the state of Lara raided a warehouse in the city of Barquisimeto, seizing 21 mining computers and arresting 31-year-old Daniel Andrés Di Bartolomeo Viloria. He was accused of money laundering, illicit enrichment, computer crimes, financing terrorism, exchange fraud, and damage to the national electric system.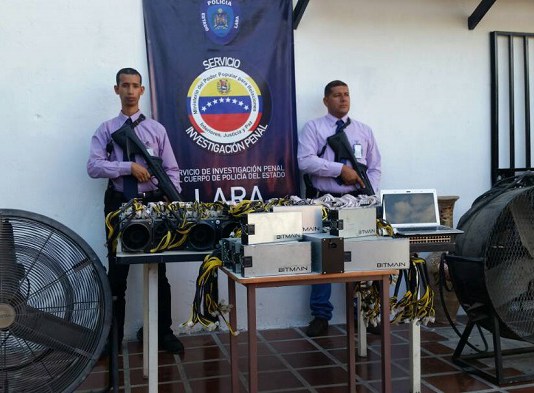 "Digital currency is not endorsed by any banking institution in the world nor has it been approved by any country," the police said in an official statement. "The currency is being marketed with legal appearance but in essence it operates in secret."
Proponents of the new registry say it will create a pathway for bitcoin miners to operate with legal protections.
"Miners are working under difficult conditions and formalizing the structure through this registry will help protect them from extortion and harassment," says Angel Salazar, a member of an advisory commission helping the Venezuelan government craft its cryptocurrency regulations. Salazar, a blockchain entrepreneur and the founder of OnixCoin, says he once considered moving to Switzerland because of the risks associated with cryptocurrency in Venezuela.
John Villar, a Caracas-based software developer and the creator of the crypto-based online card game Rarepepe.party, says he's "cautiously optimistic" about the new registry.
"I find it reassuring that the government is getting into the industry," Villar told Reason. "If they do a good job implementing the registry, and are careful to protect miners from the mafia, that would be great. On the other hand, if that information got into the wrong hands, it would be disastrous. But what can the miners do besides flee the country?"
"If I were still in Venezuela, there's no way I would sign up," says David Fernando López Torres, who once ran a medium-sized mining farm in Venezuela but recently relocated to San Francisco.
"If they weren't protecting miners' rights without a registry, how can they trust that they would protect their rights with a registry? First they need to publicize what the registry will be used for, because we can't trust their intentions." López predicts miners will shun the new registry and move further underground.
The bitcoin mining industry is exploding in Venezuela, both on a small scale, with tech-savvy citizens running racks of machines in their homes, and as a covert industry, with thousands of specially-designed computers hidden in warehouses and office buildings. Mining is uniquely profitable in Venezuela because the state heavily subsidizes the cost of electricity.
Bitcoin allows users to import food and medicine through e-commerce sites such as Amazon and Walmart.com, circumventing the capital controls that have made it impossible to purchase foreign goods with Venezuelan bolivars.
Cryptocurrency mining isn't technically illegal in Venezuela, yet local police have been arresting miners since early 2016, charging them with electricity theft, exchange fraud, cybercrime, and financing terrorism. Extortion is rampant. After they're discovered by the police, miners are sometimes asked to pay protection money in exchange for staying out of legal trouble.
The government has shifted its official position on cryptocurrency in recent months. On the December 3 edition of his weekly television show, Sundays with Maduro, the president announced that Venezuela is launching its own cryptocurrency, the Petro, which he plans to use a tool for circumventing the economic sanctions imposed by the U.S.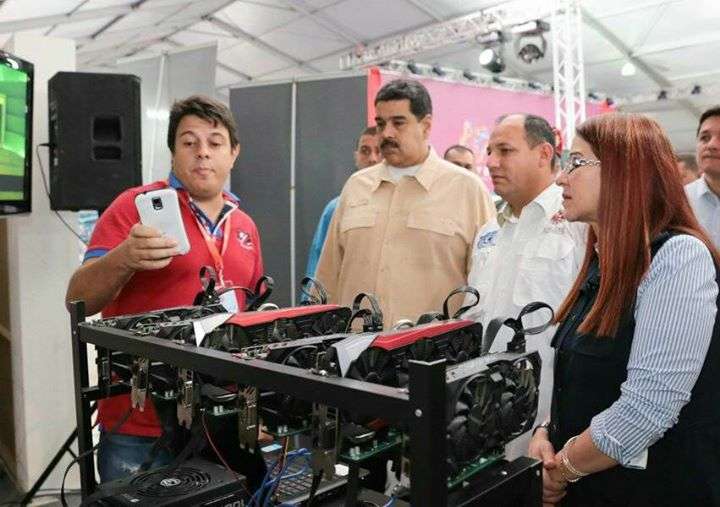 During the broadcast, Maduro turned the microphone over to Jose Angel Alvarez, a cryptocurrency enthusiast who referred to bitcoin as a "great technological revolution" and showed off a rack of cryptocurrency miners for the cameras.
Maduro said that the "Petro" will be backed by the nation's oil reserves, and he credited "the prophet Hugo Chávez" for originating the idea, citing a 2009 interview with the now-deceased former president in which he suggested that oil-rich countries get together to create a new "petro-money" that would replace the dollar as the global-reserve currency.
Maduro also announced the formation of a new working group of industry professionals, "Observatorio Blockchain," to help figure out how the Petro will work and to formulate cryptocurrency regulatory policies.
A second group of industry professionals and engineers, which doesn't have an official name and doesn't want to be publicly associated with the government, has been holding separate meetings with Venezuelan officials since early September, according to John Villar, who has consulted with the group. One proposal discussed by the group would restrict cryptocurrency mining to the city's industrial zones, where the electricity grid tends to be more robust. Miners may also be asked to start paying a market price for the electricity they use.
On November 27, the group arranged a meeting hosted by the Ministry of People's Power for Basic, Strategic and Socialist Industries, where the discussion centered on how the blockchain, as a public ledger, could help combat government corruption.
For more on bitcoin in Venezuela, read "The Secret, Dangerous World of Venezuelan Bitcoin Mining" from our January 2017 issue.