Doug Jones' Election Probably Won't Kill the GOP Tax Bill
Senate Republicans will probably vote before the new Democratic senator is sworn in.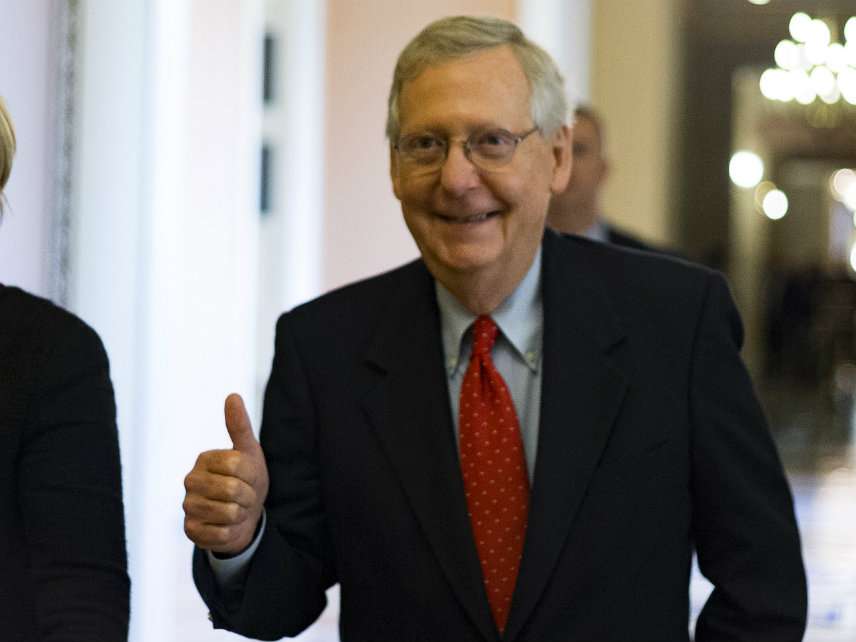 In the weeks since the GOP tax bill passed in the Senate, it has been something close to a foregone conclusion that some version of the legislation would eventually become law.
True, there were differences between the House and Senate versions, and they would have to be worked out in a conference committee before each chamber voted again on a unified bill. But none of those differences were likely to crater the entire process. President Trump wanted to pass tax legislation, and so did congressional Republicans. The policy framework was imperfect but good enough for most GOP lawmakers, they had the votes—and, perhaps most importantly, they desperately wanted a major legislative win.
If you were going to construct a scenario, however, in which the bill didn't pass, in which it somehow stalled out during the conference process, that scenario would have to start with the election of Democratic Senate candidate Doug Jones in the special election in Alabama.
This would reduce the Senate GOP's majority to a single vote, in the process giving even more bargaining power to each individual Republican senator, since any party-line vote could withstand only a single defection, and Sen. Bob Corker (R-Tenn.) already opposes the legislation because of how much it would add to the deficit. (Vice President Mike Pence would step in to break a tie.)
In this scenario, each individual GOP senator becomes a kind of temporary emperor of the tax code, able to extract concessions and alterations in exchange for casting the deciding vote. In particular, this could empower Sen. Susan Collins (R-Maine), who tentatively supported the Senate bill, but refused to commit to supporting the final product until it was fully negotiated with the House.
For this scenario to come to pass, however, the tax reform vote would have to occur after Doug Jones is sworn into office, which could take weeks. And that is not likely to happen.
Although Senate Democrats spent this morning urging McConnell to delay the vote, it looks as if Senate Republicans are moving full speed ahead. Sen. Orrin Hatch (R-Utah), who chairs the Senate Finance Committee, confirmed today that House and Senate negotiators had reached an agreement. Senate Majority Whip John Cornyn (R-Tx.) indicated that a new bill is all but finalized. "We've got to get this thing wrapped up so we can get it on the floor next week," he said.
Doug Jones should be seated without delay. The people of Alabama have a right to be represented by the person they elected in this tax debate.

— Kamala Harris (@SenKamalaHarris) December 13, 2017
In a speech this morning urging McConnell to postpone the tax vote, Senate Democratic Minority Leader Chuck Schumer noted that McConnell himself had supported a delay when a similar scenario occurred in early 2010, shortly after Senate Democrats voted to pass the Affordable Care Act.
The initial plan had been to negotiate a new health care bill with the House and then have both chambers take another vote, but the surprise election of GOP Sen. Scott Brown in Massachusetts killed that plan. McConnell, at the time, supported delaying further votes until Scott Brown could be sworn in, and Harry Reid, then the Democratic Senate Majority Leader, agreed to slow the health care process.
Schumer quotes McConnell wanting Democrats in 2010 to hold off on health care votes until Scott Brown got seated, which they did. pic.twitter.com/swH5nXCRKO

— Sahil Kapur (@sahilkapur) December 13, 2017
The Alabama election is somewhat different in the sense that it was not primarily about the tax bill in the way that the Massachusetts election was driven by opposition to the Affordable Care Act, but Schumer has at least a partial point when he argues that McConnell would be hypocritical to move ahead.
But that is, in some sense, an argument that Mitch McConnell should not act like Mitch McConnell, and should instead prioritize a combination of hypocrisy avoidance and process transparency over a combination of political and legislative victory. There are good reasons to avoid the rushed and messy process that gave us the glitch-ridden Senate bill, but they are not reasons that McConnell, a ruthless and effective legislative tactician, has ever cared much about. As McConnell said on the night the tax bill passed in the Senate, after being asked about the hastily written legislation, "You complain about process when you're losing."
If the bill slows down, it will be because a handful of GOP senators demand it, not because McConnell relents on his own. Republicans want a win on the tax bill, and McConnell is likely to deliver it to them.