Georgia Lawmaker Introduces Bill To Require Conviction for Asset Forfeiture
Georgia passed some asset forfeiture reforms in 2015. Can it join 14 other states that require a conviction before police can keep people's stuff?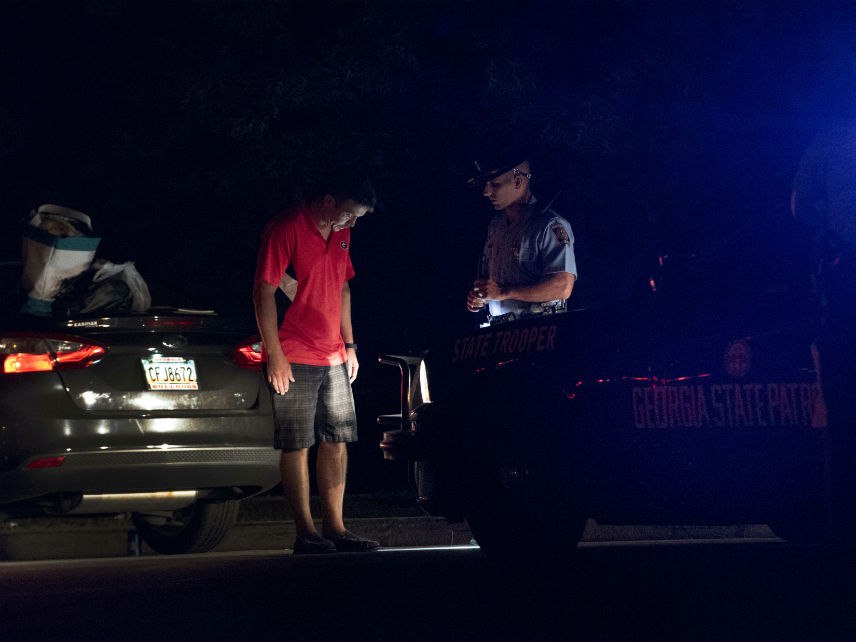 After years of work and compromise, Georgia passed modest asset forfeiture reforms in 2015 that strengthened protections for property owners and required law enforcement to release standardized annual reports on their asset forfeiture activity.
Republican state representative Scot Turner believe those reforms didn't go far enough. Turner introduced a bill, H.B. 505, in February that would require law enforcement in Georgia to obtain a criminal conviction for the state to keep seized assets.
If Turner's bill becomes law the state would join 14 others requiring a criminal conviction in some or all asset forfeiture cases. Nebraska, New Mexico, and North Carolina have abolished civil asset forfeiture altogether.
Under civil asset forfeiture laws in other states, police can seize property they believe is connected to criminal activity, even if the owners are not charged with a crime.
Law enforcement groups say asset forfeiture is a vital tool to disrupt drug trafficking and other organized crime by targeting their illicit gains. Police seize millions of dollars and tons of narcotics during highway traffic stops every year.
However, civil liberties groups from across the political spectrum say innocent property owners are victims of lax safeguards, poor transparency, and the perverse profit incentives of asset forfeiture without ever being charged, much less convicted, of a crime.
"If my bill becomes law, [police] will still have that tool in the toolbox," Turner, who represents a suburb to the north of Atlanta, tells Reason. "It's just that they can't immediately start using the money. They have to go through criminal proceedings first. That restores the concept of innocent until proven guilty. I mean, that's a fundamental American promise, that you have rights that are intrinsic to you by your very nature as a human being. We recognize that as a country. That's an American promise. We break that promise when we engage in this type of activity."
Jason Pye, vice president of legislative affairs at the limited-government advocacy group FreedomWorks, says Turner's bill "restores due process and protects innocent individuals whose property may be seized by requiring a criminal conviction."
"Georgia took a step in the right direction a couple of years ago with the passage of HB 233," Pye says. "Still, that law is lacking in protections. Property can still be permanently seized by law enforcement based on a low evidentiary standard, without ever arresting, charging or convicting the owner of a crime. As someone who works on this issue, this is standard law enforcement should have to meet. As a Georgian, it's time for my state to get on the right side of the issue."
Even with bipartisan support, Turner says getting his law passed will still be a heavy lift. Law enforcement groups like the Georgia Sheriffs Association, whose membership can make or break local politicians, have opposed restrictions on asset forfeiture. Turner vividly remembers watching sheriffs from around Georgia file into the statehouse visitors gallery to watch the legislature debate the 2015 bill.
The Georgia Sheriffs Association was not immediately available for comment.
Legislators may not be thrilled to take up the issue again. But it was law enforcement opposition to reform that Turner says got him fired up about the issue in the first place.
A 2013 Atlanta Journal-Constitution investigation highlighted the case of Alda Gentile, a New York grandmother who was driving to Florida with her son and one-year-old grandson. She had roughly $11,000 in cash in the car, money she said she had saved for a down payment on a condo. After she was pulled over for speeding, Georgia police seized every cent of Gentile's money, even though no drugs were found.
Turner also cited the case of former Atlanta Hawks basketball player Mike Scott. In 2015, Banks County Sheriff's deputy Brent Register pulled over Scott for allegedly speeding. A search of Scott's car turned up marijuana, ecstasy and more than $1,000 in cash, which Register seized under asset forfeiture laws.
Using public records, Scott's attorneys showed Register's reasons for pulling over Scott were impossible to square with the facts. Records showed Register had made 1,400 traffic stops in 2015 and 2016, but only issued eight traffic tickets. All but three of the 47 people Register arrested were black in a county that is 90 percent white.
A judge ruled Register had racially profiled Scott and declared the evidence against him inadmissible in court. Prosecutors dropped the charges against Scott, and the Combs County Sheriff's Department fired Register shortly after.
"He was targeting, frankly," Turner says, "because he thought these were people who might have some cash on them that they could seize, and it was such a small amount that they wouldn't have the means to protect themselves."
But the only reason Register got caught was because he accidentally pulled over someone who could afford a good lawyer.
How many other tainted traffic stops and seizures went unchallenged, Turner wonders: "They uncovered what should have been a giant scandal."