8 States Let You Smoke Weed, But Massachusetts Might Be the First to Make it Easy
A proposal would allow the social consumption of cannabis.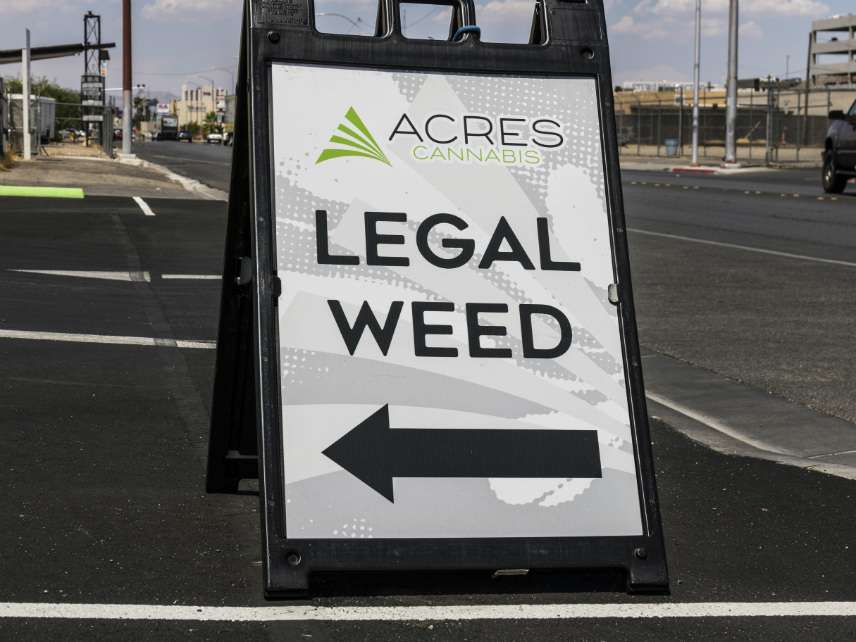 Eight states have now legalized recreational marijuana. But those same states often leave cannabis consumers with few options for where they can legally smoke. Oregon and Washington prohibit any public pot-smoking, even at dispensaries. California, whose recreational market is set to launch on January 1, lets cities regulate on-site marijuana consumption, but most towns have been slow to embrace the idea.
Massachusetts may take a different path. The state legalized pot by ballot referendum in 2016, and its recreational marijuana market is scheduled to launch this coming April. On Tuesday a subcommittee of the state's Cannabis Advisory Board unveiled draft regulations that would permit the on-site consumption of marijuana in much the same way that alcohol can be served at bars and restaurants.
"This is about consumer choice," says Michael Latulippe of the Patient Advocacy Alliance, who drafted the on-site consumption rules.
Brick-and-motor dispensaries do not service everyone's needs, Latulippe argues. "Tourists come, they want to use marijuana, but they don't necessarily need an eighth of it," he tells Reason. Parents, he adds, might not want to smoke marijuana in their home if they have children around. Then there are just plain lightweights who might not want to buy weed in the same quantities as more regular consumers: "Some people take one hit and are sky high."
On-site consumption will help to diversify the industry, he notes, allowing everyone from restaurants and hotels to health spas and yoga studios to better service their cannabis customers.
Massachusetts' regulations for its recreational marijuana industry will not be finalized until March, but Latulippe is confident that social consumption will be part of final package.
That would give the state the most liberalized recreational marijuana industry.
Denver voted in 2016 to allow for a pilot program of on-site consumption at public businesses. The regulations for this pilot program were unveiled in August, and they include an insane number of bureaucratic hurdles. You cannot smoke marijuana at a business that sells marijuana. They can't sell alcohol there either. It must be at least 1,000 feet from any school, child care establishment, city park, pool, or recreation center, and it must have the backing of a nearby business or neighborhood group.
Maine plans on allowing marijuana "social clubs" by 2019, but it has no plans to make exceptions to its clean air laws to let people smoke inside them. And Oregon altered its clean air laws for the specific purpose of closing down the state's few "cannabis cafés," which had avoided the state's ban on public consumption by operating as private clubs.
If Massachusetts allows on-site consumption, a state will finally treat cannabis consumption as the normal activity it is.