The Winners in the AT&T-Time Warner Merger Will Be Consumers
The DOJ fundamentally misunderstands the market for access and content.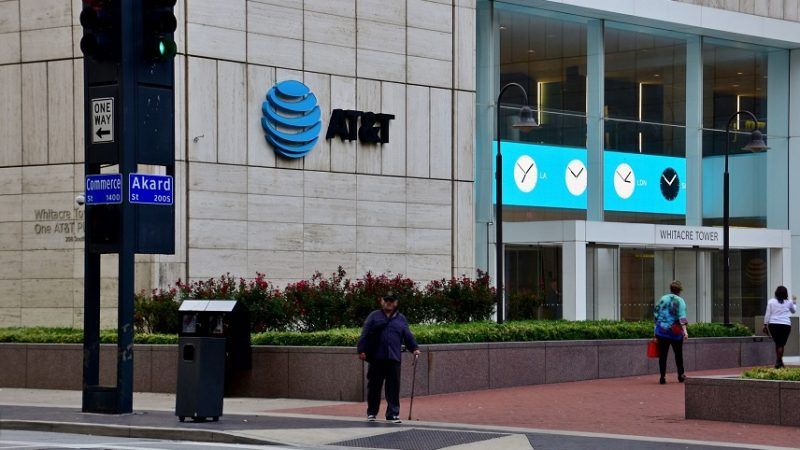 On October 22, AT&T and Time Warner announced they had reached an agreement to merge the two companies. The deal, valued at about $85 billion, would create a vertically integrated company that produces content (movies, TV shows) and provides access to content (through cable, fiber-optic, DSL and wireless Internet connections).
But on November 20, the Department of Justice brought suit against AT&T and Time Warner, seeking to block the merger on the grounds that it would inhibit competition, harming consumers.
AT&T and Time Warner formally responded to the suit last Monday, refuting these claims and arguing the merged company would be investing in innovations that would expand consumer choice.
The DOJ's case is based on a fundamental misunderstanding of the dynamics of the market for both access and content. If it were to succeed it would likely impede competition, resulting in less innovation and choice for consumers.
Consumers are shifting away from the kinds of access and content bundles that so concern the DOJ. And they are doing so because such bundles poorly match their preferences. AT&T recognizes the trend of falling subscription rates for its traditional TV bundles. That's why it wants to expand into content. It could have done that by licensing legacy content from others, arranging syndication deals for new content, and building its own studio, as Netflix and Amazon have done. It chose instead to merge with Time Warner.
At the heart of the DOJ's complaint is an assumption that the merged entity would use its market power to raise the price of content currently owned by Time Warner, or threaten to withhold programming, including hit shows such as Game of Thrones and NCAA March Madness. Time Warner could already make such threats, but the DOJ claims it would have greater incentive because it could benefit from some subscribers switching over to AT&T's networks (DirecTV, U-verse and DirecTV Now).
A merged AT&T-Time Warner could, in principle, refuse to supply content to some distributors in order to drive consumers to purchase its own access and content bundles, but it would not be in the merged company's financial interest to do so. As Geoff Manne notes in the WSJ:
"More than half of Time Warner's revenue, $6 billion last year, comes from fees that distributors pay to carry its content. Because fewer than 15% of home-video subscriptions are on networks owned by AT&T … the bulk of that revenue comes from other providers. In other words: Calculated using expected revenue, AT&T is paying $36 billion for the portion of Time Warner's business that comes from AT&T's competitors. The theory seems to be that the merged company would simply forgo this revenue in a speculative hope that withholding Time Warner content from distributors would induce masses of viewers to switch to AT&T—and maybe, one day, put competitors out of business. That this strategy would actually work is unfathomable. "Game of Thrones" is good, but it isn't that good."
When Comcast merged with NBCUniversal in 2013, the DOJ employed a "consent decree" (a legally binding agreement between the DOJ and the merged entity) to mitigate concerns regarding the potential for the merged entity to use its market power to charge more.
AT&T and Time Warner have now made a similar commitment, as they told the DOJ: "contingent only upon the closing of this merger, Turner has formally and irrevocably offered its distributors licensing terms that, for seven years after closing, (I) entitle the distributor to invoke "baseball-style" arbitration if it is unable to reach a satisfactory distribution agreement for Turner Networks and (ii) forbid Turner from "going dark" on any Turner distributor during the arbitration process."
This "eliminates even the theoretical risk that lies at the heart of the Government's case – the risk that, post-close, Turner would be more inclined to threaten to "go dark" on a distributor," according to the companies.
The DOJ complaint focuses on hypothetical scenarios that assume the merged entity would seek to squash rivals through pricing and access tactics. That is clearly not what is driving this merger.
What is driving this merger is the changing landscape for content production and distribution. Over the past decade, new content platforms—Netflix, YouTube, Facebook, Amazon, and Hulu—have begun to compete fiercely for consumer eyeballs. All of these platforms enable consumers to access content when the consumer wants, using whatever device is most convenient.
While distribution of existing content produced by movie and TV studios was the initial focus for services like Netflix, Hulu and Amazon Video, these platforms have recently been investing heavily in the production of original content. In addition, some of these platforms (YouTube and Facebook) enable people to share content with one another, as well as access content from a wide range of other sources (including Reason.com). Online platforms such as Hulu, Sling TV, Twitter, and YouTube, have also begun offering live streaming of programming, including time-sensitive content such as sports.
Underpinning this revolution in content delivery has been increasingly widespread access to high bandwidth Internet connections. Cable companies alone have invested over $100 billion in fixed-line broadband in the past decade, as they compete to supply homes with higher speed, higher quality services.
As of June 2016, 79 percent of homes had access to at least two fixed-line broadband providers offering speeds of 10 Mbps or more, as well as satellite service at similar speeds. Meanwhile, over half of all homes now have broadband connections of at least 25 Mbps, up from less than a quarter in 2013 (see figure 1).
Figure 1: Residential Fixed Connections by Downstream Speed 2013-2016
Source: FCC, Internet Access Services: Status as of June 30, 2016, Figure 8.
Improvements in fixed line broadband will soon be overshadowed by changes in the mobile space. Currently, 4G cellular networks offer Internet access at speeds averaging about 14Mbps, with over 80% coverage of the U.S. As multiple competing networks, including those operated by AT&T, roll out 5G in the next couple of years, those speeds are going to increase dramatically.
In response to these trends in Internet access and content platforms, consumers are increasingly "cutting the cord" – that is, eschewing content bundles from cable and other access providers and instead accessing content only via these new platforms. Netflix alone has about 47 million subscribers in the U.S. – about the same as the combined number of subscribers to DirecTV (25.3 million) and Comcast (22.5 million).
Cord cutting is occurring mainly among people under 50 and mostly among those under 35. As the chart below shows, between the first quarter of 2011 and the same period this year, the number of weekly hours of "traditional TV" viewing fell by about one third among those aged 25-34 and by nearly a half by those aged 12-24. It's not that younger consumers are spending less time glued to screens. Instead, they are viewing content, playing games, and engaging with others over different platforms.
The merged company will use its content and extensive distribution network to build a more attractive platform through which it can attract the eyeballs of (especially younger) consumers—and the advertisers seeking to reach them. AT&T-Time Warner and all the competitors in the same space—Amazon, Netflix, Hulu, Comcast-NBCUniversal, Sling TV, YouTube, Apple, and new entrants—will seek to deliver content that best matches consumer preferences. That is likely to mean new offerings at a range of prices, including low-cost and free content funded through advertising revenue.
The ultimate winners of this competition will be consumers.