As Anniversary of End of Prohibition Nears, State Alcohol Rules Challenged
Even as Repeal Day approaches, many states are still grapple with overly burdensome regulations.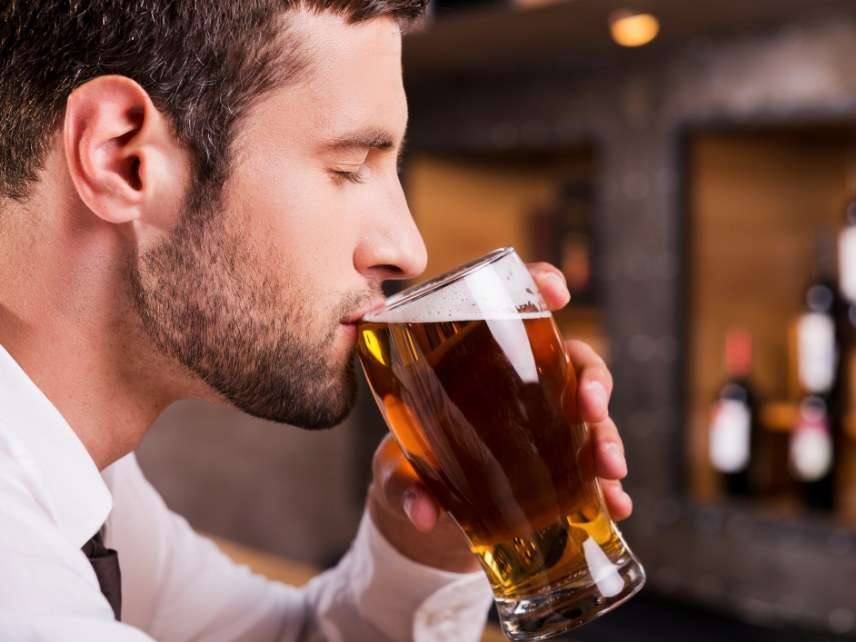 Next week will mark the 84th anniversary of the ratification of the Twenty-First Amendment, which repealed alcohol Prohibition. The repeal of Prohibition is worth celebrating, even if the amendment was (and remains) a deeply flawed vehicle.
The chief flaw with the Amendment is, as I wrote earlier this year, that it "simply shifted much of the power to prohibit and incessantly regulate alcohol from the federal government to the states."
States have truly made the most of their teetotalitarian authority for decades, to the detriment of both alcohol producers and—much more so—consumers.
Much of the negative impacts of states' approach to alcohol regulation can be tied to what's known as the three-tier system, a Prohibition relic under which states generally prohibit direct alcohol sales from a brewer, vintner, or distiller to a consumer. The three-tier system mandates these alcohol producers first sell to a distributor or retailer—a mandatory middleman—who can then sell to actual drinkers.
Laws that require this approach create a host of problems, including, for one, that they drive up consumer costs dramatically and needlessly. States' plenary control over alcohol has been controversial for decades, as this 1987 article in the Journal of Public Health Policy makes clear, noting that "the idea of a government monopoly of a consumer product seems odd and even bizarre[.]"
Great arguments in favor of scrapping the dreaded three-tier system are often countered by those who claim doing so will bring about the end of days, or worse.
As Jacob Sullum (who's more often than not right) noted in a 2015 piece, the apocalyptic scenarios floated by neo-Prohibitionists often make little sense, and tend to contradict each another.
"The current system must be maintained because it makes drinking easier, and it must be maintained because it makes drinking harder," Sullum wrote, characterizing two central and diametrically opposing arguments in favor of maintaining state liquor monopolies.
States with some form of liquor monopolies—there are currently seventeen of them—actually have their own lobby group, the National Alcohol Beverage Control Association. They're big supporters of monopoly "control." For example, the group notes that "citizens of Montgomery County, MD enjoy the many benefits offered by a control jurisdiction."
I lived in Montgomery County for several years. At no point did I enjoy the county's monopoly, which restricted my choices.
Washington State, where I now live, was the first state to rid itself of the three-tier system, after voters overturned the system in 2011. Not much appears different in Washington State today on its face. Each of the three tiers still exist. But alcohol rules here—enforced by the same government body that also now regulates cannabis in the state—no longer force all producers, distributors, and sellers to work together. They can—and do, in most cases—because they want to.
As I've noted previously—as in this 2013 column—state alcohol regulations are generally trending in the right direction. For example, Indiana is currently taking baby steps to legalize Sunday alcohol sales. An Alcohol Code Revision Commission (yes, that's a thing) has proposed allowing some Sunday sales between noon and 8 p.m.
The state isn't always the direct beneficiary of monopoly powers. Sometimes the state grants such powers to one powerful segment of the marketplace. But those laws, too, are falling out of favor. Next year, for example, Oklahoma will end a "virtual monopoly" on many sales enjoyed by liquor stores in the state.
State alcohol monopolies are by no means a uniquely American problem. Take Canada, where laws often bar residents from bringing alcohol from one province to the next. But those laws, too, are under fire.
Canada's highest court is set to hear arguments soon in a case which could spell the end of that ban and serve to rein in provincial alcohol monopolies.
Back in Oklahoma, one liquor store owner there says he's "worried about losing a lot of business" under the new law, when grocers and others will be allowed to sell many drinks only liquor stores now sell in the state. The shopkeeper explains how the change in the law is forcing him to install new equipment, open more hours, and hire new staff. To prepare to compete, in other words.
That sounds like good news for consumers. More of this, please.