A College Football Player Lost His Scholarship Because of YouTube Videos. Now He's Fighting Back.
"They really put my college career on hold just for exercising my right to free speech," says Donald De La Haye, former kicker for the Central Florida Knights.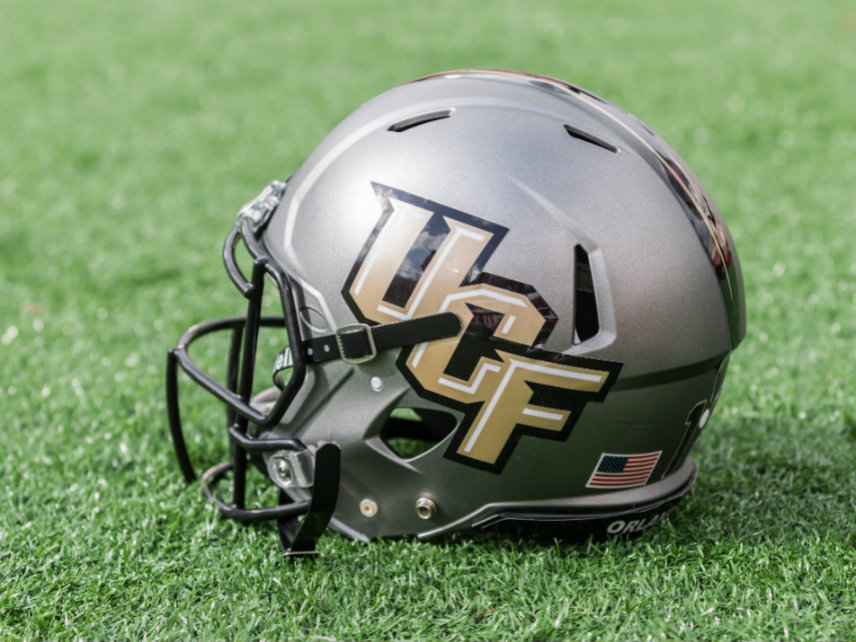 While technically a nonprofit, the National Collegiate Athletic Association pulls down nearly $1 billion in annual revenues, thanks in large part to multi-million-dollar deals with television networks that want to showcase America's best college athletes playing football, basketball, and a bunch of other sports.
There's nothing wrong with that, of course. The market for televised sports is hotter, and more valuable, than it's ever been.
But when one of those valuable student-athletes had the nerve to earn a few thousand dollars running a popular YouTube channel—one that gives viewers a behind-the-scenes look at the life of a college football player—the NCAA told him to give up his videos or give up his place on the team. When he chose to keep making videos, his scholarship to attend the University of Central Florida was revoked by the school.
Now, Donald De La Haye, the former kicker for the UCF Knights football team, is ready to take legal action against the university unless his scholarship is restored.
"It's really tough," De La Haye said in a video from July, shortly after he learned that his scholarship would be revoked. "I'm not doing anything wrong. I'm not making money illegally. I'm not selling dope. I'm not kidnapping people or robbing people. I'm not selling my autographs for money. I'm not sitting here getting Nike checks and Nike deals and all these sponsorships. I'm literally filming stuff. I'm sitting here, editing things on my computer for hours and developing my own brand. I put in the work, and I'm not allowed to get any benefits from the work."
There's nothing illegal about the videos De La Haye posts to his "Deestroying" account on YouTube. They feature his daily routines and workouts. Others include funny moments with friends and teammates. And some—like one where he destroyed a flat-screen TV by kicking it off the top floor of a parking garage—are just downright weird and funny.
The videos have gained De La Haye quite a following. He's got more than 350,000 subscribers, enough to earn money from the advertisements YouTube allows on high-end accounts. According to SocialBlade.com, a website that assesses the potential value of social media accounts, De La Haye could earn somewhere between $2,000 and $31,000 a month.
In the video announcing the NCAA's ultimatum to him, De La Haye says he was sending some of his YouTube money to his family in Costa Rica, because they have "tons of bills piling up and there's no way for me to help."
That didn't matter to the NCAA, which in July told Central Florida that De La Haye would be ineligible to play college football unless he stopped making videos about football—though he would have been allowed to make videos about other topics (videos that would likely get fewer views and earn the student-athlete less advertising revenue), the Orlando Sentinel reported at the time.
NCAA statement regarding Donald De La Haye. pic.twitter.com/0W2YCbEBrF

— Inside the NCAA (@InsidetheNCAA) July 31, 2017
After De La Haye decided not to agree to those terms, the football team dismissed him and the university revoked his scholarship. He was given 72 hours to remove himself and all his belongings from university housing. With no where else to turn, he ended up living with a friend and sleeping on a sofa.
The NCAA claimed De La Haye violated bylaw 12.4.4, which says a student-athlete "may establish his or her own business, provided the student-athlete's name, photograph, appearance or athletics reputation are not used to promote the business." Never mind that it's exactly what the NCAA does when it sells college football to television audiences.
More importantly, De La Haye has a First Amendment right to record himself and post those videos to YouTube. Attorneys for the Arizona-based Goldwater Foundation and the Texas Public Policy Foundation, a pair of free market think tanks, have taken up De La Haye's case.
"Freedom of expression is one of our fundamental rights guaranteed through the United States Constitution," says Robert Henneke, director of the Center for the American Future at the Texas Public Policy Foundation. "Donald did not forfeit his rights to free speech simply because his athletic gifts allow him to pay for his college education through a football scholarship."
Courts have held that universities may not withhold benefits like scholarships on a basis that violates an individual's First Amendment rights, Jon Riches, the director of national litigation for the Goldwater Institute, pointed out in a letter sent this week to Central Florida.
The NCAA's rules limit what student-athletes may do, but the university is solely responsible for issuing and revoking scholarships. That Central Florida would pull a scholarship from a student-athlete who has been an upstanding member of the collegiate community is "an astonishing result," Riches wrote, "considering universities throughout the country impose far less severe punishments against students who commit actual misconduct."
In a new video posted this week, De La Haye said he hopes to open the way for other student-athletes to be allowed to express themselves on social media without fear of losing their scholarships or NCAA eligibility.
"They really put my college career on hold," he says, "just for exercising my right to free speech."