New York Prosecutors Gave Themselves $3.2 Million in Bonuses With Asset Forfeiture Funds
One Suffolk County prosecutor, facing criminal charges for covering up the beating of a suspect, received $70,000 in bonuses.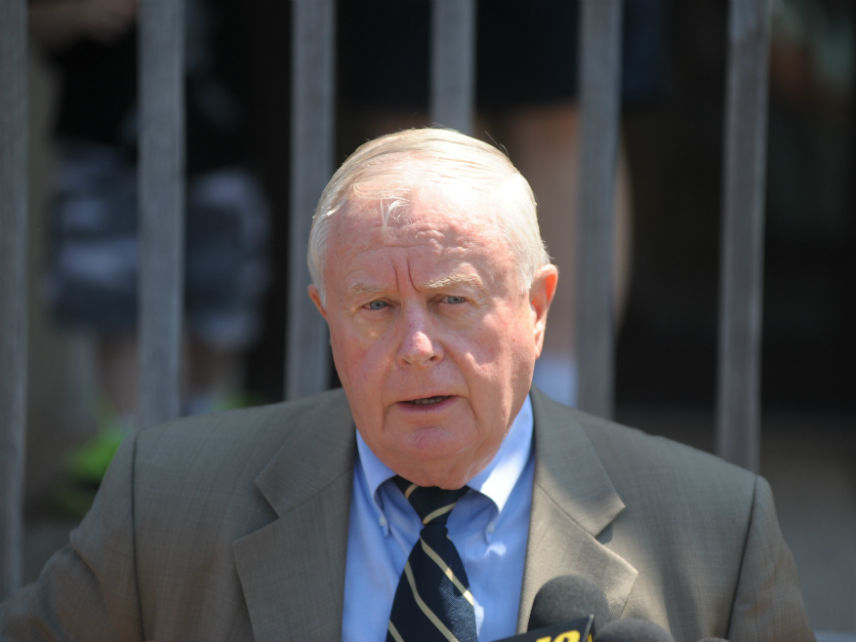 The Suffolk County District Attorney's Office in New York doled out $3.25 million in bonuses to prosecutors from its asset forfeiture fund since 2012, according to records obtained by Newsday through a Freedom of Information request.
Newsday reported that the funds were $500,000 more than previously reported, leading to consternation from local legislators:
Bonus recipients included deputy chief homicide prosecutor Robert Biancavilla, who received a total of $108,886 between 2012 and 2017, and division chief Edward Heilig and top public corruption prosecutor Christopher McPartland, who each received $73,000, according to records obtained from county Comptroller John Kennedy's office through the Freedom of Information Law […]

On Tuesday, the legislature will hold a public hearing on a bill by Legis. Robert Calarco (D-Patchogue) to require asset forfeiture expenditures, including by the district attorney's office and the police, sheriff's and probation departments, to be approved by the Public Safety Committee […]

"Asset forfeiture money that comes into this county counts into the millions of dollars," Calarco said. "That's a lot of money to be spent at the sole discretion of an individual with no oversight."
According to Newsday, the U.S. Attorney's Office has subpoenaed the Suffolk County D.A. for more records on the bonuses.
The probe is ongoing fallout from the investigation of former Suffolk County Police Chief James Burke. Burke was sentenced this year to 46 months in federal prison for the 2012 beating of a young man who had stolen a duffel bag full of pornography and sex toys from the chief's unlocked SUV and the coverup of the beating. Former Suffolk County District Attorney Thomas Spota and McPartland have been indicted for their alleged role in the coverup. Spota resigned a day after his indictment.
Duffel bags full of porno aside, the bonuses reveal one of the more problematic aspects of asset forfeiture. Law enforcement groups say asset forfeiture is a vital tool to disrupt organized drug trafficking. However, civil liberties advocates argue that lax reporting requirements, and the fact that asset forfeiture proceeds often flow directly into police and prosecutor budgets, create oversight-free expense accounts and perverse profit incentives.
As I wrote in September, recent news investigations have revealed several instances asset forfeiture accounts being used as off-the-books revenue streams:
Philadelphia Weekly, in collaboration with City & State PA, reported Wednesday that the local D.A.'s office had spent $7 million in asset forfeiture funds over the last five years, including "at least one contract that appears to have violated city ethics guidelines—construction work awarded to a company linked to one of the DA's own staff detectives." […]

Meanwhile, Cincinnati's City Beat published a similar investigation into Hamilton County Prosecutor Joe Deters' forfeiture piggy bank. City Beat found that the prosecutor office's $1.7 million forfeiture fund "has been tapped regularly for mundane purchases and, on two occasions, sketchy consulting contracts that Deters won't discuss."
The Institute for Justice, a libertarian-leaning law firm that has challenged forfeiture laws in several states, released a report this year finding that 26 states have little to no transparency requirements for asset forfeiture. Fourteen states "do not appear to require any form of property tracking, leaving in doubt even such basic questions as what was seized and how much it was worth, who seized it, when it was seized, where it was seized, and why it was seized."
Without stricter oversight and reporting requirements, the public must take it on faith that police and prosecutors in places like Suffolk County are being scrupulous with the money they seize from them. In this case, a Suffolk County prosecutor facing criminal charges for covering up the civil rights violations of a U.S. citizen received more than $70,000 in bonuses for his job performance.
Who knows what else is hiding in the forfeiture accounts—and duffel bags—of the public officials sworn to protect us?