French President Vows Crackdown on 'Verbal Violence' Against Women
And he wants to censor online porn, too.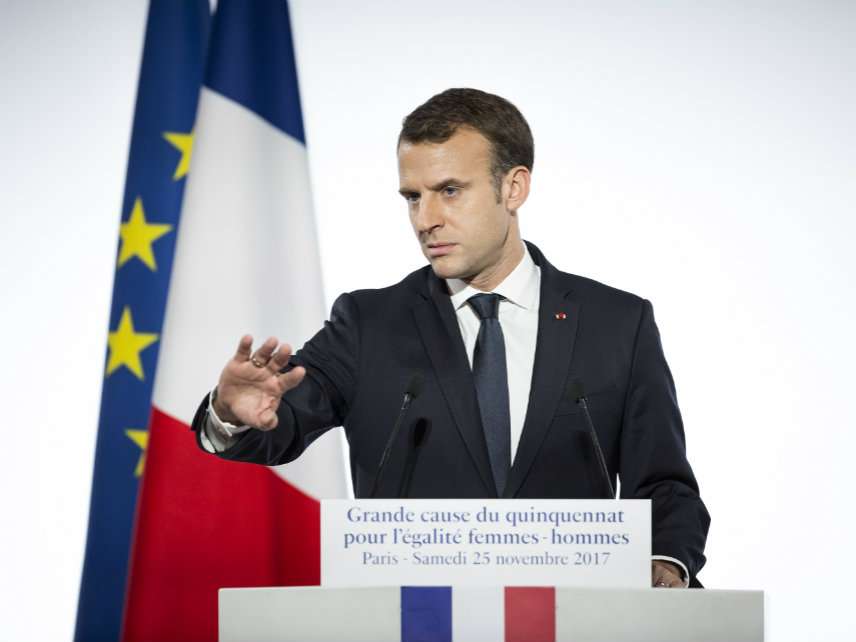 "We are not a puritan society," French President Emmanuel Macron claimed Saturday in a speech marking the International Day for the Elimination of Violence Against Women. He then called for the criminalization of wolf-whistling and gender-based insults, and for requiring France's TV and radio regulators to police video games and web content.
That last item is aimed mostly at online pornography, which Macron sees (sans evidence) as a prominent cause of violence against girls and women. Porn is infiltrating French schools, Macron warned, and "we cannot ignore the kind that makes women an object of humiliation."
If Macron gets his way, France's Superior Audiovisual Council will be tasked with monitoring online videos for "the protection of the young public," and schools will implement an awareness campaign about "stereotypes, domination, and violence" in porn.
On Twitter, French porn star Manuel Ferrara pushed back against Macron's suggestion that exposure to porn is linked to a propensity to assault women. Rather than "demonize" porn, Ferrara suggested, the president should sit down with adult entertainers for a discussion. Ferrara later accused Macron of "faire un amalgame"—jumping to conclusions—about the supposed effects of online pornography. "It's the same with video games," Ferrara told France Inter. "It's like saying a teenager who plays Call of Duty is going to pick up a gun and kill everyone in his school."
Macron also said Saturday that "legislative changes will be made not only to better prevent but also to prosecute those who act on the Internet to harass." And he promised penalties for IRL harassment, too, suggesting that that gender-based insults and catcalling should soon "be punishable by law" and that "offenders will face a deterrent fine."
For a long time, people reacted with indifference to the "verbal violence" women frequently face on the streets, said Macron.
This is unacceptable. Women must feel comfortable in public spaces. Women in the republic must not be afraid to use public spaces. This must be one of the priorities of the police.
Not all of the ideas Macron touted were terrible. He also suggested a sensible system allowing sexual assault victims to file an initial complaint online or at a hospital instead of having to go in person to a police station. And he called for the country to set the age of sexual consent at 15. (France currently has no minimum age of consent.)
To enact such measures, Macron promised to increase the budget dedicated to female and male equality to more than 420 million Euros next year.
On Saturday, Macron tweeted that "the first pillar" in his fight for "equality between women and men" is "the fight against violence against women." However, he added, "I do not want us to fall into a society where every relationship between a man and a woman becomes a suspicion of domination."