Is The TSA More Chill About Weed Than San Francisco?
While the rest of California embraces recreational marijuana, San Francisco is strangling the nascent industry.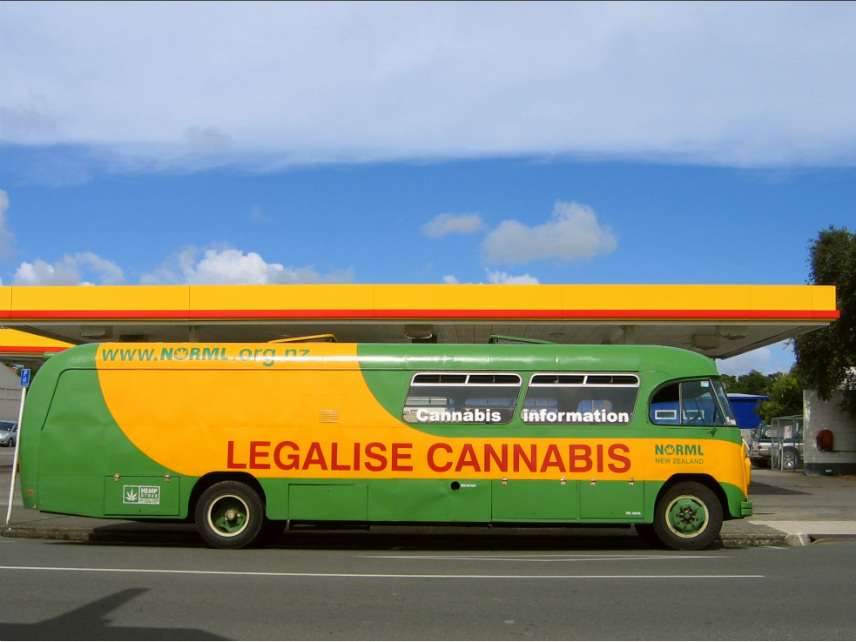 Is the Transportation Security Administration more chill about weed than San Francisco?
The San Francisco Municipal Transportation Agency (SFMTA) this week voted to ban marijuana ads from its Muni buses, bouncing 130 current ads when the current contract expires.
"Prohibiting cannabis advertising on public transit is the right policy to protect our future generations and communities of color the same way we have done with alcohol and tobacco ads," said San Francisco Mayor Ed Lee, who appoints the SFMTA board and who initially requested the ban.
The multiple buyers of those ads might want to consider migrating their public awareness campaigns to a novel and much less regulated advertising medium: TSA screening bins.
Ads reading "CANNABIS IS LEGAL" began appearing in October on those grey screening bins you put your valuables in before being groped by TSA agents at the Ontario International Airport in Southern California. Organa Brands, a cannabis company, bought the ads that include a reminder that it was still illegal to take weed out of the state.
The TSA, which forbids political ads on the bins had no problem with the plug for marijuana. The agency's policy is to allow local airport officials and their private bin providers to determine the advertising content, a pretty hands-off approach for an agency that rarely keeps its hands off of anyone or anything.
It's also a marked contrast from the progressive politicos in San Francisco, who are taking an increasingly hostile attitude toward marijuana since state voters legalized recreational sales in 2016. This is not the first marijuana restriction passed by the mayor and the city's Board of Supervisors.
Earlier in the summer, the board imposed per-district limits on new dispensaries. In mid-September the board slapped a moratorium on new medical marijuana permits while it worked on regulations for recreational marijuana sales.
And while other California cities have created new regulatory frameworks in advance of recreational sales beginning Jan. 1, San Francisco has dragged its feet. Holding up the process is the city's promise to establish an "equity program" prioritizing recreational licenses for marginalized applicants.
On Nov. 1, Supervisor Malia Cohen proposed giving priority to applicants who had lived at least five years in an impoverished city neighborhood between 1971 and 2009. Equity applicants would also have to meet other requirements that prove their marginalization, like being convicted of a non-violent crime or having ever been evicted from a property in one of those neighborhoods. Oakland, California, which adopted a similar program, created a major recreational licensing bottleneck.
The Board of Supervisors also rejected a stop-gap measure that would have allowed existing medical marijuana dispensaries to start selling to recreational buyers on Jan. 1, for fear that these early movers would corner the market at the expense of all the equity applicants the city is trying to help out.
This from a city that voted 74 percent in favor of legalizing recreational sales in 2016, compared to a state-wide yes vote of 57 percent.
Legalization affirmed, San Francisco's lefty politicians have turned from marijuana as weapon in the culture war to just another product of capitalism. Which means onerous regulation of every aspect of the industry, from ad restrictions and equity programs, to tight zoning standards and licensure laws.
The result is a San Francisco where you have the freedom to buy weed, but not the ability.