Roy Moore's Defenses Contradict Each Other
The Republican Senate candidate tries to discredit an accuser he said he didn't know by noting that he presided over her divorce case.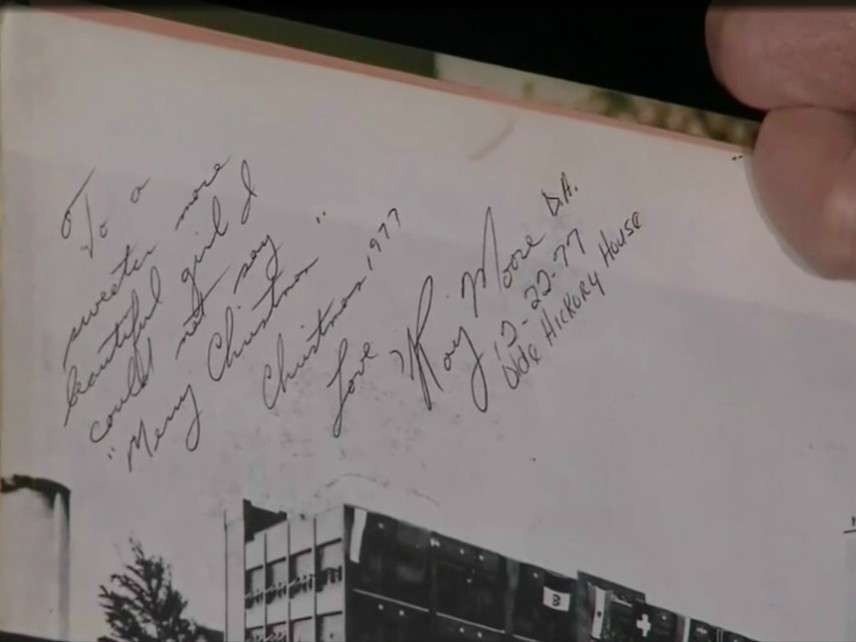 Roy Moore's defenses are starting to contradict each other. On Monday the Republican Senate candidate said he had never met Beverly Young Nelson, who has accused him of sexually assaulting her when she was 16 outside the restaurant where she worked in Gadsden, Alabama. Yesterday, seeking to discredit Nelson, Moore said he had presided over her divorce case as an Etowah County circuit judge.
"We have documented that the most recent accuser, Beverly Nelson, was a party in a divorce action before me in Etowah County Circuit Court in 1999," Moore writes in an open letter to Fox News host Sean Hannity. "No motion was made for me to recuse. In her accusations, Nelson did not mention that I was the judge assigned to her divorce case in 1999, a matter that apparently caused her no distress at a time that was 18 years closer to the alleged assault. Yet 18 years later, while talking before the cameras about the supposed assault, she seemingly could not contain her emotions."
The relevance of the fact that Nelson did not ask Moore to recuse himself from the case is debatable, since that would have required her to publicly accuse a powerful local official with direct influence over her life of actions she had at that point, according to her account, described only in private. But Moore's acknowledgement that he handled Nelson's divorce case 18 years ago seems inconsistent with what he told reporters on Monday: "I can tell you without hesitation this is absolutely false. I never did what she said I did. I don't even know the woman. I don't know anything about her." To the contrary, as Moore's lawyer emphasized yesterday, "there was contact." [See the update below.]
Moore would not necessarily remember a litigant who appeared before him 18 years ago, just as he would not necessarily remember every teenager he flirted with 40 years ago. That is why people use phrases like "I don't recall" instead of "I don't even know this woman" or "I never met this woman" (as Moore said about Leigh Corfman, who accused him of initiating a sexual encounter with her when she was 14). Moore is asking for trouble by flatly denying any contact with his accusers.
In the same letter to Hannity, Moore says there is something fishy about the yearbook inscription that Nelson presented as evidence that he interacted with her at the Olde Hickory House in 1977. "My signature on the order of dismissal in the divorce case was annotated with the letters 'D.A.,' representing the initials of my court assistant," he writes. "Curiously the supposed yearbook inscription is also followed by the same initials—'D.A.' But at that time I was Deputy District Attorney, not district attorney. Those initials as well as the date under the signature block and the printed name of the restaurant are written in a style inconsistent with the rest of the yearbook inscription. The '7's' in 'Christmas 1977' are in a noticeably different script than the '7's' in the date '12-22-77.' I believe tampering has occurred."
Moore seems to be suggesting that he never would have referred to himself as a "D.A." when he was actually a deputy D.A. and that Nelson copied his signature from the 1999 order. But if so, why would he call it "tampering," as opposed to forgery? Moore has heretofore said he did not know Nelson and was unfamiliar with the Olde Hickory House. Is he now saying that he did sign the yearbook but that Nelson recently added the "D.A.," the date, and the name of the restaurant? It seems more plausible that she added the notation at the time, memorializing the occasion when a local celebrity signed her yearbook.
In any case, Moore's signature in Nelson's yearbook, assuming it's genuine, shows only that he knew her. Moore easily could have admitted that he may have eaten at the Old Hickory House and that he may have encountered Nelson there without admitting that he committed the crime she describes. He could have said he did not remember meeting her, rather than insisting "I don't even know the woman" and "don't know anything about her." Likewise with Corfman. His unnecessarily broad denials are setting him up for subsequent retreats that make him look guilty.
Update: Zack Ford reports at Think Progress that court documents indicate there would have been no need for Nelson to interact with Moore in the course of her divorce proceedings. Although Moore signed the dismissal she sought after deciding to try to work things out with her husband, other judges dealt with the case up to that point and with the couple's subsequent divorce proceedings. The dismissal "appears to be the only document Moore signed," Ford writes, "and given there was no hearing, there is no reason the divorce action would have required her to enter the courthouse or have contact with Moore."